Binh Duong province determines to develop public passenger transport by bus based on the viewpoint of "being handy for passengers, good quality, civilized and environmentally friendly" combined with the sustainable, civilized and modern urban development. Therefore, the province set policies to support businesses and people to participate in this to gradually implement the target of 15% people choosing public transport for commuting.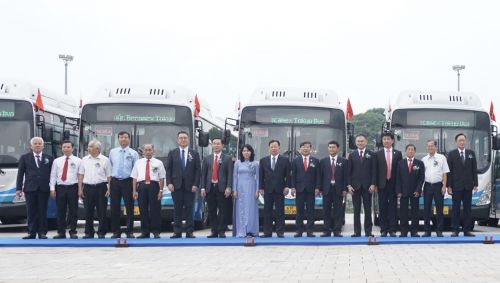 Becamex Tokyu Bus has officially opened a bus route connecting Ben Cat Town with Thu Dau Mot City.
Modern, civilized
Nguyen Chi Hieu, Deputy Director of provincial Department of Transport, said the project "Improving the quality of public transport by bus in Binh Duong province in 2018-2020 period" is an important factor in the sustainable urban transportation development, synchronous traffic system, rational use of vehicles structure. The project focuses on developing public, modern, civilized transport system that is capable of meeting the travel needs of all people quickly, conveniently and safely with reasonable prices, on the basis of environmental protection. The process of urbanization will increase people's demand for commuting, if the transport infrastructure is unsufficient, a series of consequences such as congestion, accidents, polluted environment will happen.
According to Mr. Hieu, public passenger transport by bus in the province still has high bus fare, degraded vehicles, high time interval, unprofessional service attitude. In fact, the average volume of transportation decreased by nearly 1 million passengers / year, some bus routes wanted to stop working because the revenue could not cover the costs.
The implementation of "Planning for the public transport system development in Binh Duong province until 2025 and a vision after 2025" is also aimed at the criteria of meeting 15% of the travel demand. Furthermore, in order for Binh Duong to achieve class-1 urban criteria, the construction and implementation of the project has also received the attention of many transport enterprises and people in the area. Well-developed public passenger transport will contribute to reducing personal transport, reducing general fuel consumption of the whole society for travel needs, saving foreign currency and reducing pressure on the system. In order for people to change from private vehicles to using public transport, in the short term, by bus to minimize traffic congestion, create a new image of the bus and attract people...
To continue encouraging
Currently, the whole province has 235 vehicles registered for bus transport business. In which, enterprises of the province manage 133 vehicles (accounting for 56.6%), 102 vehicles (accounting for 43.3%) are managed by enterprises outside the province. In the province, there are 11 bus stations, 385 bus stops, and 107 bus shelters. According to Department of Transport, although operations face many difficulties, businesses try to renovate vehicles, as a result, 69 new vehicles were purchased from 2009 to present. Although its quality has been improved, most vehicles are old. Some vehicles were converted from coaches, but have not overcome design limitations, not in accordance with characteristics of a bus. The province supports loans for investment in vehicles using clean energy to improve service quality and attract passengers.
According to estimates, enterprises of public passenger transport by bus in the province need to replace 111 vehicles for 11 inter-provincial bus routes and 19 vehicles for 3 new bus routes with a total investment of about VND236 billion. In which, investment capital of enterprises is nearly VND49 billion (equivalent to 20%), total loan from Provincial Investment and Development Fund is nearly VND196 billion (equivalent to 80%). The demand for loan interest support is about VND42 billion / year (expected interest rate is 3.85% / year) during a 7-year loan period. In addition, under the project, in order to encourage people to choose bus for commuting and traveling, the province also supports bus fares, such as free bus tickets for children under 6 years old, people with disabilities; fare discounts, discounted monthly bus pass for people with meritorious services to the revolution, the elderly, students...
It can be said that, the development of public transport services by bus with the viewpoint "convenient for passengers, good quality, civilized and friendly with the environment"; appropriate number and types of public transport vehicle in general and buses in particular in the province will step by step complete the sustainable development of urban transport, establish a good transport system that supports well the urban economic growth, closely linked with environmental preservation, satisfying the right of all people to travel.
Reported by Minh Duy - Translated by Ngoc Huynh