The year 2020 ended but the difficulties and challenges remain; however, by non-stop efforts, Binh Duong provincial Department of Industry and Trade affirmed its role, position, and responsibilities to fulfill the assignments, contributing to the development of the province.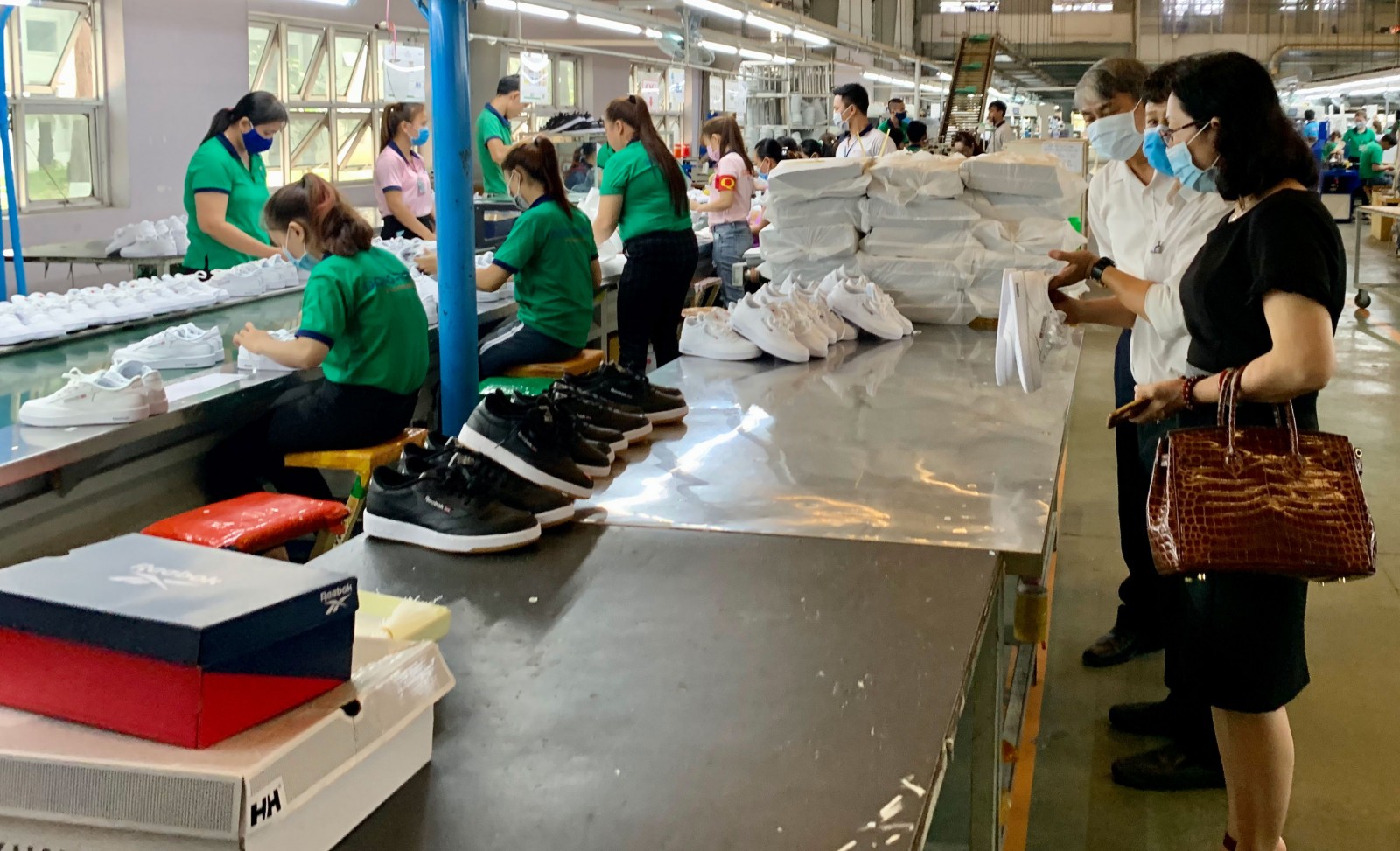 Leaders of Binh Duong provincial Department of Industry and Trade have a look at production operations of enterprises during the pandemic
Efforts made for dual target
Ho Van Binh, Deputy Director of Binh Duong Department of Industry and Trade, said that by implementing the instructions of the Prime Minister, the Ministry of Industry and Trade, and Binh Duong provincial People's Committee to ensure adequate supply of essential goods and stabilize the market during the complicated Covid-19 epidemic, the department has proactively developed plans and asked local authorities and enterprises to have plans to respond to market developments. Accordingly, the plan to reserve essential goods to cope with the epidemic scare in the province has been well implemented by participating units.
Binh Duong Department of Industry and Trade has also directly inspected and urged distribution businesses in the province to implement plans to ensure the supply of essential goods for the shopping needs of people without creating scarcity of commodities or price hikes. Binh Duong Department of Industry and Trade recommends that people should stay calm and join hands to prevent and fight Covid-19 epidemic without hoarding and should change their habits from direct shopping to online or by phone calls to limit gathering and avoid the spread of Covid-19, ensuring health for themselves and the community. During the year, the prices of most basic commodity groups have been stable; the annual average CPI is estimated to increase by 3.21%. Total retail sales of consumer goods and services were estimated at VND 252,889 billion, increasing by 12.3%.
Ensuring the supply and stabilizing the selling prices of medical products, including masks, are among the vital issues that the department is paying special attention to. Being responsive to market information and flexible in operations, the delegation of industry and trade department has urgently worked with textile and garment enterprises to produce medical equipment to actively support the sourcing of antibacterial fabrics and other supplies. Many businesses have quickly increased their production scales and committed to provide at stable prices to ensure supplying sources for disease prevention and control and people's needs. The department has also launched many scenarios to cope with different levels of the pandemic and has promptly worked with major distributors such as Big C, Saigon Co.op, MM Mega Market, VinMart, Aeon among others in order to ensure the provision of essential goods for people while preventing and fighting the Covid-19 epidemic.
In 2020, in order to proactively monitor and remove difficulties and problems of businesses affected by the Covid-19 epidemic, the Department has coordinated to organize various teams to survey the production and business situation of associations and enterprises. At the same time, it has coordinated with other departments and agencies to implement and guide the procedures to access tax incentives and support policies for employees, etc. The implementation of effective solutions has created leverage for businesses to quickly recover their production and business operations to overcome difficulties. Up to now, the province's manufacturing and exporting enterprises have made good recovery. Export turnover in 2020 was estimated at USD 27.4 billion, increasing by 8.5%. Importation turnover was estimated to be at USD 21.4 billion USD, increasing by 7.5%. The province's trade surplus in 2020 has reached nearly USD 6 billion.
To be proactive in new situations
According to Nguyen Thanh Toan, Director of Binh Duong Department of Industry and Trade, it is predicted that in the coming time, Covid-19 epidemic would still be complicated. Following the direction of the People's Committee of the province and the Ministry of Industry and Trade, the industry and trade department will focus on well implementation of the "dual target" in terms of disease prevention and control, socio-economic recovery and development on the basis of exploitation and effective use of the potentials and advantages of the province. Along with that, a plan to develop industry and trade in 2021-2030 with a vision to 2050 to integrate into the general planning of the province is to be built. Keeping on to well implementation of the master plans, schemes and blueprints approved by Binh Duong provincial People's Committee and of projects of "building supply chain database", "building industry and trade database", and "assessment of the impact of EVFTA on the socio-economic of Binh Duong province."
The department continues to implement solutions to develop and maintain industry growth; in particular, to attach importance to in-depth industrial development with priority given to attracting and developing supporting industries, processing and manufacturing industries under modern, environment-friendly and low-labor intensive technologies to step by step participate in the global value chain. The implementation and investment in the construction of infrastructure of industrial parks and clusters according to planning is promoted. Supporting industrial clusters are developed to serve the diverse needs of investors. The situation of production and business operations in 2021 at associations of commodity lines and enterprises in the province should be known.
In 2021, the department will make every effort to well implement the program of market stabilization of essential commodities and strengthen the forecasting of market developments and prices while providing information and promptly reporting to Binh Duong provincial People's Committee for timely guidance. The development of commercial infrastructure would be improved; solutions to develop high-quality services and logistics services are to continue. The e-commerce development plan for 2021-2025 in the province is implemented to enhance international economic integration capacity and improve the competitiveness of export goods. The "dual target" well implementation will create a safe investment environment for businesses to return to the market, contributing to stabilize the local socio-economic situation.
Reported by Tieu My – Translated by Vi Bao