Aiming to type-1 urbanity in 2025, Thuan An city authority continues to invest into the refinement of infrastructures to attract investments and develop local economy to become one of the centers of urbanity and services in Binh Duong province.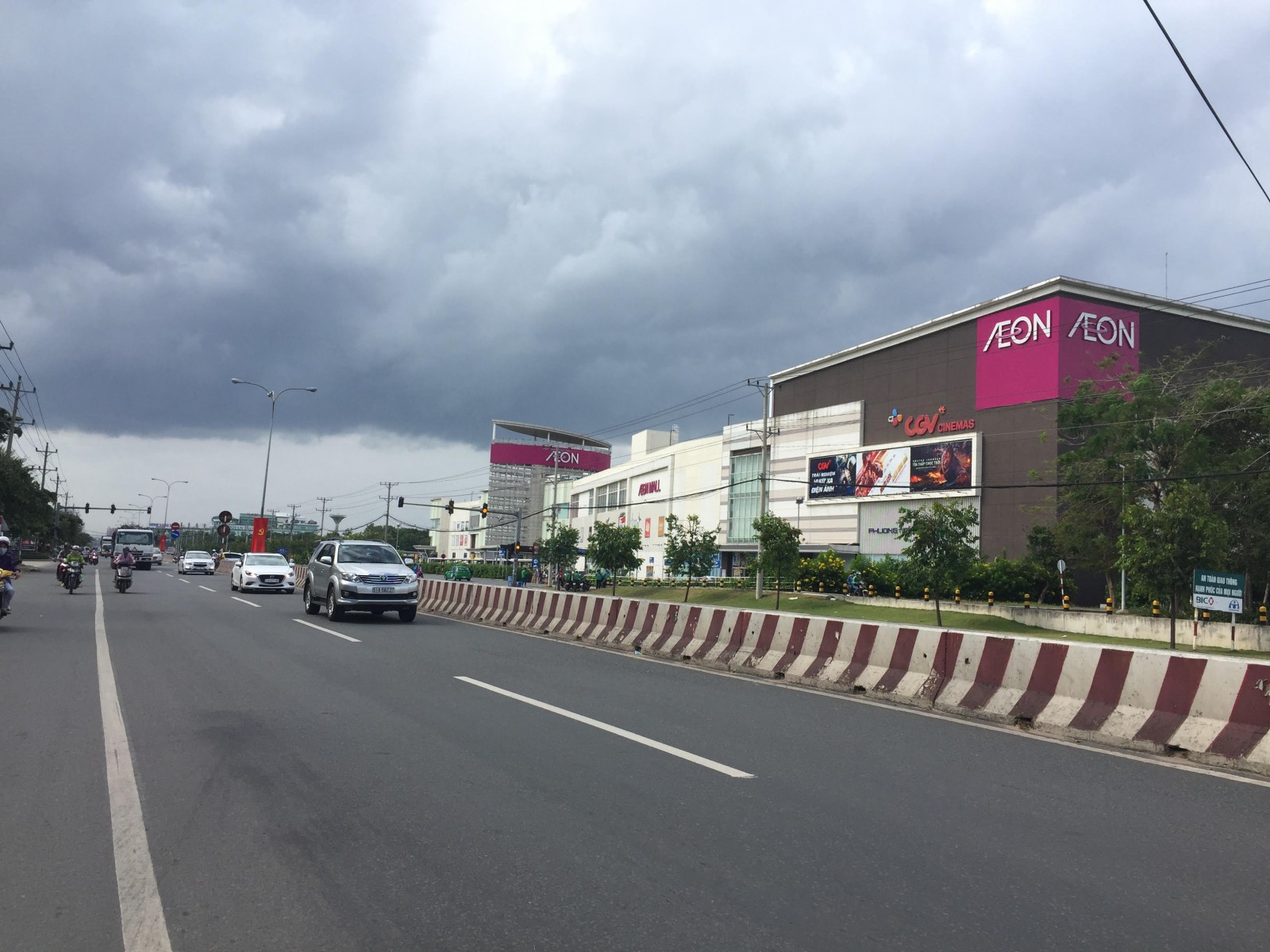 Thuan An city authority has been making efforts to become a center of urbanity and services. In this photo: An urban corner and Aeon Mall in Thuan An city
Modern infrastructure
Currently, the traffic connection of Thuan An city to Thu Duc district of Ho Chi Minh city and other major traffic routes planned for functional zones of urbanity-production-storage (in the east of the city) and service-tourism (in the west of National Highway No. 13) have been considered and focused on. The external and main urban routes are to be developed like Vanh Dai 3 in the zone of Ho Chi Minh city as being evaluated by Ministry of Transportation in terms of central government financial feasibility. Besides, the provincial authority is establishing design to upgrade Binh Duong Highway (from Le Hong Phong Street to Vinh Binh Bridge) while the DT743 route shall be upgraded by local and enterprise funding. Regarding the local financial resources, the city authority has fulfilled and put into use 5 constructions at the cost of over VND 98 billion. Investment documentation for 2 constructions at the cost of VND 229.5 billion is being prepared. As for waterway traffic, Binh Duong provincial People's Committee approved planning for internal water port on Saigon River. The project contributes to develop local and neigbouring eco-tourism and transportation.
Ever since 2016, Thuan An city authority has developed additionally 47 housing projects covering about 104.37 hectares. The investors have acted and contributed to beautify urbanity and develop housing in Thuan An while promoting higher development of trade and services.
Nguyen Thanh Tam, Chairman of Thuan An city People's Committee said: "In 2020-2025, Thuan An city authority prioritizes public investments into major projects to make breakthroughs and spread with assured State's management in the urban development roadmap. Resources are being mobilized to synchronously develop socio-economic infrastructure of the city in the manner that traffic infrastructure must be ahead and become the foundation for other services to develop."
Development promotion
In the past year, Thuan An city authority has made non-stop policies and implemented measures to encourage and call for investments to develop local trade and services while promoting services of high quality like logistics, postal, telecommunication, finance, banking, medical, tourism and accommodation across industrial parks and residential areas. A diverse network of trade, market places, supermarkets, commercial centers, and high-quality services is formed. For the mentioned measures, Thuan An city authority has attracted brand-name giants of Lotte Mart, Aeon, Metro, The gioi di dong, Nguyen Kim, international schools, and banks to become its residents. Currently in the city, 5 supermarkets, 7 commercial centers and 23 planned market places are under stable operation. Besides, the movement of "Vietnamese prioritizing Vietnamese goods" has been widespread to transform the use of Vietnamese commodities, contributing to the exploitation of domestic markets and elevation of competitiveness and brand-name construction.
"In the following years, Thuan An city authority shall concentrate on making use of advantages and potentials to develop services as the momentum to promote other production industries and satisfy the needs of production, daily lives, and consumers to fulfill the targets of socio-economic development of the city and Binh Duong province," said Nguyen Thanh Tam.
The potentials and advantages coupling with determination for the targets are believed to make Thuan An city a center of urbanity and services in Binh Duong province.
Reported Phuong Le - Translated by Vi Bao