In 2021, business community expects that, with support from the Government, ministries, branches, and municipalities, production and business activities would be more favorable, make new breakthroughs.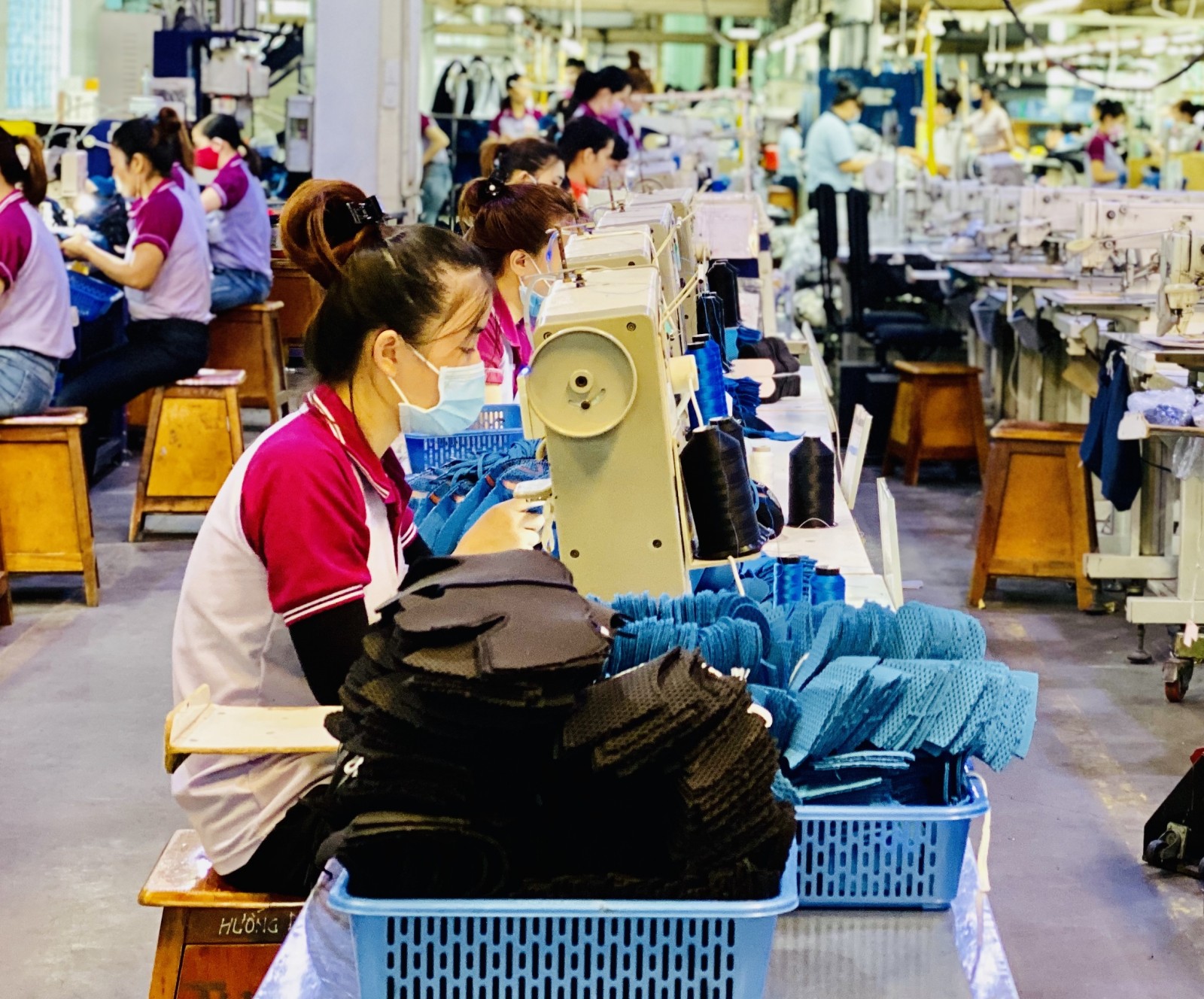 Production activities at Dong Hung Industrial Joint Stock Company (Song Than 1 Industrial Park, Di An City).
Belief doubled
In 2020, although the Covid-19 pandemic upset production and business activities of enterprises, the rapid recovery shows that enterprises have soon adapted, perfected their organization, and seized opportunities to enter a new stage with many development motivations.
As a promising industry, Binh Duong timber industry shows calm in face of the complex development of covid-19 around the world. Currently, enterprises continue to strengthen protection of workers against diseases epidemic, face difficulties, adjust production plans, and be optimism, move forward. Talking to us, Nguyen Liem, General Director of Lam Viet Company (Tan Uyen Town) said that, after a period affected by the pandemic, foreign markets are buoyant again, this is also a contributing factor to the strong market recovery. Besides, some importers shifted purchases from China to Vietnam. The two resonance factors make Vietnam's furniture export market almost fully recovered; even some factories can not receive more orders. Although the epidemic situation is still complicated, many businesses in the timber industry are struggling to recruit more workers to keep up production to ensure export orders increase again.
For leather footwear enterprises, after the epidemic, the opportunity to restructure the supply of raw materials and accessories is greater than ever; manufacturing enterprises recognized the importance of an active source of raw materials. The optimism of many enterprises comes from Vietnam's efforts to control epidemic effectively. It is expected that by the middle of 2021, important markets such as Europe, the United States would gradually recover, trade would be better, and consumption demand would also increase. In 2021, companies evaluated that the footwear industry would get better results, because in 2020 a series of FTAs came into practice and completed signing process, such as EVFTA, RCEP, or the most recent UKVFTA.
Phan Le Diem Trang, Vice President of Provincial Textile Garment Association, said that to overcome difficulties, textile and garment industry also realized that maintaining large export markets of Vietnam's textile and garment, such as Korea, Japan, EU, USA etc. plays an important role in production recovery and export. FTAs are also giving the textile garment industry a sustainable and mutually supportive trade platform. For example, Europe has allowed Vietnam to buy fabric materials from Japan, Korea to produce and export to the EU while enjoying tax rate of 0%.
On the side of the authorities at all levels, enterprises expressed great confidence as the voice of enterprises was heard. Although opinions and proposals made by enterprises or associations cannot be solved immediately, business community appreciates efforts and attention from the Government, ministries, branches and municipalities. Binh Duong also has initial solutions, determined to improve mechanisms and policies to support enterprises in developing and integrating into the world economy. Nguyen Liem hoped in the coming time legal assistance related to mechanisms and policies could to have the involvement of the whole professional system, which is knowledgeable about the law to make correct decisions.
New goals, new visions
Tran Chien Cong, General Director of Binh Duong Water - Environment Joint Stock Company (Biwase) said: "The year 2020 was full of difficulties and challenges for the economy and business community. But with constant efforts, Biwase built two new wastewater treatment zones, anticipated a new investment trend in Binh Duong. We also made effort to restructure organization, improved technology capacity, effectively used ODA loans to enhance competitiveness, and consolidated position to reach high standards in business management and administration. This is also one of the priorities in Biwase's development goal in the coming time. Our expectation, with careful preparation, is to enter a new, more stable stage".
In overall, the current business scope of Vietnamese enterprises is not only confined to domestic market but also present in many countries around the world. With the desire to go further, the goal of Binh Duong enterprises is to strengthen their reputation in the international arena. Senior Lieutenant Colonel Nguyen Thanh Son, Directors Board's Chairman of Tan Cang Song Than Corporation, said that businesses are not afraid to challenges or changes to prove their bravery in the global playground. However, they need to have a great strategy, join hands to build strength before new opportunities. Facing the trend of movement and development in all areas, it requires businesses to ally; otherwise they would lag behind or be eliminated. Accepting challenges and seeing challenges from reality is a good lesson for businesses to look back on themselves, know what to prepare for the fierce competition of globalization.
The belief in the new year and following years among business community is being strengthened and improved continuously when they know how to set goals and vision of the whole business community above all in the spirit of self-reliance and social consensus.
Reported by Tieu My - Translated by Ngoc Huynh