In the context of a broken supply chain due to the impact of epidemics, many businesses and commodity establishments of Binh Duong province have still increased their sales to ensure jobs and income for workers and lay solid foundation of grasping advantages and opportunities while creating breakthrough growth.
Getting out of difficulties
Phan Le Diem Trang, General Director of International Garment Joint Stock Company in Ben Cat town, said that the Covid-19 epidemic has become not only a big and unexpected challenge but also a test for governance capacity of her enterprise. However, many enterprises in the textile and garment industry have tried to overcome difficulties caused by the epidemic. The good news is that by now the orders have been back. Although current consumer demand is decreasing, textiles and garments are the essential product groups, so they can recover soon. The items in the basic segment with low price have especially decided by many businesses to focus on in terms of investments, product quality improvement, and strengthened competitiveness.
Trang said that many textile and garment enterprises currently have investments into development strategies and dare to look directly at the problems to see through and grasp up good opportunities to complete the operation process and rearrange personnel apparatus; thereby, momentum would be created for faster growth. During the epidemic, businesses have also received support from all levels of government, departments, and sectors, which add more motivation for the companies to overcome difficulties. Connection is a way that the businesses care for to promote and create strength while affirming and establishing their positions and brands so as to overcome difficulties as well as open the direction of extensive development after the epidemic.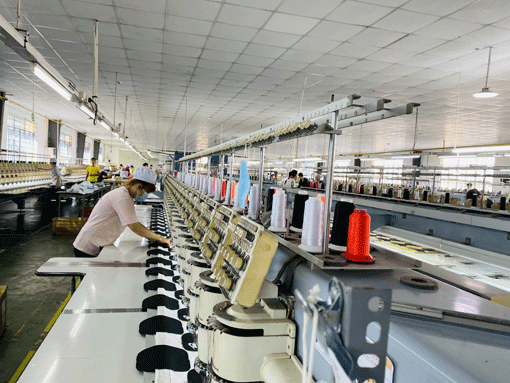 Production is on-going at Long Huong Co. Ltd. in Thuan An city
Tran Thanh Trong, General Director of Sang Ban Mai Joint Stock Company in Ben Cat town, said that the two outbreaks of Covid-19 were a blow to his company. However, in challenges, there have always been opportunities for businesses to actively respond and implement flexible strategies. In fact, while many businesses have difficulties in both supply and output, there are still businesses that could take advantage of the opportunities to exploit the market gaps due to supply chain failures or changing their established habits of consumption. Currently, Sang Ban Mai has fixed orders to the end of Q2-2021. For every year, this is also a common occurrence, but in an epidemic, it is a miracle. Up to now, export orders have also returned to the enterprises in the electromechanical industry. As a result, many businesses can solve both the problem of customers and employees' income and employment in a time of difficulties.
To focus on domestic market
During the Covid-19 epidemic, some businesses have taken advantage of the time to focus on restructuring production and business activities by changing working methods, applying technology, and converting digital to increase productivity, to cut costs, and to prepare for business opportunities as soon as the epidemic is under control. Huynh Quang Thanh, General Director of Hiep Long Company, said that the Covid-19 epidemic is still negatively affecting exports and commodity supplying chains. Facing the situation, businesses have focused on opening up the chain of links from production and supply to domestic consumption to stimulate it. Many furniture businesses have focused on developing domestic product lines according to orders from residential areas, hotel systems, and apartments. Gradually, stable development steps would be made.
Trang said that the International Garment Joint Stock Company has been researching to promote product development in the domestic market in parallel with exportation. The company is also cooperating with foreign businesses to promote designs in order to create a sustainable step for the garment industry. Trang also hoped to receive support from all levels and sectors so that Vietnamese enterprises in general and garment enterprises in particular can develop their domestic market in gradual step towards sustainability of production and business operations.
According to industry and trade department leaders, in order to conquer domestic consumers, businesses need to properly grasp the tastes and needs of each object and customer sector. At the same time, they should improve models, restructure production, reduce costs, and improve goods quality. From that strategy, goods will reach the national market, helping businesses to stand firm in the current difficult times and creating conditions for them to return to the world market as the Covid-19 epidemic is over.
Nguyen Thanh Truc, Deputy Chairman of Binh Duong provincial People's Committee, highly appreciated the spirit of overcoming difficulties of enterprises in the Covid-19 epidemic, contributing to maintain production and the socio-economic growth target of the province. For the coming time, he expressed his wish that businesses would continue to maintain their capacities and take advantage of opportunities in integration to minimize challenges brought about by the implementation of free trade agreements to develop sustainably according to the policy of the province.
Reported by Tieu My – Translated by Vi Bao