Inflicted by the long-term effects of Covid-19 epidemic, the lives of workers have been in great difficulties. It is forecast that the Lunar New Year of 2021 will eye hundreds of thousands of workers to stay in Binh Duong to celebrate the Lunar New Year. Thereby, the Standing Committee of Binh Duong provincial Party Committee has decided to increase the gift amounts for organizing Tet celebrations as compared to 2020. Tet celebration for employees is expected to be more specific and comprehensive than previous years.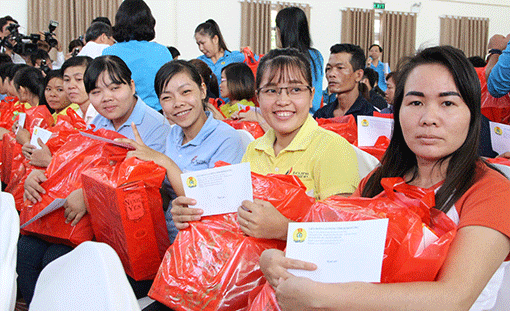 Nearly 1,500 Binh Duong resident workers in especially harsh situations have been offered more gifts for this year's Tet holiday
Various activities for Tet celebration
According Binh Duong provincial Trade Union, it is estimated for this year that about 250,000 employees would not return to their hometown and stay in Binh Duong to welcome Tet holiday. Nguyen Kim Loan, Chairwoman of Binh Duong provincial Trade Union said that, in general, the lives of workers in the province this year is facing many difficulties compared to other years. The epidemic has affected employment and income of them. Up to the present time, more than 30 enterprises declared that they do not have good conditions for Tet bonuses to their employees. Binh Duong Trade Union is coordinating with the trade unions at all levels to review the number of workers staying for Tet for gift offering and Tet celebration.
In addition to the program of "The Spring Transportation of Love" to get 5,000 workers back home to celebrate Tet (an increment of about 500 tickets compared to 2020), Binh Duong Trade Union also organizes many other programs to welcome Tet for employees such as 'Reunion New Year' and '0 VND fair'. This year, a new feature in organizing programs to welcome the new year for workers is the "Spring of Gratitude", which offers free tickets to 50 families whose wife or husband is an employee eligible for the tickets, the whole family to get on the bus for home to celebrate Tet. The eligible ones are those who have made contribution to production and trade union activities that have been certified by Binh Duong provincial People's Committee, Trade Union, above grassroots unions and been awarded with prizes in 2020 or being a part of initiation within the units and corporations in 2020.
Another meaningful program is organizing Tet celebration for workers at 100 hostels in the province. Many joyful activities will take place at selected locations to include singing, lottery, awarding events, etc. The landlords who help workers in difficult times during the peak pandemic by reducing and exempting the rental fees will be praised. The program of "Spring tours" to visit historical and cultural relics and sightseeing, entertainment and entertainment activities is also a new feature for this year's celebration. Thereby, the trade unions are choosing about 200 workers of difficult circumstances (and their families) to stay in Binh Duong to welcome Tet to participate. Nguyen Hoang Bao Tran, Vice Chairwoman of Binh Duong provincial Trade Union said: "This program will get employees to visit tourist resorts in the province, historic sites, movie theaters and some places where spring fun activities would take place."
This is the third year that Binh Duong has implemented the program of "Going home for Tet holiday" for young workers and employees with outstanding achievements in their work and they are offered air tickets and car tickets to go home for Tet with their families. Nguyen Thi Ngoc Xuan, Secretary of Binh Duong provincial Youth's League said: "This is a meaningful and humanistic program deployed by the Standing Committee of Binh Duong provincial Youth's League to the districts and affiliated Youth's League to award air tickets and car tickets to more than 600 young workers and employees of typical achievements in the province to return home to celebrate Tet. In which, nearly 300 air tickets from Ho Chi Minh City to northern and central provinces are offered and the rest are given by high-quality car tickets"
Over VND 220 billion offered for Tet celebration
Recently, the Standing Committee of Binh Duong provincial Party Committee met and approved the report on the preparation, care and services of the people to welcome Lunar New Year of 2021. Accordingly, the Tet payment regime for the subjects and the amounts would be similar to 2020; however, two additional objects of workers in extremely difficult circumstances residing in Binh Duong (according to the report of Binh Duong provincial Trade Union, these subjects are about 1,447 people, which makes an equivalent paying out of VND 723 million) and officers and soldiers on duty at Covid-19 isolation management facilities and increased spending on a number of other subjects have been added. The total estimated budget to offer for the Lunar New Year of 2021 is over VND 220 billion.
Speaking at the last meeting, Tran Van Nam, Member of the Party Central Committee, Secretary of the Provincial Party Committee cum Head of the provincial National Assembly Delegation asked departments, branches and local authorities to coordinate and grasp the situation for expenditure, management of expenditure and paying attention to the workers who stay in Binh Duong for Tet holiday to offer them the quality and meaningful Tet holiday. The departments and branches are asked to try to organize Tet in a simple, economical, unobtrusive but must be sufficient manner. The fire prevention, security and order during Tet holiday must be ensured to down turn black credit loans. Departments and branches must schedule and arrange attentive visits to socially privileged families, economic organizations, and employees.
Reported by Quang Tam – Translated by Vi Bao