In those days when Binh Duong has been struggling to prevent and fight against the Covid-19 epidemic, on passing through the blocked areas and concentrated quarantine areas, we could see a glimpse of blue shirts of veterans and groups of young men who were on duty outside blocking zone. Not afraid of sunshine, rain and hardship, they always stood side by side with the people in the fight against the Covid-19 "enemy".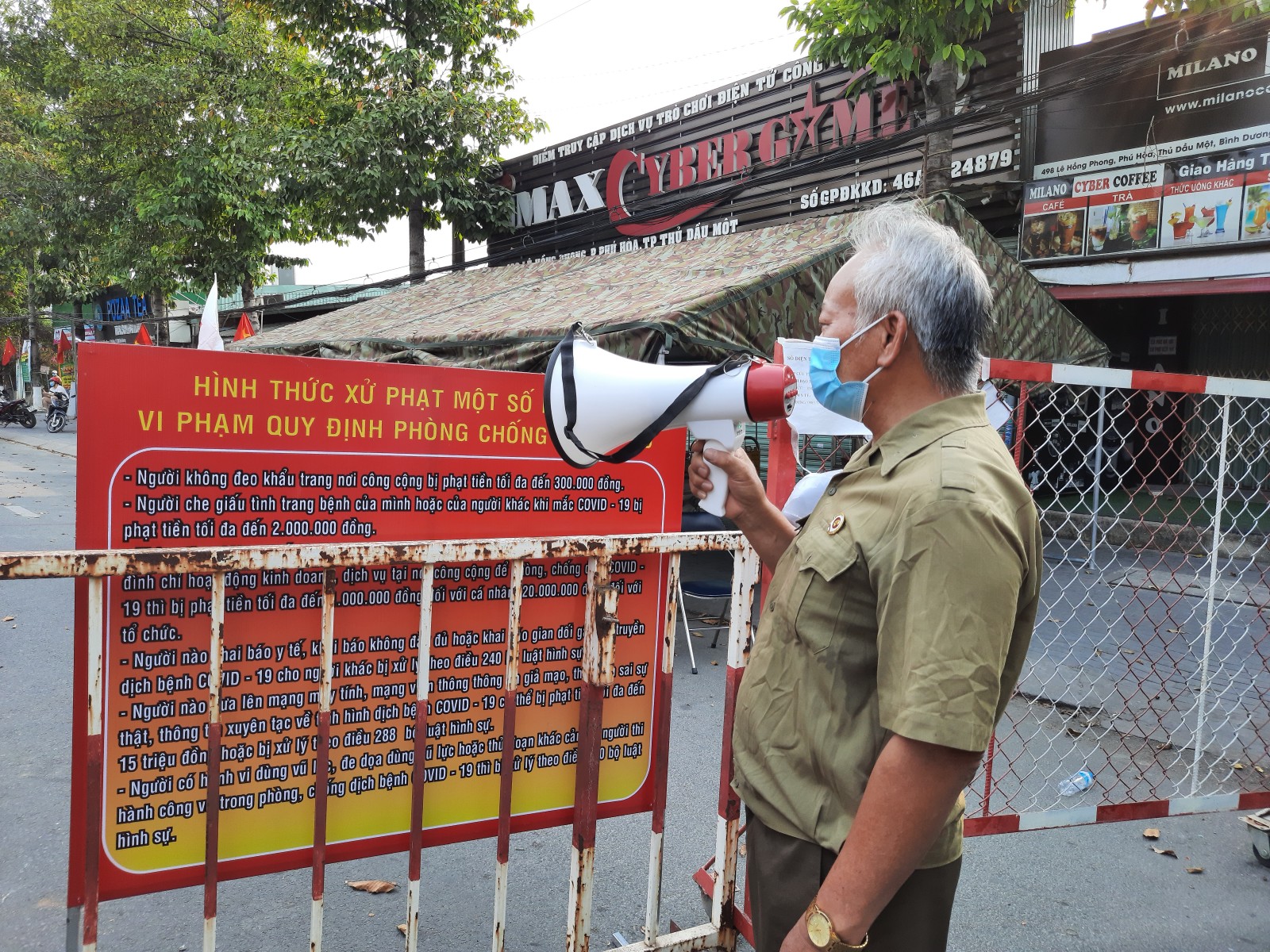 Vu The Tao, Chairman of Phu Hoa ward Association of Veterans in Thu Dau Mot city is guiding people to observe pandemic prevention and control measures
Volunteer for guarding through the nights
In the days near the Lunar New Year, in Binh Duong appeared cases of Covid-19 infection at Ca Na hamlet, An Binh commune, Phu Giao district, Phu Hoa ward, Thu Dau Mot city and Ehome 4 apartment at Vinh Phu ward, Thuan An city. Leaving aside the New Year's celebration, under the direction of the local authorities, departments, and agencies, unions and people of Phu Hoa ward, Thu Dau Mot city implemented the lockdown and quarantine at some localities. Outside the fences, the containment and isolation zones were temporarily erected. It was very touching when we caught sight of white-haired veterans walking outside the fence and holding loudspeakers to speak into the quarantine area to kindly remind residents to wear masks and wash hands by sanitizers and keep a distance of 2m each time lining to receive food from outside.
Despite of the age of 70, Vu The Tao, Chairman of Association of Veterans at Phu Hoa ward, Thu Dau Mot city still insisted on taking night watch for the militiamen and unions to rest and recover to continue with the next day's work. It touched many people. Tao confided aside from his worries: "At night, it gets very cold, the officers on duty for several nights are afraid of not being healthy to do their duties, and they assign them to take turns to guard the posts. Despite my old age, I can still support them directly." Also according to Tao, inside the blockaded area, there were also veteran members of Phu Hoa ward. Ward veterans' members communicate through the Zalo group, directing and assigning propaganda and advocacy for Covid-19 epidemic prevention and control. At the same time, they were getting to each home to encourage those being influenced by the sudden lockdown.
The firm backing line
Not veterans alone, women, militia and others in the localities always stood side by side to prevent and fight against the Covid-19 epidemic and to take care of and supply food and foodstuff for people in the blocked and isolated areas. In the isolated area of ​​Tam Lap Primary and Secondary School, Tam Lap commune, Phu Giao district, the "warriors" in green and blue clothes who voluntarily stayed to take care of and serve locally quarantined people. Nguyen Dac Hoa, member of An Linh Commune Youth Union, said: "During the recent outbreak of Covid-19 in 2020, I was assigned to serve logistic activities and to support people in isolation. I was at the Provincial Military School so I had a lot of experience. During this Covid-19 epidemic, I volunteered to the isolated area to help people with the desire for the epidemic to pass quickly, people would soon return to reunite with their family for Tet." As we could see, the supporting forces were quiet but effective. And more specifically, they have created the belief of getting through the epidemic among the people.
Now, the epidemic was on halt in Binh Duong. However, it still has many potential and unpredictable risks. Veterans, Youth Union, and Women's Union continue their duties closely side by side to closely control people who come and leave the epidemic areas to propagate and mobilize people to make serious medical declarations to ensure that they are under community health protection.
Reported by Thu Huong – Translated by Vi Bao