During the Covid-19 pandemic, the industrial promotion was more and more practical, effective, encouraged businesses, rural industrial production establishments to develop.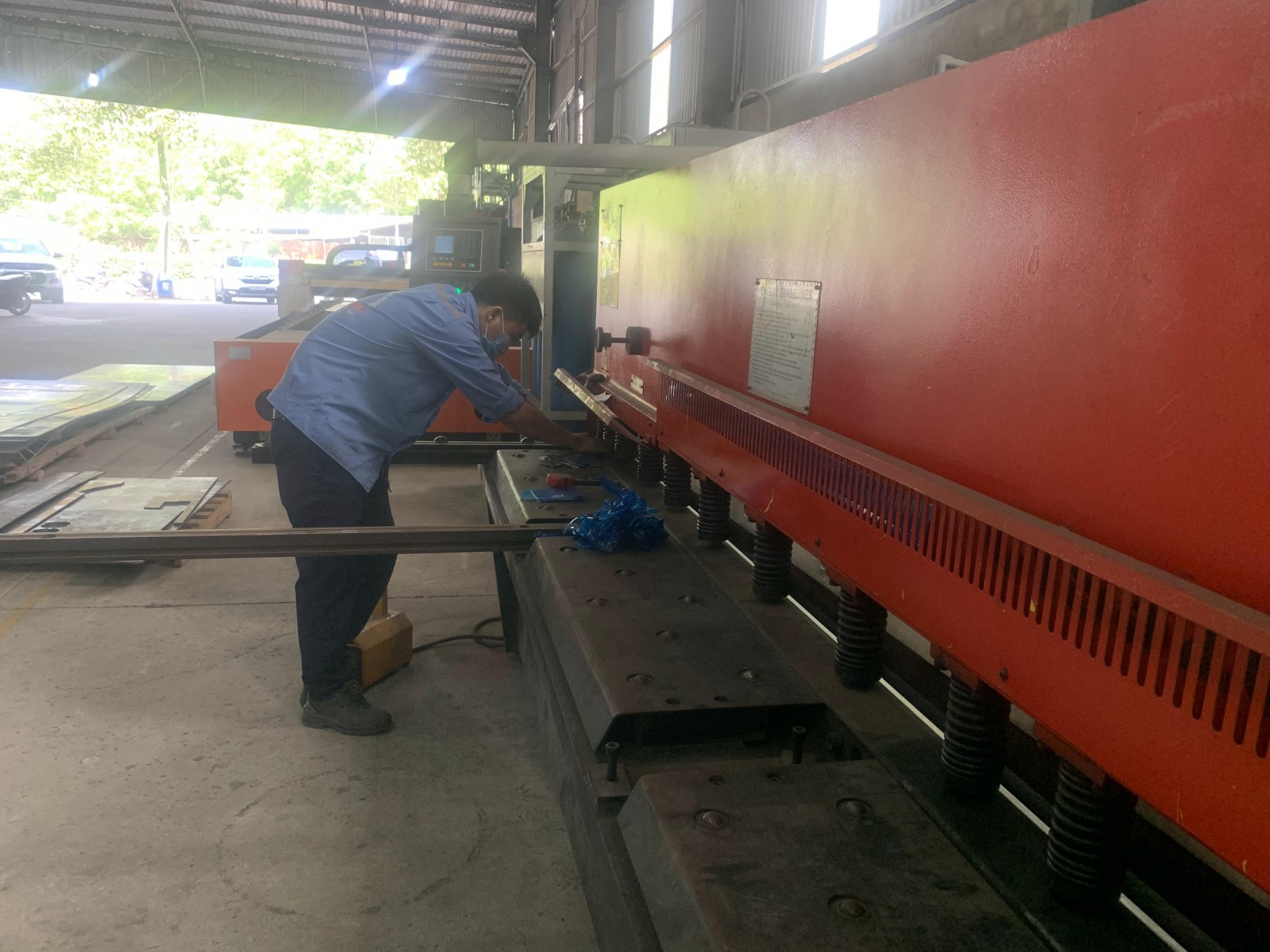 Industrial promotion fund actively supports precision engineering enterprises. In photo: Production at Thanh Danh Dat Company, Thuan An City.
To stick to reality
According to provincial Center for Trade Investment Promotion and Industrial Development, the benefits of industrial promotion fund are very practical, supporting enterprises in business development, production expansion, creating more jobs for workers, and heightening competitiveness. In addition, it also supports rural industrial production establishments to improve production technology, design and package, branding, developing goods production. Thereby, it helps these establishments be more proactive in production stages, improve productivity and quality, preserve well post-harvest products, reduce production costs, generate revenue and profit, create jobs for rural workers and stable consumption for local raw materials.
According to the plan, in 2020, the province's industrial promotion program focuses on improving the quality of industrial promotion projects, selects projects with great pervasive power to take advantage of potential, strengths, and support the development of characteristic industry products. Namely, during the Covid-19 pandemic, projects to support the application of advanced machinery and equipment into production, were gradually performed effectively; support rural industrial establishments in designing, package of products, contributing to creating new production capacity for rural industrial businesses, ensuring social welfare and security, making contributions to the new rural construction in the province. The industrial promotion program has helped rural industrial businesses invest in more machines, equipment, apply new advanced and modern technologies to participate in the production process, product quality is getting better.
Nguyen Thi Xuan Thuy, Deputy Director of Vi Hao Company, appreciated provincial industrial promotion programs for enterprises during the epidemic. The financial support from this program helped the company purchase advanced equipment, make new products to meet customers' demands. Currently, this enterprise's products have been exported to foreign markets, such as Korea, the US, Japan, Europe, Russia etc. "Previously, without Square metal detectors and automatic high-frequency film binding machine, we must bring samples to competent organizations to detect and analyze metal ingredients, if a product did not conform standards, we must remove the whole batch of products, causing huge waste. Furthermore, an automatic film binding machine increases productivity, protect product quality, improve packaging and safety in transportation. Since the above machinery and equipment were purchased, the company has guaranteed product quality, saved more production costs, avoided waste when detecting faulty products due to metal component analysis; especially ensuring food hygiene and safety, because the machine operates completely automatically and self-contained. It is estimated that revenue would increase from 10 to 15%, recovery time of investment capital would be 18 months", Ms. Nguyen said.
In fact, supporting enterprises in applying advanced machinery and equipment into production has helped improve capacity, develop production and increase market competitiveness, contributing to creating stable output and added value. Le Hoang Anh, Director of Tanoi Production - Trading - Service Joint Stock Company, said that thanks to new machinery and equipment, enterprises and production facilities increased labor productivity, reduce production costs, compete well on the market, and bring high economic efficiency. According to the company's leaders, to create good products with high accuracy and durability, it requires investment in modern machines. It is the industrial promotion fund that has empowered businesses to have adequate financial capacity to invest in modern machinery and equipment for production. This shows the attention of all governmental levels and branches to the company's business growth, which is a great encouragement for the company to stabilize production.
Currently, due to the Covid-19, production and business activities of enterprises in the province are facing many difficulties, the center is strengthening contact with businesses, checking the needs of rural industrial production establishments, giving priority to supporting industries and industrial products with high added value and great export value.
To get into stride
It can be seen that in recent years industrial promotion programs have played a good role in assisting the development of businesses in the province. In the coming time, the center pledges to carry out works to the right profession and right beneficiaries. To enhance propagation and dissemination of industrial and commercial development policies, industrial and trade promotion activities, the situation of industrial production - handicraft activities so that businesses are informed timely, accurately; support businesses in developing markets, consuming products, building trademark and brand name. To encourage all economic sectors to actively make investment in production development, technological innovation, enhancing production and business capacity, and sustainable development. Specifically, the industrial promotion will focus on supporting the deep development of the processing industry, startups with new products, characterized by local strengths.
According to expert assessment, in the coming time, the implementation of industrial promotion activities could face many difficulties and challenges due to impacts of the domestic and foreign economies. Industrial production tends to slow down due to the world trade's gloomy situation. Domestically produced goods, especially consumer goods, will have to face fierce competition with imported goods according to the tariff reduction benefited from FTAs.
Therefore, the industry and trade authority continues supporting effective activities of this program, such as developing and spreading technical demonstration models, technology transfer, and application of advanced machines. To attach importance to the development of prioritized industries and industrial products as the foundation for rural modernization, with high added value, great export value, and create more jobs for rural workers, tie production to industrial service development.
Reported by Tieu My - Translated by Ngoc Huynh