Binh Duong is striving for modern and comprehensive industrial, urban and transportation infrastructure as the foundation and favorable condition to transform from the Smart City strategy to an Innovation Region.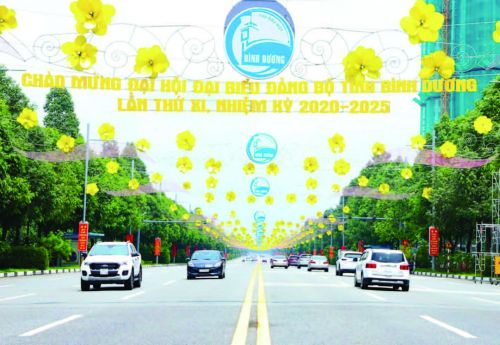 Infrastructure and urban development to facilitate the building of Innovation Region. In photo: Binh Duong New City is identified as the center for the Innovation Region.
The foundation for a breakthrough
The number of industrial parks (IPs) as well as the area of industrial lands is remarkable, with 34 IPs covering an area of 14,790 hectares. On the other hand, Binh Duong proactively planned for urban, transport development, and regional industry structure.
Currently, Binh Duong's transport infrastructure is considered to be methodically and evenly developed. This is also a great advantage that helps Binh Duong to attract domestic and foreign investors and human resources. The provincial traffic system connects with Highway 13, My Phuoc - Tan Van linking industrial zones of Binh Duong from south to north with Ho Chi Minh Highway in Bau Bang Industrial Park; North Tan Uyen - Phu Giao - Dong Phu - Bau Bang, Belt Road 3 and Belt Road 4 connecting Binh Duong to Ho Chi Minh City...
The above roads connect the provincial transport with the national network, ensuring continuity to serve the strategy of industrial displacement to the north, facilitating local economic growth.
With a synchronous traffic infrastructure, Binh Duong has gradually upgraded urban areas to meet service needs of the people. Binh Duong has now 3 cities directly under the province, including Di An, Thuan An and Thu Dau Mot Cities. Satellite towns are also upgraded to become green, environmentally friendly urban centers with synchronous and modern socio-economic infrastructure.
The above advantages help Binh Duong to be one of the leading provinces in attracting foreign investment (FDI). This is also a very important premise for the development of industrial services and technological solutions for investors in provincial ecosystem as well as the entire Southern key economic region. It can be seen that Binh Duong has accumulated a solid foundation, with a great opportunity to thrive in the economic development race in Vietnam. This is also the foundation and a favorable condition for Binh Duong to transform the Smart City strategy to the Innovation Region.
A changing step
The Smart City strategy was transformed into Binh Duong Innovation Region, and expanded its scope to scientific and technological industrial park, and other industrial parks, urban centers in Binh Duong. Innovation Region is the initial accomplishment of the Binh Duong Navigator 21 project; is the spreading of Binh Duong Smart economic zone and has been expanded omnidirectionally to reposition the role of development for each specific region in the province.
At conference reporting "Binh Duong Innovation Region" project, Tran Van Nam, Member of the Party Central Committee, Secretary of Provincial Party Committee, Head of Provincial National Assembly's delegation, asserted: "With the current potential and capability of Binh Duong, especially achieved results in the project implementation of building a smart city, we are capable of moving forward to Binh Duong Innovation Region". The first main content presented by Mr. Tran at this conference was the urban and transportation planning, including the approval of the Binh Duong Innovation Region's master plan. In which, Binh Duong New City is the center to start and change the development direction to industrial parks of the future, namely Bau Bang scientific technological industrial park. Urban development is combined with public transport planning (BRT - TOD). To strengthen road traffic system, develop solutions to manage and upgrade existing roads to deal with traffic congestion. To continue investing in the construction of belt roads and avenues of Binh Duong. To prioritize development of new traffic, such as waterways, railways; smart logistics and high-quality, digital - broadband infrastructure.
According to the Innovation Region planning, Binh Duong New City will be developed synchronously, modernly and scientifically in terms of economic and social infrastructure, including: management centers, high-end commerce-service centers (WTCA), FabLabs, TechLabs, Living Labs, creative spaces, business and startup incubators, modern living spaces have been identified as the center of Binh Duong Innovation Region... Urban - industrial areas (Thuan An City, Di An City) connecting the east of Ho Chi Minh City with Binh Duong continue to be developed into compressed cities with high density and high-quality services. Tan Uyen existing industrial area will be gradually transformed into a green industrial park; multi-functional and multi-center urban sub-regions; building a model of smart villages, promoting green tourism, energy conservation, and environmental protection.
In addition, to form new port towns in An Tay and Thai Hoa, combined with logistics centers; to upgrade these two ports into international ports in Binh Duong. Industrial development area of Ben Cat will be gradually transformed into a smart production area. Bau Bang scientific technological development zone is positioned as a satellite cluster for scientific and technological development of the central region, in which the core is scientific technological industrial park surrounded by existing industrial parks such as Bau Bang, Cay Truong, Lai Hung. Scientific technological industrial park in Bau Bang district is considered by experts as a breakthrough in industrial production, a fundamental infrastructure for the formation of a creative innovation ecosystem, investment attraction with high added values, creating a premise for the province's hi-tech manufacture.
Reported by Phuong Le - Translated by Ngoc Huynh