In order to support enterprises to overcome difficulties caused by the Covid-19 epidemic, the logistics businesses have made efforts to reduce costs in order to increase competition and attract investments. However, in reality, the matter has been under great difficulties, requiring for many radical solutions.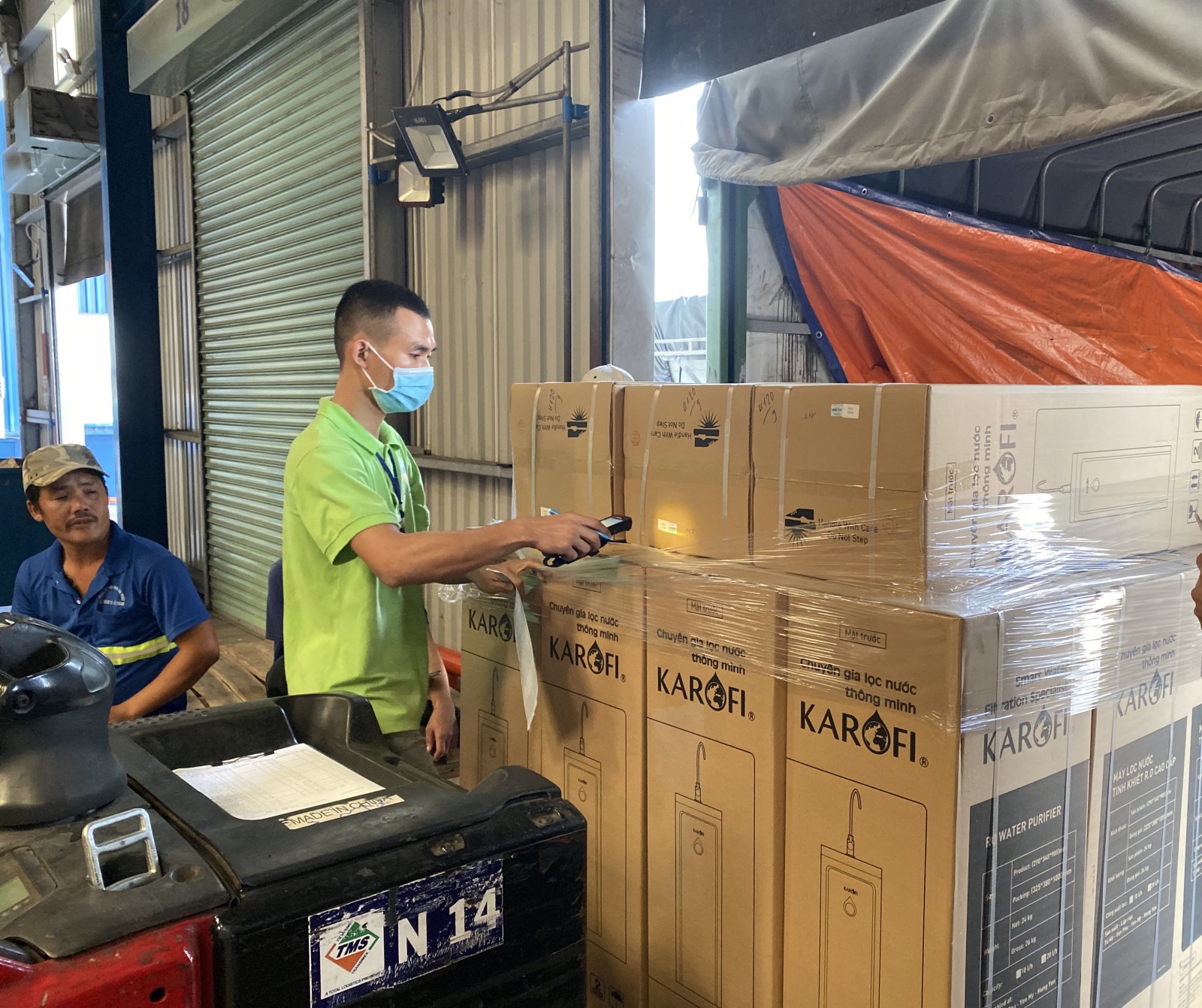 Cargoes are examined before storing at Traransimex Distribution in Di An city
The lack of containers
Talking to us, Pham Xuan Xo, Chairman of Binh Duong Exportation and Importation Association, informed that by the end of the year, enterprises have promoted their exportation of goods to service the market needs. However, majority of exporting goods have been under lack of containers for packaging and the freights have been tremendously great, making business community worry. The lack of containers has, noticeably, been consecutive since September 2020, leaving great damages to enterprises who had to postpone signed orders and refuse new orders. The situation has been forseen to last to the middle of 2021.
As reported by members of associations of furniture and shoe-making, the producers have been facing the problems of lacking containers for packaging as the container rents were rocketed to 10 times higher than before. Many enterprises have also reported the never-before situation of fighting for packaging containers as sea freighters are constantly quoting higher freights. Moreover, the freights may fluctuate on daily basis and even be doubled within a week without available containers for packaging. The development leads to the scenario that enterprises become reluctant to accept new orders in the middle of Covid-19 pandemic that has adversely affected the production, making it harder to increase product prices.
According to Nguyen Liem, Deputy Chairman of Binh Duong Furniture Association (BIFA), many exporters are diverting for FOB that enforces buyers to bear freights, leaving domestic exporters only to domestic costs of getting containers from depots for packaging. As the matter of fact, the freight hike may not directly affected Vietnamese exporters; however, the pending time for exportation would destruct them as the expenditures for storage would be hiked to 10-20% of the cargo batches. The immobility of goods keeps buyers from paying. No payments mean disrupted production operations of Vietnamese enterprises.
According to Vu Sinh Tung, Director of Traransimex Distribution in Di An city, the current effects of Covid-19 pandemic have increased the circulation time of a container to 100 days from the previously term of 60 days. The situation has resulted in the global lack of containers for packaging and broken the supplying process. Enterprises specialized in logistics are making efforts to reduce cost by contacting many other freighters; however, the lack of containers remains the universal problem of all small and big freighters alike. To help enterprises, logistics units have doubled their shifts to reduce the return of blank containers as much as possible. Concurrently, during the Covid-19 pandemic, logistics costs has been reduced by 5-10% to partners, which may be retained to the end of 2021.
"The situation is considered as how we share with our customers during the hardship so as to contribute to promote circulation of goods," said Tung.
According to Nguyen Quang Sang, Deputy Director of Phuong Nam Logistics at VSIP I, understanding the difficulties, transporters have reduced costs; however, the lack of containers has made transportation orders fewer than before.
"If, as previously, we may transport 3 containers a day, now we could only transport 1. The association of exportation, if possible, may use containers rationally and effectively by regular information exchange to optimize the two-way container circulation and reduce costs," said Nguyen Quang Sang.
Long-run resolutions needed
Nguyen Hoang Vu, Chairman of Binh Duong Logistics Association, made it straight that traffic infrastructure of Binh Duong province has not matched the development and is being overloaded due to fast socio-economic development. The rapid increment of road traffic flows has created peak hour congestions regularly on key routes of Tan Van – My Phuoc – Bau Bang, DT743 or National Highway No. 13, among others, leading to higher logistics costs and more transportation time.
Although many planning efforts have been made for ports on Dong Nai River and Saigon River, the transportation burden has not been mitigated as no large-scale port has actually been built. In the meantime, only North-South railway is available for railway transportation through the only train station of Song Than with not very large amount of transportation as the connectivity with roads is limited while no connection to waterways is established. Currently, the storage and distribution system is humble with no comprehensive logistics centers. The ports and ICDs have not been built in harmony to satisfy the transportation needs of enterprises. The ports of the key economic zone like Cat Lai and Cai Mep are unable to bear transportation burdens let alone a bottleneck from Binh Duong to Ho Chi Minh city. All the problems have made it inevitable to construct an international standard logistics chain.
Nguyen Thanh Truc, Deputy Chairman of Binh Duong provincial People's Committee affirmed that the current situation would be overcome by major plans and programs of integrity to sustain development of the province for the new stage. Binh Duong provincial economic structure is currently unbalanced due to the rapid industrial development in the face of unmatchable services. Thus, under the project of construction of innovative zone of Binh Duong in combination with a smart city construction, it has been stressed that the elevation of service proportion against commercial activities and international connectivity should be made with concentration on logistics services.
Currently, the efforts of constructing managerial solutions and upgrades of current routes have been on-going in the province to resolve traffic congestions. Investments have been retained continually to boundary and major routes. The development of waterway transportation has been oriented to the combination with ports on Dong Nai River and Saigon River to reduce congestions and transportation time as well as emissions to the environment.
Reported by Tieu My – Translated by Vi Bao