In recent days, information and images of people in central provinces of Vietnam are suffering fierce flooding, making us all moved to tears. Along with the whole country, Binh Duong people are turning towards the Central by meaningful practical activities to show compassion, sympathy towards compatriots...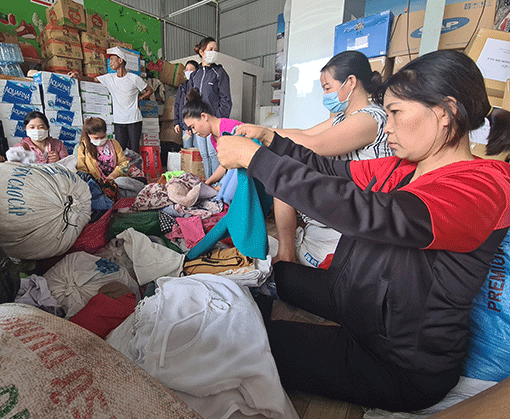 Citizens of Di An City sort out and arrange clothes to promptly send to people in flooded areas.
Compassionate cakes
It's 4:00 p.m. 20th Oct, at Luu Van Huu's house in Tan Dong Hiep Ward (Di An City). Although it was late afternoon and rainy, the atmosphere here seemed hotter than ever because there were hundreds of busy people. All together were finishing rice cakes to soon send to people affected by floods. From young to older people, all enthusiastically contributed, joined their hands to quickly complete the work.
Le Thi Van Anh skipped the celebration of Vietnamese Women's Day to join everyone here to packing rice cakes sending to the central region. As a child of Quang Binh's hometown living in Binh Duong for a long time, Van Anh felt deep sorrow at hearing news about this flood on mass media. She said: Đây là một ngày 20- 10 đáng nhớ nhất cuộc đời của tôi. As a worker, my income is not high, thus I contributed a small effort to help people in flooded zones. I hope, people across the country will join hands for the Central region". Phan Van Linh and his wife took a day off work to come here to pack rice cakes, hoped to make a small contribution and share difficulties with the central region. "Here the majority are workers. Those who work the night shift, come to help during the day, and people who work the day shift, come here at night. Although we are tired, we feel very happy", said Linh.
Luu Van Huu said that they initially expected to pack about 10,000 rice cakes, but thanks to the help of all people, the number of cakes increased considerably. In addition, people also supported many other necessities to send to people in Central region.
Finished cakes were not so beautiful, because we are not professional, the package and cooking also took a lot of time and effort, yet everyone was so excited, enthusiastically took part in all activities, because their hearts are turning towards people in Central region who are suffering from food shortages. Mr. Luu said: "I believe that, with the contributions from all people, the Central region will soon overcome this difficult period."
To work together for the Central
For the people of central Vietnam, flooding is a common thing for hundreds of years, but facing four continuous big floods within a short time period this year is really exhausted. Seeing images of thousands of houses engulfed, isolated, all their belongings and properties washed away by floods made many people in Binh Duong uneasy. Some people went into the heart of the flood.
Through news on mass media and from her friends who were directly joining hands to relieve severely affected areas in the Central, Nguyen Hoang Duy Ngan, who lives in Hiep Thanh ward (Thu Dau Mot City) was heartbroken. Initially, Ngan expected to donate about 600 gifts, each worth 150,000 VND, but her meaningful work got unexpected results. Five days after the calling, the total donation amounted to VND 220 million. In addition to those who often work with Ngan in social charity activities in recent years, some clubs, societies, other volunteer groups also trusted and sent her their gifts to transfer to people in Central region. "I am very happy to have more supports for preparing more gifts to people in Central region during this difficult time. On Oct 24th, we will set off to bring everyone's love and compassion to the Central region," Ngan said.
Red Cross of Tan Binh ward, Di An City also boosted extensive communication among all people in their area to mobilize supports for the Central. Le Trung Hieu, Chairman of Tan Binh Ward Red Cross, said that in order to give strength to the Central, the Red Cross called upon people to make contribution by announcements on Facebook, Zalo and open letters to organizations, businesses and individuals. "Each person make a small contribution to the Central. We hope that all people in central provinces will be supported, stronger, encouraged in a timely manner", said Ms. Le.
Affection of people throughout the country are turning towards people in the Central at this time. In the mean time, people in the central provinces are still struggling with flooding and are in desperate need of support from the whole country to help them overcome the immediate difficulties, soon stabilize their life after the flood.
In response to the call Provincial Fatherland Front, as of 21st Oct, organizations, businesses, units and people in the province donated a total amount of VND8 billion to people of central provinces to overcome flooding consequences.
Reported by H.Thuan, H.Thuy - Translated by Ngoc Huynh