Deputy Minister of Health Tran Van Thuan appreciated Binh Duong province's proactiveness and effort in being ready for emergency and active resuscitation for severe cases.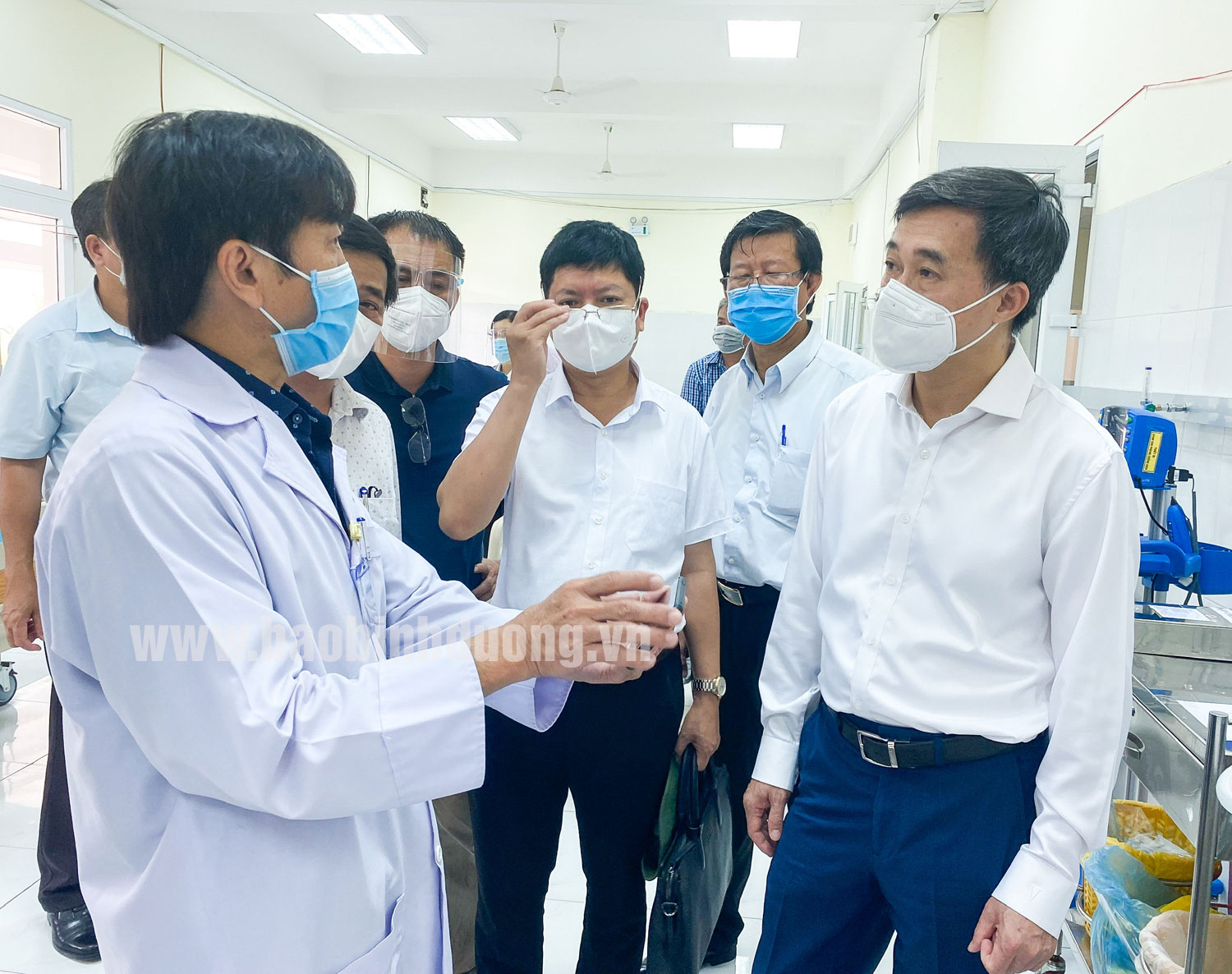 The Deputy Minister emphasized: "Currently, Binh Duong has an ICU Center and is deploying another ICU Center to be ready for treatment of serious patients, which I think is very important at this time. The Ministry of Health will provide maximum support for the province to complete these two centers.
The Ministry of Health assigned Department of Medical Examination and Treatment to collaborate with units of the Ministry and provincial Department of Health, specifically treatment units of the department, to review and assist the completion of ICU units with a scale of 50-100 beds to ensure treatment for critically ill patients. In the immediate future, Ministry of Health will mobilize and provide Binh Duong with an ECMO system at ICU units for emergency and resuscitation of serious patients.
Previously, Provincial People's Committee approved Emergency and Intensive Care Center for the treatment of serious patients at the second facility of Provincial General Hospital in Phu Chanh Ward, Tan Uyen Town with a scale of 200 beds. In addition, the Command of Military Region 7, Provincial Military Command coordinated with Department of Health to develop Infectious Field Hospital No. 5B, with a scale of 500 beds at National Defense Education Center under Provincial Military Command.
Binh Duong province also asked the Government and the Ministry of Health to support 50 ventilators, 200 doctors (20 emergency resuscitation doctors, 180 internal medicine doctors, general practitioners), 250 nurses, ECMO machines, 24 staff , RT-PCR test technician, 100,000 to 200,000 antigen rapid tests, 20,000 PCR tests. The province also suggested the Government approved of the province receiving ambulances donated by organizations, individuals and businesses to serve the epidemic prevention control in the current period.
It is known that from the beginning of the 4th outbreak to the morning of July 21, Binh Duong recorded 4,382 cases of Covid-19, of which 300 patients recovered, 12 patients died. Out of a total of more than 3,000 patients being treated, 84 have underlying medical conditions and 85 have serious complications.
Reported by Kim Ha - Translated by Ngoc Huynh