Provincial Department of Construction has made every effort to implement Law on Planning, invest in infrastructure construction, carry out the national urban development program. Binh Duong has ensured the correct implementation of urban upgrading and development towards civilization and modernization, improvement of the people's living standards.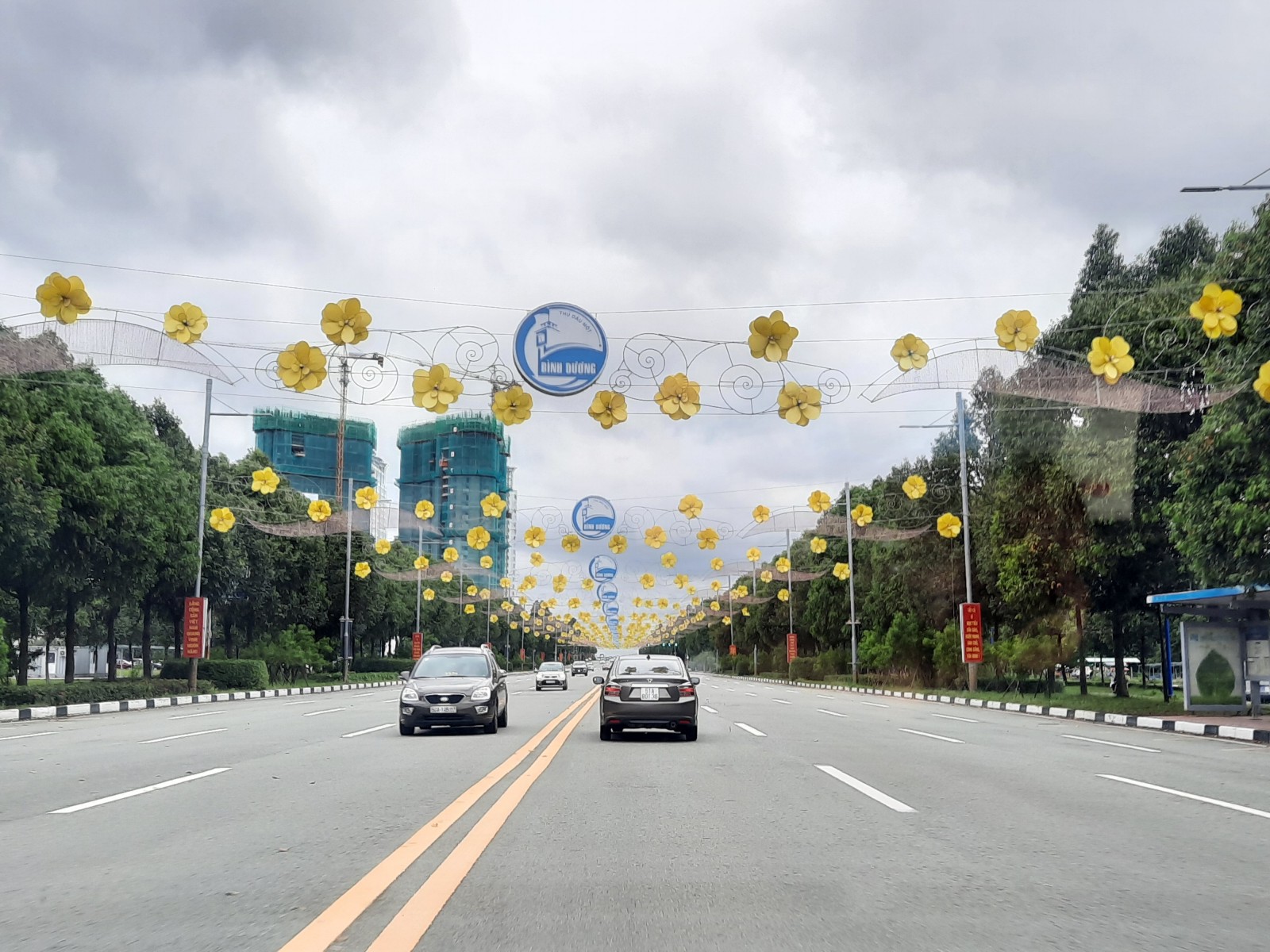 Binh Duong urban face is growing on the right track, becomes more civilized and modern. In photo: Binh Duong New City, a highlight on the way of development.
To guarantee the right roadmap implementation
To reinforce the Planning Law, provincial Department of Construction gave advises about provincial planning to ensure the assigned progress, the effective implementation of urban planning, construction of the province. To focus on assessing and classifying wrongly adjusted planning. Specifically, the department approved 54 planning documents and adjustments; reviewed and adjusted zoning planning of Phu Tho ward, Thu Dau Mot city; set up adjustment of the 1/500 detailed plan of the North Tan Uyen district's expanded administrative center.
Department of Construction collaborated with relevant municipalities and units to carry out urban renovation, ensure the roadmap for urban upgrading under the Program 22-CTr / TU dated 15th Aug 2016 of Provincial Party Committee on urban development towards civilization and modernity, improve the quality of life and building a civilized urban lifestyle. To carry out urban renovation of residential areas, including spontaneous residential areas. To effectively implement Binh Duong Smart City Project, the department worked with each municipality to give instructions on the urban development program in the 2016-2020 period and implementation plan for 2021-2025 period.
Vo Hoang Ngan, Director of Department of Construction, said in order to implement the urban development program of Binh Duong province 2016-2020 period and other urban development programs in the province, the department issued guidance documents and asked municipalities final report on the programs. "Urban upgrading has been implemented according to schedule of the national and provincial urban development program. Binh Duong has basically completed the urban upgrading according to the schedule", Mr. Vo said.
In 2017, Thu Dau Mot was lifted from class 2 to class 1, Thuan An City and Di An city from class 4 to class 3. The two northern districts were recognized to reach urban criteria of class 5, including Lai Uyen town of Bau Bang district; Tan Thanh town and Tan Binh town of North Tan Uyen district. In 2018, Ben Cat and Tan Uyen were from class 4 to class 3. In 2019, Tan Binh in North Tan Uyen district reached class V urban criteria; Thuan An, Di An were upgraded from towns to cities; 4 communes to wards in Tan Uyen Town.
In 2020, Tan Binh commune was upgraded to town; the province also completed recognition procedure of Lai Hung town of Bau Bang district, and Thanh Tuyen of Dau Tieng district reached class-5 urban standards. Binh Duong province has one class-1 urban (Thu Dau An Mot); four class-3 urban (including Thuan An City, Di An City; Ben Cat, Tan Uyen Town); five class-5 urban under district (Dau Tieng, Phuoc Vinh, Lai Uyen, Tan Thanh towns; Tan Binh urban area). It is expected that in 2020 the province would complete the upgrade to class 5 for two urban areas, submit dossiers to Ministry of Home Affairs to establish Tan Binh, Thanh Tuyen, Lai Hung towns.
Mr. Vo said: "Based on the agreement of localities and Provincial People's Committee, Department of Construction summarized the National Urban Development Program 2012-2020. The department advised on the roadmap to upgrade urban areas in the province in 2021-2030 period and submit to Ministry of Construction, and advise on the national urban development program in the coming period. After the Prime Minister promulgates the National urban development program, provincial Department of Construction will soon advise on the roadmap for urban upgrading"
Infrastructure investment
Since beginning of 2020, Department of Construction has focused on the public investment plan to ensure the progress of investment projects, especially sped up the execution of key projects, administrative procedures in public investment, verification and appraisal of projects. In particular, the department collaborated and sped up the construction of main important roads of the province, such as North Tan Uyen - Phu Giao - Bau Bang route; renovation of Highway 13 (Thuan An City), DT743 (Thuan An City, Di An City); continued to invest and upgrade My Phuoc - Tan Van route; DT748, Belt Road 4, Belt Road 3; inter-regional traffic works such as: DT741, DT744, DT746, Muoi Muon - Tan Thanh (Tan Uyen Town), Saigon riverside road (through Thuan An City), Bach Dang 2 bridge crossing over Dong Nai... Regional roads, rural roads combined with urban renovation are also invested by local governments for the socio-economic development.
In addition, river port system is also invested, such as Thanh Phuoc (phase 1), Ba Lua, An Son, Rach Bap, An Tay, Thanh An, Thai Hoa, Thuong Tan, Tan Van, Binh Duong ports in order to utilize river infrastructure for the transportation of goods, industrial and tourism development.
The department carried out a project to improve the capacity of traffic management of public passenger transport in Binh Duong province; PPP infrastructure project invested by JICA in Binh Duong in bus rapic transit (BRT) connecting Suoi Tien station and Binh Duong Industrial - Service - Urban Complex, planned for new Binh Duong Bus Station to improve the percentage of passengers using public transport in commuting, avoid traffic jams. The investment in infrastructure is increasingly comprehensive, modern, creating a new spacious and modern urban appearance.
Reported by Phuong Le - Translated by Ngoc Huynh