Determining healthcare as one of five basic social services for the poor households, Binh Duong provincial authority for the time has offered various policies and assistance to offer healthcare fees to those subjects. Decision No. 3393/QD-UBND of provincial People's Committee on offering partial fees of healthcare to the poor and those in sudden difficulties or suffering from threatening diseases and illness in the province as the humane and meaningful measures that contribute to social security effectively implemented in the province.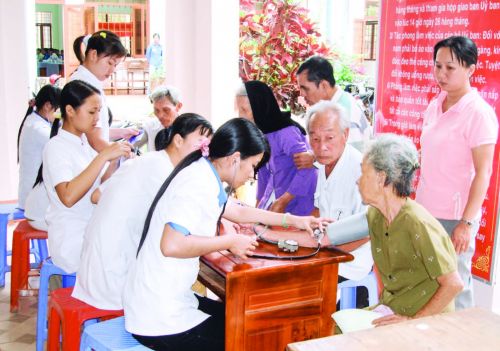 The poor are regularly offered free medicines and healthcare from departments and unions
The joy of the patient
Meeting those who offered healthcare fees under Decision No. 3393 of Binh Duong Provincial People's Committee was to know their joy and happiness. Thanks to such support, the poor and those who are in sudden difficulties have been mitigated from the burden of illness and get better in life. Poverty has left family of Nguyen Thi Ngoc at An Phu ward, Thuan An town to dead end. Her daughter, Tran Ngoc Thai, 10, has recently been diagnosed with first stage blood cancer. Ngoc sold almost everything in her home to get money for her child's treatment. Thai is covered with health insurance; however, some special medicines for her treatments are not covered. By the help of kind-hearted people and fees offered to people of sudden difficulties, Ngoc's family is getting better to treat their child and settle down. Vo Van Boi at Dinh Hiep commune in Dau Tieng district, a patient of long-term pneumonia and high blood pressure, is a regular patient of Binh Duong provincial General Hospital. Boi's family is listed as poor household; thus, his prolonging treatment at the hospital is getting on as burden of his family. However, being beneficial of policies enabled by the Decision 3393 of Binh Duong Provincial People's Committee, Boi is facing fewer burdens of treatments. Talking to us, Boi said: "Aside from medical insurance offered by local authority, I am offered meals during my impatient treatment and travel fees. The assistance is so helpful to mitigate our burden as a patient."
Huynh Thi Nguyet Phuong, Director of Thuan An city Medical Center, said: "For specific cases of the poor and people of sudden difficulties, the partial fee offering to them is vital. Knowing that, we have coordinated with local authorities to pay for them and ensure that they could be beneficial of as regulated. The administrative procedures of healthcare, especially medical insurance benefits, have been rapid and easy to gain satisfaction of the patients."
To share the burdens of the poor
The implementation of medical policies supporting the poor in the province in recent years has been well done. The actual survey showed that medical fee is great deal to the poor and those in difficulties to treat threatening diseases such as cancer or kidney filtering. The Decision 3393 covers a variety of those people in difficulties to mitigate the burden of treatment fees.
Statistical data of Provincial Department of Health through the years showed that 408 profiles of the poor and people in sudden difficulties have been processed and offered over VND 1.6 billion to help. Besides, the department has proactively coordinated with departments to offer healthcare and medicines to nearly 16,000 turns of poor people at the cost of over VND 3.1 billion. Over 3,500 turns of patients have been treated at the cost of VND 2.5 billion. Moreover, authorities of districts, towns, and cities have coordinated with functional agencies to grant 19,548 medical insurance cards to the poor and people near the poverty threshold at the cost of over VND 14.6 billion.
Ph.D. M.D Van Quang Tan, Director of Binh Duong provincial General Hospital informed that patients of cancer, liver illness, kidney failure and heart diseases are on a rise. Those patients all have medical insurance; however, some medicines are not covered by their insurance policies; thus, it has been so hard on them. Decision 3393 of Binh Duong provincial People's Committee is righteous and timely to mitigate such burden for social welfares.
Reported by Kim Ha – Translated by Vi Bao