Overcoming difficulties caused by the Covid-19 pandemic, in 2020, culture, sport and tourism branch of Binh Duong province made efforts to organize cultural, sport and tourism activities both serve provincial political duties and satisfy people needs. Here are seven outstanding events in 2020 of the Culture, Sports and Tourism branch: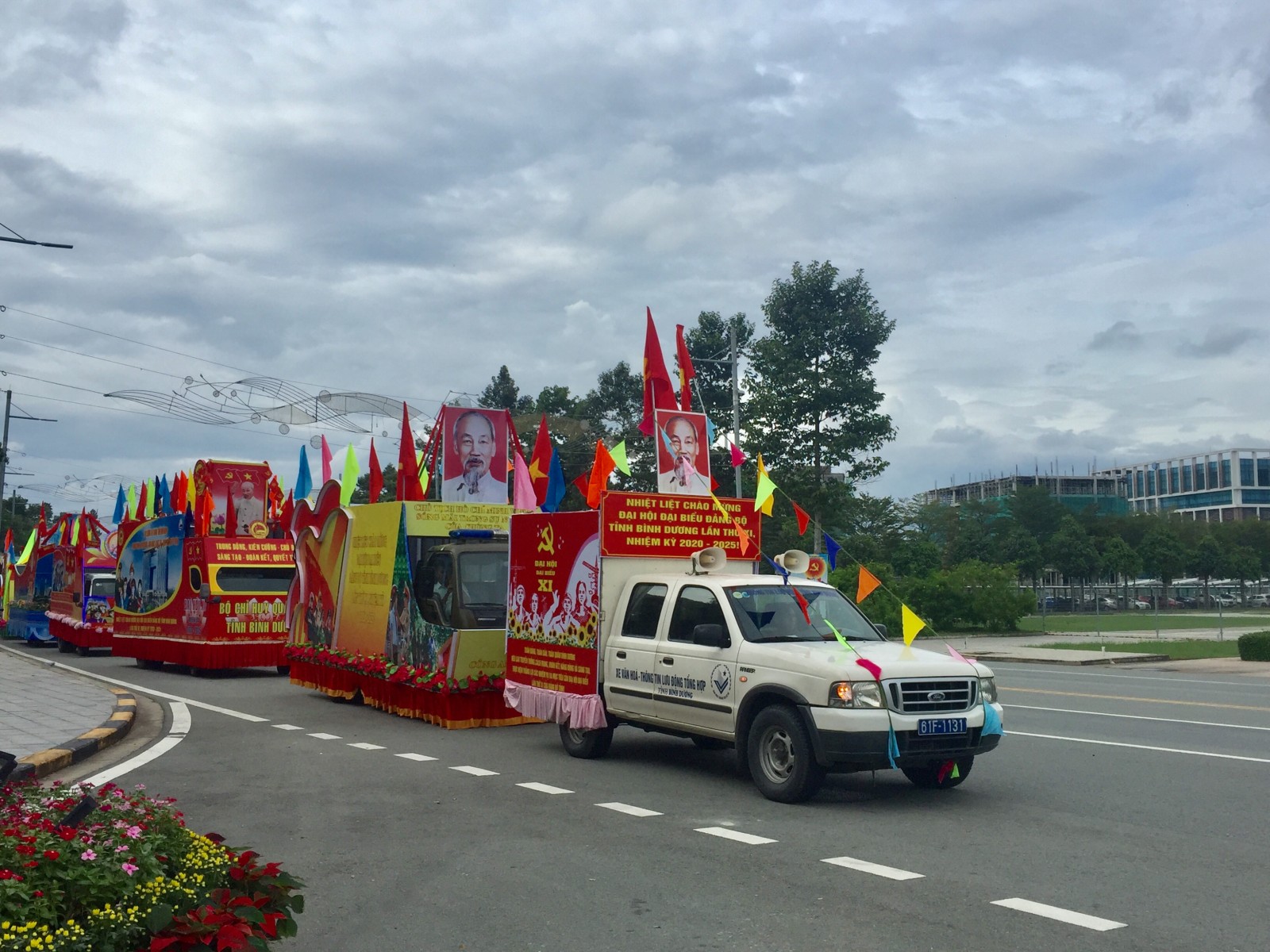 Truck parade celebrates the 11th Provincial Party Congress, term 2020-2025.
1. Art and cultural activities to welcome the 11th Provincial Party Congress, term 2020-2025
To practically celebrate the 11th Provincial Party Congress, term 2020-2025, many activities for visual propagation by panels, banners, street decoration with led lights, art and cultural programs etc. were organized with diverse contents and forms. The highlight was an art cultural program to celebrate the opening of congress with the participation of nearly 150 actors, singers and musicians, was carefully staged, and applied digital technology in performing arts to create satisfying effect and heighten the value of traditional revolutionary music works.
The exhibition "Socio-economic, national defense - security achievements of Binh Duong province over 5 years (2015-2020)" displayed 230 documentary photos, 11 excerpts, 2 maps, 10 charts, 10 information summary, and 272 exhibits to serve visitors. In addition, a truck parade at the exhibition's opening ceremony, a special cultural show held to celebrate the success of congress with the participation of districts, towns and cities, attracted attention of many classes of people. These activities left good impressions on delegates and people in the province, contributing practically to the success of congress.
2. Thematic exhibition "Communist Party of Vietnam - 90 years of faith forever" to promote propagation activities celebrating the foundation of Communist Party of Vietnam.
The exhibition took place from January 31 to March 20, 2020 at Provincial Museum with 154 documentary photos, 7 excerpts and 50 exhibits on display. The exhibition welcomed more than 10,000 visitors. The exhibition was to enhance communication and education of the revolutionary tradition among the people about the 90-year glorious history of Communist Party of Vietnam leading the people to win great victories. The exhibition also introduced images of Provincial Party Committee over many periods, and economic, cultural, social, national defense and security achievements of Binh Duong army and people during the integration period to people inside and outside the province.
3. Di An City held inauguration ceremony and put into use Square and Park of Administrative Center to celebrate the establishment of Di An City in accordance with Resolution No. 857/NQ-UBTVQH14 dated 10 Jan 2020.
The Square of Di An City was completed and put into use in March 2020 with a total area of 5,800 m2 with synchronous construction of items such as: yard, lighting system, automatic watering system for plants, sidewalks, flagpoles; especially was equipped with a free WiFi system for all people with a total investment of more than 7 billion VND.
On 26 Aug 2020, Di An City held the inauguration of Administrative Center Park to celebrate the establishment of the city, and to create a place for entertainment, recreation, and sports of people. The park has a total area of 8,330m2 with a total investment of 3.3 billion VND.
4. For the first time, the 2020 International Fly Board Festival was held in Dai Nam Theme Park.
Dai Nam International Fly Board Festival took place from January 27 to January 28, 2020, and attracted the participation of 45 athletes from 11 countries. The classy acrobatic performances at the height of up to 15m brought a vibrant and exciting atmosphere to the viewers. This was an opportunity for Vietnamese athletes to compete against the world's top Fly board athletes.
5. Establishment of Binh Duong Binh Duong Team Marathon to enhance the movement to improve the health of the entire population and participate in national tournaments.
Binh Duong Team Marathon was established on 19 May 2020 with nearly 200 members. Since its establishment, Binh Duong Team Marathon has won 18 medals of all kinds (8 gold, 6 silver, 4 bronze medals), contributing to the overall achievement of the provincial sports in 2020. The goal of the club is to take part in 90% of national runs.
6. Binh Duong links tourism development with provinces and cities in the Southeast region to maximize its potential and advantages.
At the conference "Tourism development linking in the Southeast region" took place on June 28, 2020 in Tay Ninh province, People's Committee Chairmen of Ho Chi Minh City, and provinces of Ba Ria - Vung Tau, Binh Duong, Binh Phuoc, Dong Nai, Tay Ninh signed an agreement to make a linkage in tourism development of the Southeast region in 2020-2025 with the aim of maximizing the potential and advantages of tourism resources of these localities. Two new tourist routes were formed, including: Ho Chi Minh - Tay Ninh - Binh Duong with the theme "New Day Green", "Conquering the Roof of the South". and Ho Chi Minh City - Binh Duong - Binh Phuoc route with the theme "The Love of the Eastern Red Land". On basis of the formed tourist routes, provincial Department of Culture and Rural Development collaborated with Dau Tieng District to welcome guests of the program to monuments and scenic spots in the district.
7. Logo and slogan design contest about Binh Duong tourism in 2020 to create tourism brand recognition, to promote tourism promotion of the province.
The contest was launched from March to September 2020. The organizers received more than 234 works from 70 authors, groups of authors inside and outside the province for the contest. Most of the entries had their unique ideas and aimed at the common purpose of impressive and beautiful logo images, slogans for Binh Duong tourism. The contest was to search, choose logos, slogans for Binh Duong tourism, in line with the potential and advantages of tourism development of the province; at the same time, to establish Binh Duong tourism brand recognition that is modern, fresh and creative, highly international.
As a result, 11 works were awarded, of which Dao Anh Tai's work from Da Nang city won the first prize. The work was impressive because of the combination of traditional and modern elements, using the image of characteristic oil petals of Binh Duong and each petal bearing a color, representing types of local tourism.
Reported by Hong Thuan - Translated by Ngoc Huynh