Thanks to efforts of all-level authorities and enterprise community, the industrial production of the province has been on good recovery steps, evidenced by returning growth rate of exportation.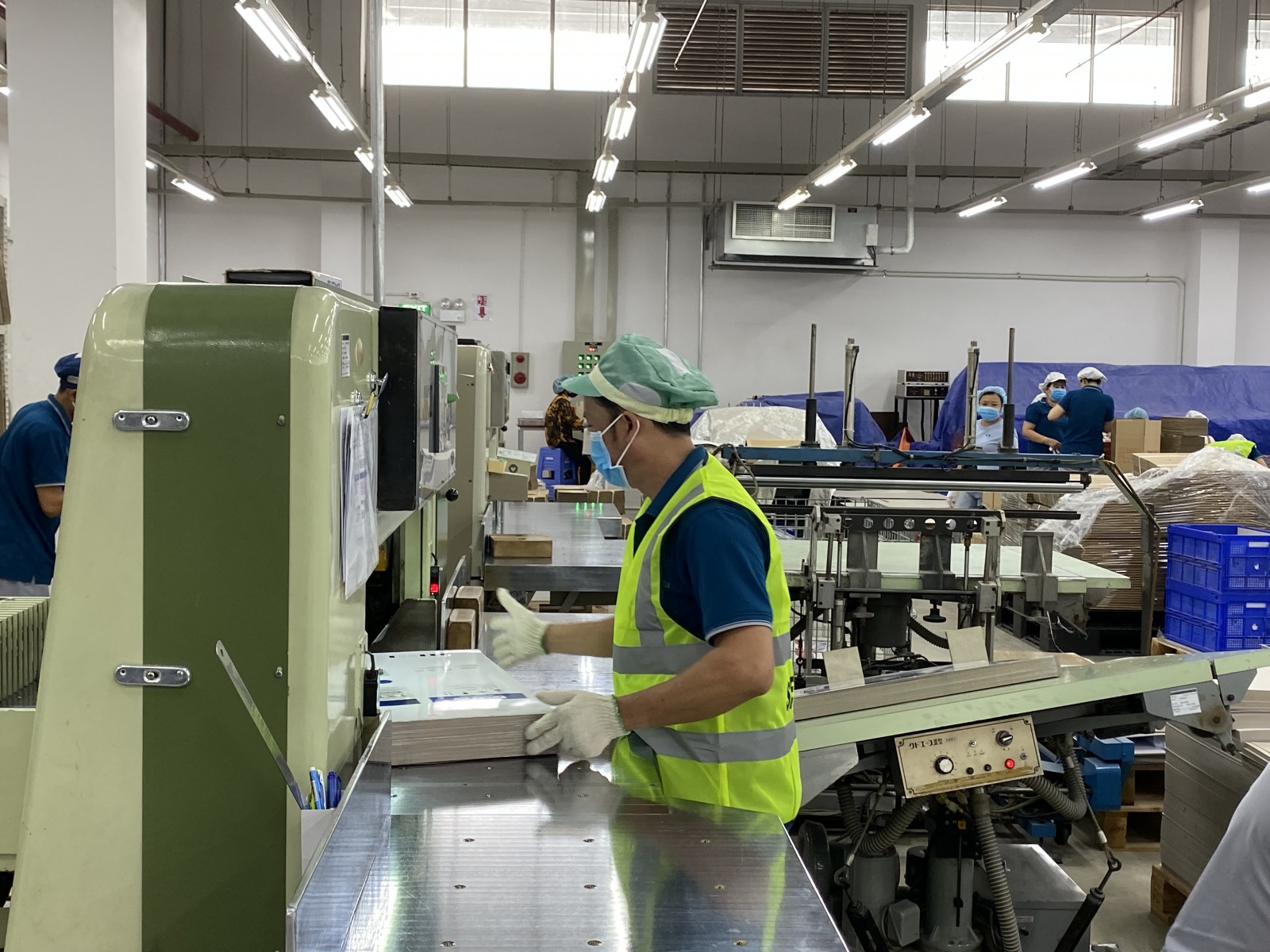 Production is on-going at Taisei Bijutsu Printing Co. Ltd. in Ben Cat Town
Exportation growth tendency maintained
In August, cargo exportation activities showed signs of recovery. Exportation revenue was estimated to gain US$ 2.696 billion, increasing by 5.8% from previous month and 20% from previous term. Exportation revenue was estimated to be at US$ 1.971 billion, increasing by 14% from previous month and 9.4% from previous term. Trade surplus of August was at US$ 3.8 billion. The figures showed that exportation of goods is recovering.
In the general situation, major exporting goods of the province have returned to growing. In August, woodwork exportation was estimated to be US$ 500.5 million, increasing by 5.1% from previous month. Cumulatively in August, woodwork exportation revenue was estimated to be US$ 2.906 dollars, increasing by 7.8% from previous term and accounting for 17.1% of total exportation revenue. Garment-making exportation revenue was estimated to be US$ 1.926 billion, increasing by 0.8% from previous month and accounting for 11.3% of total exportation revenue. Foot-wares also eyed signs of good recovery for its estimated exportation revenue at US$ 223.7 million, increasing by 12.3% from previous month. Cumulatively in August, exportation revenue was estimated to be at US$ 1.356 billion, accounting for 8.0% of total exportation revenue.
As evaluated by Binh Duong Provincial People's Committee, despite complex situation of Covid-19 outbreak, the efforts of the whole political system, enterprise community, and the people have been paid off as socio-economic status of the province showed effective signals. The Provincial People's Committee continues to strictly and effectively implement tasks of disease prevention and obstacle removal for enterprises to operate and promote socio-economic development as well as assure social security.
Along with the warming-up of exportation, labor market of the province has been on delighted transformation. Some producers of garments, furniture, pottery, and electronics have returned to the market by recruiting large quantities of working people. According to Binh Duong Provincial Center for Job Services, in August, enterprises in Binh Duong Province were in need of 13,379 workers including 3,392 skillful workers and 9,987 manual workers.
Currently, some producers have been recruiting hundreds of workers. Minh Long I Co. Ltd. currently needs 500 workers, Yazaki Company 1,000 workers, Sharp Manufacturing Vietnam 2,000 workers in electronic industry to the end of the year. Kurable Vietnam Company needs 400 workers in the field of producing electricity insulation materials. Showa Gloves Company needs 400 works to the end of September. Those are the figures showing potential recovery of the provincial economy while maintaining growth targets of 2020.
To actively assist enterprises
Majority of nations in the world is suffering from complex development of Covid-19, making great exportation markets of Binh Duong such as China, Korea, Japan, USA, EU, and much more be under social distancing that leads to stoppage of factories in trading contracts with enterprises in Binh Duong. Despite the returning growth, enterprises are worried for the time ahead due to severe shortage of purchase orders.
In the meantime, enterprises' 'health' is not as normal as when there is no Covid-19. They, especially small and medium enterprises, are now vulnerable. According to apparel society of Binh Duong Province, up to date, long-term purchase orders are very rare although masks and protective gears have strongly declined in prices and increased in supply to the world. The solution to compensate for purchase order shortage is to promote domestic market in the face of an on-going disease pandemic, making it hard to gain results as they wish.
Enterprises have proposed the government to review all the supporting packages in the second wave of Covid-19 outbreak so as to consider and remove the obstacles as fast as possible. Besides, all-level sectors need to expand time of the supporting packages for those need them most. Banks are especially asked to expand the collectibles to help enterprises resist the situation of depleting resources instead of apply bad debt on enterprises as they are currently on.
In such situation, the province asked managing units and credit institutions to consider reduction or expansion of term for loans to enterprises in a bid to mitigate hardship and to create potentials for recovery of production and business in the last months of the year. In long-term, to help enterprises, Provincial People's Committee issued Document No. 4169/UBND-KT dated August 27, 2020 regarding the decisions to expand rental terms for factories of industrial production projects outside industrial parks and clusters in the South of the province. Accordingly, Provincial People's Committee agreed to expand rental term for those projects in Thuan An city, Di An city, and Thu Dau Mot city until December 31, 2025 as long as they meed the regulations on land and environment protection. Those investors are to have measures to move or transform the functions by suitable blueprints in accordance with planning and investment orientation of the province.
Reported by Tieu My – Translated by Vi Bao