Holding average exportation growth rate of 9.31 per annum in an expanding exportation market, Binh Duong province has good conditions for logistics development. In return, the focus on logistics development shall promote added values of goods, getting Binh Duong to the next economic development steps in the new stages.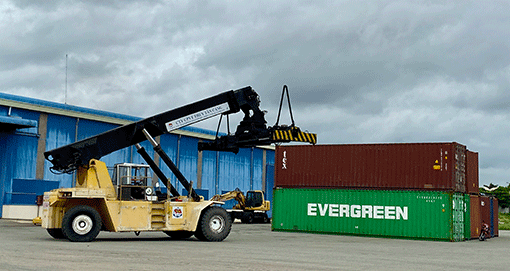 Cargoes are being loaded and unloaded at Thanh Phuoc Port of Tan Uyen town
The inevitable demand
As a locality of the South's key economic zone, Binh Duong province is advantageous of geographical position near Ho Chi Minh city, Dong Nai, Ba Ria Vung Tau, and Long An and the entrance to Highland of Vietnam. Having no air or sea ports, Binh Duong still needs to develop logistics to satisfy the demands for development and transportation of enterprises.
For the time, Binh Duong has implemented programs of breakthroughs to continue with development of high-quality services for industrial development and urbanization of the province in 2016-2020 with major results. Up to date, the province has 29 industrial parks on an area of 12,721 hectares, of which, 84.4% have been rent and 12 industrial clusters on 789.91 hectares, of which, 67.4% have been rented. The industrial parks have been constantly improved to expand the connection and satisfy the needs for investment attraction and contribution to socio-economic development. By the latest statistical data, the province has 45,493 living enterprises, of which, 3,865 are being financed by foreign capital of over USD 35 billion. In the province, the quantity of cargoes being transporting for importation and exportation have been growing about 10% a year. Within 2019, exportation revenue reached nearly USD 28 billion, increasing by 15.6% from previous year with surplus exportation revenue of nearly USD 7 billion. Importation and exportation revenue in 2019 have gained over USD 48 billion, accounting for 10% of the nation.
The growing figures are evidence of great efforts in the province and enterprise community. However, to make such growth quality and sustainable, it is required that high-quality services of great added value, auxiliary industries and urbanization should be developed to match the potentials of the provinces, especially, logistics – the services of storage, ports, and special transportation.
According to Nguyen Hoang Vu, Chairman of Binh Duong Logistics Association, the large volume of production and diversified exportation products have created rich sources of products for logistics servicing. Vu stated the current status of cargo transportation of the province on roads that have been very large on 3 major transportation routes of National Highway 13, My Phuoc-Tan Van and DT743. Meanwhile, the transportation on waterways has been humble and on railways minor. A large, modern and professional logistics center in the province has not been available. To offer advantageous conditions to lure socio-economic development resources, BInh Duong needs many measures to help enterprises develop logistics.
As oriented, for the time to come, BInh Duong province shall focus on development of logistics infrastructure, especially the complete construction of road traffic system and on dredging river waterways, heading to construction of railways leading to Cai Mep-Thi Vai port. Along with that, Binh Duong province continues to call upon investors to invest into shallow and river ports to meet the demands of enterprises inside out. The construction of Becamex Logistics Center is a good signal for road and waterway advantages, contributing to the improvement of competitiveness of the province in particular and the nation in general.
Giving ports to enterprises
Nguyen Hoang Vu, informed that to resolve the needs for cargo transportation, beforehand, logistics development should be focused on along with zones of production. Accordingly, the west should be good for An Tay port to connect to Vanh dai 4. The east shall be Thai Hoa port to connect to the routes led to it. In the next stage, the centers of logistics in Bau Bang, Binh Duong New City (VSIP II), and Thai Hoa shall be developed. In the further future, cargo transportation railways shall be promoted to connect river ports and logistics centers in Binh Duong to deep-water port of Cai Mep.
Talking to us, Mai Hung Dung, member of Standing Board of Provincial Party Committee cum permanent Chairman of Provincial People's Committee informed that in the new stage, so as to develop sustainably, the province shall continue to develop logistics services with encouragement of domestic and foreign investments while constructing cargo distribution centers to conveniently connect to traffic grids and shallow ports. In steps, the network of modern logistics shall be established to promote the supplying chains to assist production, domestic consumption and exportation.
The meet the increasing demands of enterprises, Binh Duong province is transiting to smart logistics including road, waterway, and railway and combined transportation. The river ports, logistics centers, and storage centers of IT applications shall be developed along with the motto of giving enterprises access to the ports. Accordingly, road transportation shall be gradually switched to waterway transportation, and in the future, to mass railway transportation in a bid to reduce waste, emission, transportation time and fees.
(To be continued)
Reported by Tieu My – Translated by Vi Bao