Making use of two waterways of Dong Nai River and Saigon River, Binh Duong province is promoting the development of river ports with attention to construct traffic connection to river port projects.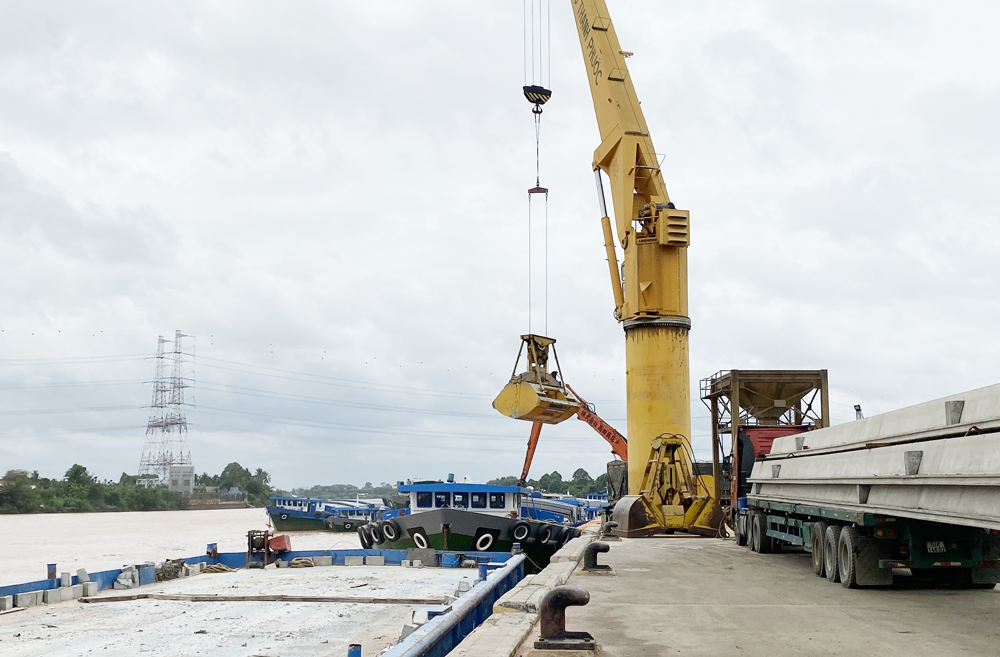 Cargo loading and unloading at Thanh Phuoc Port
Production to be attached to consuming markets
So as to enable better role of logistics services in connecting producers to the markets through synchronous and modern infrastructure, Binh Duong province for the past time planned to develop 9 river ports. Currently, four operating ports include Binh Duong General Port, Thanh Phuoc Port, Ba Lua Port and An Son Port.
The project of An Son Shallow Port on 33.2 hectares of investments of VND 2,299 billion is able to receive ships of weight up to 2,200 DWT with cargo loading and unloading capacity of about 800,000 teus a year. The port is located in favorable position near Saigon River at An Son ward of Thuan An town near provincial industrial parks and about 50 kilometers from Cai Lai Port on Saigon River. The port on opertation shall reduce freights by 45% for railways and 40% for roads as well as reducing burdens on overloading roads while contributing to the change of appearance and promote development of An Son commune and creation of local jobs. Beside cargo importation and exportation, An Son Shallow Port also bear transitional cargoes from the Southern major economic zone to Cambodia through the internal waterways.
In Tan Uyen and Bac Tan Uyen, Thanh Phuoc JSC after successful tests has coordinated to test run 2 routes of barges transporting containers from Cai Mep and Cat Lai to Thanh Phuoc Port with expectation for opening up new ways of freight reduction in the area. Nguyen Minh Duong, Deputy Directo of Thanh Phuoc JSC (Thanh Phuoc Port) informed of the coordination and connection to roads to factories, waterway transporters, ship agents, container agents, etc. to ensure thorough logistics network meeting demands of enterprises. The corporation is currently implementing barge transportation of containers for Tue Minh Steel, DDP Corporation and RochDale Spreas. The assistance of provincial and local authoritis and accompanying of customers and partners, he believed that Thanh Phuoc Port woud soon become a new logisticts joint of Binh Duong for the time to come.
Nguyen Hoang Vu, Chairman of Binh Duong Logistics Association, informed that as planned there would be Thai Hoa Port on a area of 300 hectares on Dong Nai River and invested by Becamex IDC at the cost of VND 6,000 billion. Besides, the province is refining the road traffic and dredgng river waterways to construct a railway to Cai Mep - Thi Vai Port while calling for investments into shallow and river ports.
For the time to come, under the approved plan for river ports in Binh Duong, Bau Bang district shall concentrate on developing logistics centers and connect the cargo transportation from Bau Bang to An Tay on Saigon River and other river ports in effective manners in the near future. This shall make importation and exportation activities in Bau Bang district direct without large storage of cargoes.
Traffic connection to river ports
By our observation, the traffic connection means of An Son Shallow Port have been comprehensively invested into along with the outer of the port. External traffic roads of An Son Port have been completed on DT743, DT744, Nationa Highway number 13 to connect urban and industrial centers of the province to the Southern key economic zone. Being on natural site bordering Saigon River, An Son Port could become a starting point for transportation to provinces in the east and south-west of Vietnam while connecting to sea ports of Dong Nai, Ba Ria Vung Tau, Ho Chi Minh city and Vietnam-Cambodia border. Currently, being 20 kilometers away from Tan Son Nhat Int'l Airport, An Son Port is a favorable port for transition of cargoes and passengers.
Managers of An Son Port are greatly expecting for the connection of ports to the future railways. As planned by Ministry of Transportation, in Thuan An town shall be a railway system of 3 routes from An Binh (cargo and starting station) to Thu Duc, Binh Trieu and center of Ho Chi Minh city with partial combination with fast ship route of Saigon-Bien Hoa. An Binh Station shall be departure station while Song Thanh Station shall be dry container station. The second railway route passing through Tam Binh to Hoc Mon and touring back to the east of Ho Chi Minh city shall make up the satellite route to Ho Chi Minh city. The third rout to Loc Ninh shall include stations of Di An and Thu Dau Mot (in the north of DT743), Phu Trung Station, Chanh Luu Station, and Bau Bang Station.
Thanh Phuoc Port is under pending for expansion to connect to major industrial parks, creating major kickstart to open spaces for cargo entries. Nguyen Minh Duong informed that Tan Uyen town and the province have implemented various measures and policies to assist the development of Thanh Phuoc Port. The report on feasibility of expansion of DT747a, N2 to Tao Luc 2b to Thanh Phuoc Port has also been compiled. Binh Duong provincial Department of Transportation has just aproved the report to be submitted to Vietnamese Internal Waterway Board who would consult with Ministry of Transportation for supplementation of ports in line with approved plans of provincial People's Committee including Thanh Phuoc Port.
Reported by Tieu My - Translated by Vi Bao