To stay ahead of opportunities, enterprises along with proactive search for measures of maintaining production and business operations have made daring moves of investing into machines and improved technologies for new and long-term business solutions in a bid of expanding their market shares.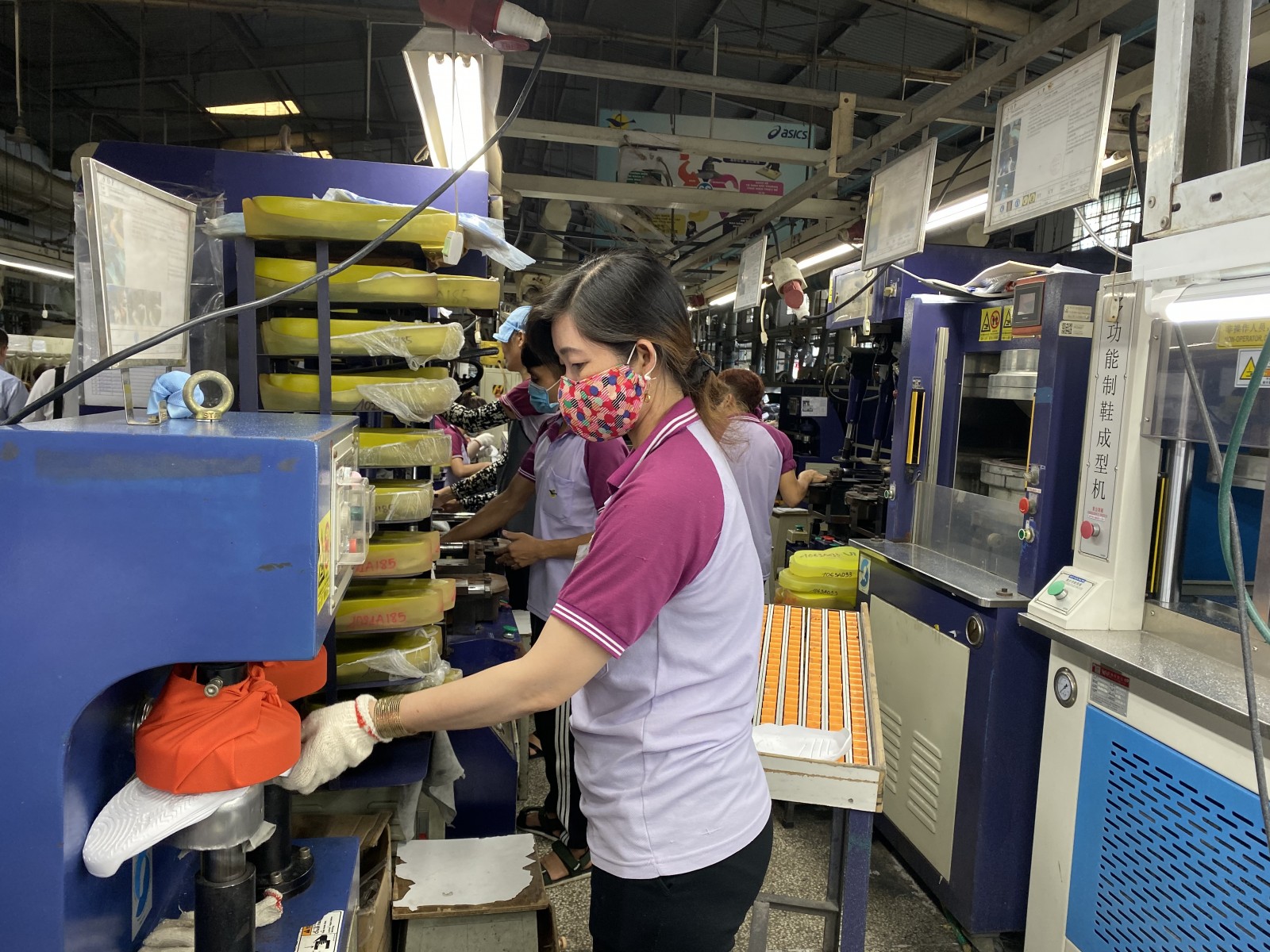 Production is on-going at Dong Hung Industrial JSC at Song Than Industrial Park I, Di An city
To be proactive in the market
According to enterprises, the returning purchase orders are not plenty as importers are still cautious of purchase power in the market, especially for furniture and footwear. This is within their expectation and prediction.
To be ahead of the situation, Dien Quang Hiep, Chairman of BIFA, informed that along with online sales, some producers are trying to change the product structures. The broken supplying chains including the importation of wooden products from foreign countries, especially from China, have left the gaps in domestic market for those products produced. To service production, enterprises have transited the product lines in accordance with the needs of international and domestic markets.
Kitchen, bathroom and make-up furniture, for example, is accounted for about 60% of total furniture being sold to the world. Those are strategic products for the time to come.
Leaders of Binh Duong provincial Association of Footwear and Bags believed that the returning purchase orders for shoes are thanks to well control of the on-going pandemic and attraction of major footwear producers. This is one of the factors making importers trust in suppliers. Nguyen Nguyen Le, Deputy Director of Dong Hung Shoes Company in Di An city said that domestic shoe-makers are reducing their employment that is dependent on China and increasing orders from other nations while approving procuring prices of new markets to be increased by 8-15%. However, after the pandemic, it shall be more demanding of importers, making purchase orders shrink into 60-day instead of 90-day orders. Additionally, thanks to efforts of elevating domestication of upto 50% through time, Vietnamese footwear is actually having nearly 50% of domestic values. On such basis, footwear production in the last months of the year shall be brighter and easier for breaking through for the time to come.
As for European markets, the demands for origins of footwear are not very tight against domestic shoemakers. Moreover, those producers have been familiar with GSP to satisfy the demands. This is expected that shoemakers shall make use of favorable treatments extended by EUFTAs.
In-depth measures needed
To get through the pandemic, many local enterprises made more daring moves of investing into machines and modern equipment to increase capacity and product quality and market expansion. Enterprises are also ready for long-term strategic development as the pandemic is basically controlled. Huynh Quang Thanh, Director of Hiep Long Company informed that facing scare employment resources, the woodwork industry has been depending on the sole measure of investments into technologies to develop their production.
"Application of high technologies into production could make great advantage for enterprises to increase production quality and quantity and harmony. Wood producers in Binh Duong have transformed their mindsets to update new knowledge satisfying the needs. In the meantime, automatic machinery upgrades shall be ahead of opportunities brought about by the technological revolution," said Thanh.
Nguyen Lam Vien, General Director of Vinamit Corporation informed of new product development with focus on available products and improve resources to readily satisfy increasing demands of traditional markets and getting to new markets. For the time to come, Vinamit would introduce new products aiming for developing European market share. Concurrently, Vinamit has expanded material cultivation areas in organic forms to ensure sustainable exportation of Vietnamese farm produce.
Do Tan Tai, Deputy Director of a branch of Dong Hung Industrial JSC at Song Than Industrial Park I, Di An city, informed of long-term strategies meeting strict demands of consumers of demanding markets like Japan and Europe. The company has been well aware of technology advancement, environment protection and participation into globally joint value chains to reduce cost and increase competitiveness as we as profits. Besides, new technologies also help enterprises shorten production time and keep up with market tendency. On the other hand, enterprises wish that the authority should offer in-depth measures to develop assistive capital resources, auxiliary industry, and materials for enterprises to advance in production and cath the opportunities.
Reported by Tieu My - Translated by Vi Bao