With an impressive socio-economic growth in recent years, Binh Duong is on its way to becoming a model city. In particular, the implementation of comprehensive planning and development of green parks, community areas, entertainment, sports playgrounds for the people is noteworthy.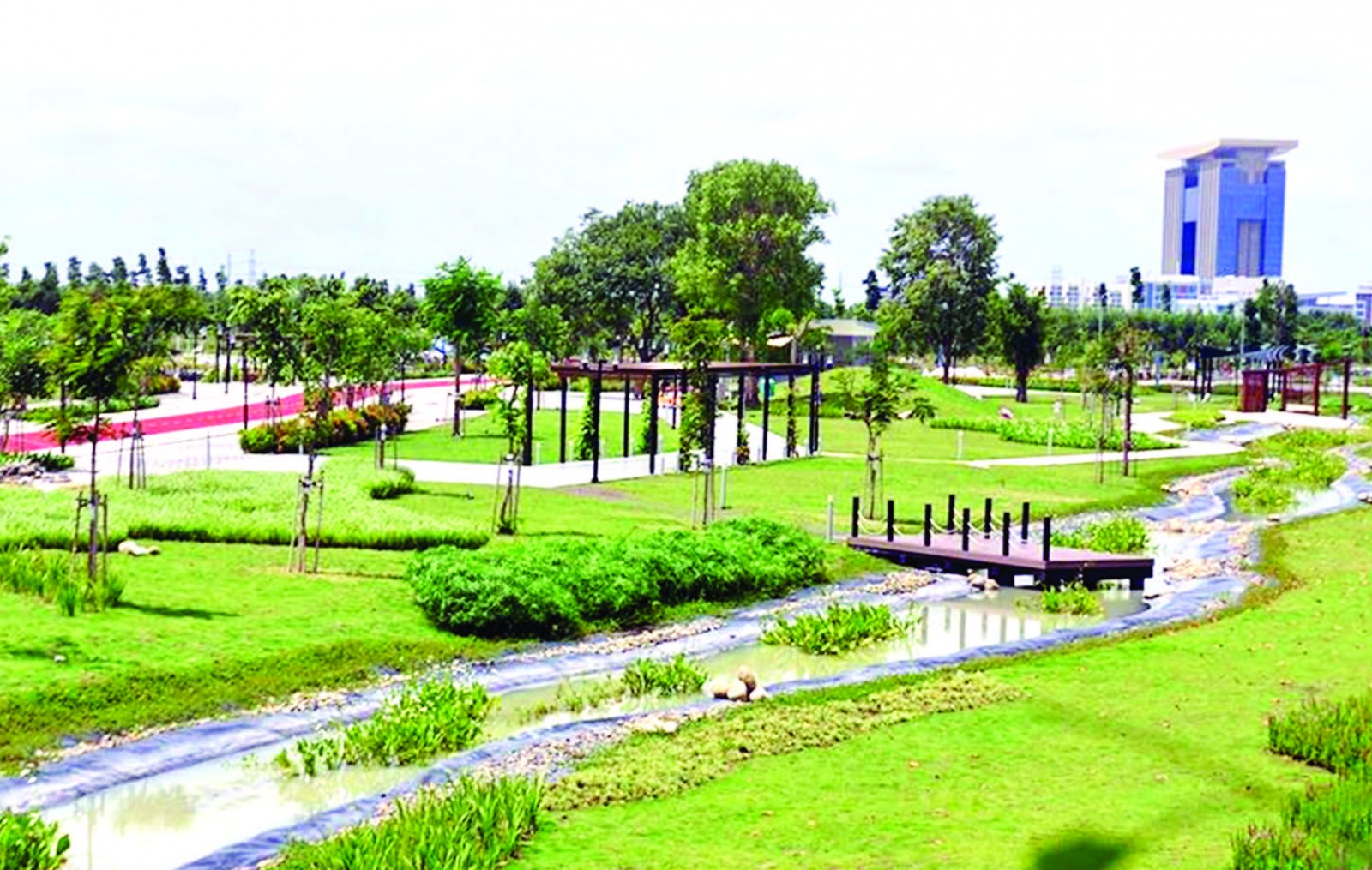 Central park of the New City.
To solve environmental problems
With the goal of building and developing Binh Duong as a green - clean - beautiful - civilized worth-living city, in recent years, all governmental levels, branches and localities have focused on the urban planning and renovation to provide a fresh, clean and beautiful living environment for the people. The highlight is the planning and development of urban green areas, namely, the construction of green parks and planting trees along roads. The province invested in upgrading and expanding hundreds of green parks, renovated and planted hundreds of thousands of new trees along roads in localities with fast urbanization speed, such as: Thu Dau Mot City, Thuan An City, Di An City, Ben Cat Town, Tan Uyen Town...
Thu Dau Mot City is considered as an example in the renovation and development of urban green areas. At present, in addition to the green lung Binh Duong New City Central Park, Thu Dau Mot City has more than 80 other parks renovated, such as Phu Cuong Park, Bach Dang Park, and Ba Pagoda Park etc. with a total area of about 406ha. This total area comprises hundred thousands of square meters of grass cover, tens of thousands of trees of all kinds, many flower beds... contributing to a youthful and modern appearance for the city. Along streets of 30/4, Yersin, Le Hong Phong, Huynh Van Luy, Phu Loi, Pham Ngoc Thach... the green of trees and flowers cover almost street corners and roads.
A worth-living city
In recent years, Binh Duong has developed utilities to improve life quality of people. Specifically, the province directed departments and localities to focus on renovating and developing urban infrastructure for people to have places for entertainment and sports after work.
Truong Van Ben (50 years old, a resident of Phu Cuong ward) said, a new park had been built near his house. Thus I have a space for recreation and doing exercise, and a place to meet and talk with neighbors", said Mr. Truong. Le Thi Hoa (55 years old, a resident of Hiep Thanh ward) was so pleased as she talked about the appearance of new parks and small green spaces: "I have lived and worked in many provinces from the North to the South, but have not seen any locality that thinks so much for the people." According to Ms. Le, if being used for commercial purposes or for project development, public land plots with prime locations bring great economic benefits, but the city leaders decided to build parks for people to have ideal playgrounds.
To use gold lands for building parks
Due to people's needs for recreation activities and the policy of creating urban landscapes, leaders of Thu Dau Mot city set aside economic benefits, decided to plan for Cach Mang Thang Tam - Ngo Quyen Park to be a place for community activities. This park will be deployed from 2020-2024, with an investment of nearly VND150 billion funded by the city budget. The park will have a basement for parking; a basement for commercial service area, including food court, gift shops; on the ground, there will be an entertainment square, coffee shops... Nguyen Thu Cuc, Vice Chairwoman of Thu Dau Mot City People's Committee, said: "The city advocates not doing business on public lands but increasing urban green spaces. Appropriate areas will be used for parks to create entertainment places for the people. This decision has received a high support from the people".
Localities in the province increase urban green areas
In recent years, localities in the province have carried out infrastructure development to improve the quality of people's lives. Green area per capita of districts, towns and cities in the province has increased significantly. For example, the rate of urban greenery land in Thu Dau Mot city has increased from 8.02m2 / person to 13.6m2 / person in 4 years, reaching the standard of class-1 city. Thuan An City, Di An City and Ben Cat town are also enhancing investment in the construction and upgrading of green parks and tree planting along roads to reduce pollution emissions, dust, protect a healthy living environment.
Reported by Dinh Thang - Translated by Ngoc Huynh