In the afternoon of January 18, Binh Duong Department of Industry and Trade held a conference to summarize the year 2020 and implemented the tasks of the sector in 2021. Attending the conference was Nguyen Thanh Truc, Deputy Chairman of Binh Duong provincial People's Committee and representatives of the Ministry of Industry and Trade and departments, branches, and localities, and leaders of associations and businesses in the province.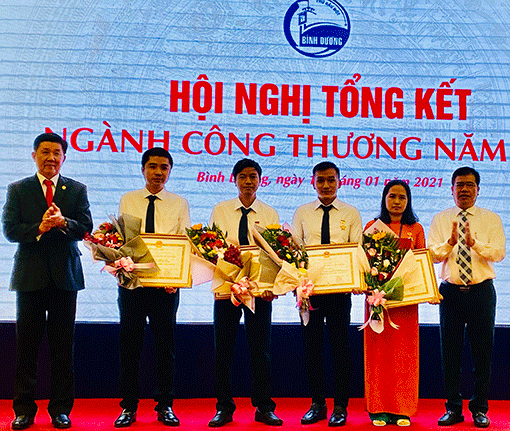 Nguyen Thanh Truc awards merit certificates to individuals winning the titles of provincial emulation elites in 2020
In 2020, in addition to the difficulties caused by the Covid-19 epidemic, some results have been lower than the set target; however, the industrial and commercial development of the province has shown many bright achievements. Up to now, the province's production and exportation enterprises have recovered well in preparation for a new and more stable stage. At the conference, many comments were raised by leaders of associations and industries to enhance operation efficiency and create the most favorable conditions for the business community to develop.
guyen Thanh Truc acknowledged and congratulated on the achievements of industry and trade in 2020. At the same time, he requested Binh Duong Department of Industry and Trade should focus on implementing key tasks and solutions in domestic industry and trade promotion to disseminate regulations on trade remedies as FTAs take effect. Coordination should be made with relevant departments, branches and localities to speed up the implementation of the procedures and to build infrastructure for specialized industrial clusters and supporting industries. E-commerce should be developed. Focus on implementing the tasks of stabilizing the domestic market should be set. The resume of building Vietnamese selling points should be in place. The coordination for planning and development of logistic and rational planning of the solar energy system should be made.
Reported by Tieu My – Translated by Vi Bao