Upholding the motto of connection, renewal and development, the 5th Resolution of the 2015-2020 tenure of Binh Duong provincial Association of Collectives Congress has been proposed and effectively implemented. In the past 5 years, the local collective economic sector has become in the spotlight with collectives of proactive development and transformation to gain remarkable results, contributing to provincial socio-economic development.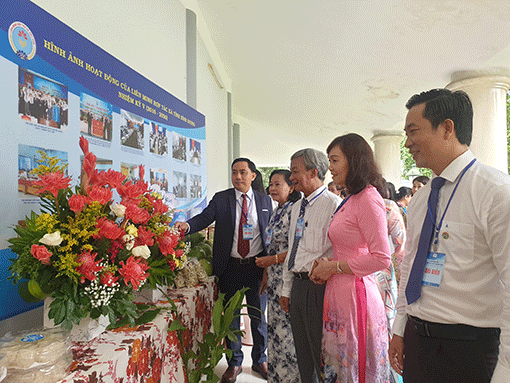 The delegates have a view on agricultural products on display at the congress
Promoting results
In the past tenure, operations of Binh Duong provincial Association of Collectives have been more effective and exceeded almost all the criteria proposed by the resolution. The association has actively consulted with Binh Duong provincial Party Committee and People's Committee to plan for collective development policies. Concurrently, the information dissemination and mobilization for collective economic development have been carried out in various suitable forms, comprehensive organization and expansion of servicing subjects to collective groups, clubs, farms, households, and small and medium enterprises; thereon, creating general forces to achieve many socio-economic results.
Along with that, the Association of Collectives gathered and disseminated information to call for high-yielding consultancy and assistance for collectives. The assistance for collectives to connect to product value chains has well implemented along with tasks proposed by Binh Duong provincial Steering Board of provincial collective economic development, Binh Duong provincial Steering Board of provincial new rural construction, professional links with districts and cities to elevate position and role of the association within the political system. The emulation movements have been wide and far contributed to socio-economic development. The staffs have been increased to achieve sustainable organization and major results for brilliant fulfillment of targets proposed by the 5th Congress of 2015-2020 tenure.
Currently, the province has 187 collectives (with additionally 102 new collectives from the start of the tenure, gaining by 120.1% from the resolution) with 30,380 members and regulated capital of VND 801 billion (increasing by 24.9%). Of that, operations have been effective in the fields of transportation, agriculture, handicrafts, construction, trade, services, environment, and people's credit fund. Average profits of the collectives was VND 726 million a year a collective. Working people average income was at VND 6 to 6.5 million per capita per month in collectives and VND 14.5 million per capita per month in people's credit funds (all met and exceeded the targets of the resolution).
In 2016-2020, collective quantity grew by 10% with non-stop improvements in terms of organization and effective socio-economic outcomes, contributing to poverty eradication, job creation and new rural construction. Collectives have been developed in terms of quantity and quality to well assist household economy and construction of joint-venture, cooperation, production, multi-production, combined services and general trading collectives. The collectives have expanded and admitted new members with mobilization for member equity and maintenance of periodical member congress and reformed operations. Annually, the quantity of collectives of effective operations has been 66-79% of the current collectives with annual income growth of 12-15%.
Continual development and reforms
However, beside the remarkable results, provincial collective economy has been limited with drawbacks. The dissemination of legal knowledge about collective economy, despite care and attention, has been transformed in various ways but not very spreading to the public. Besides, State's management officers of district collective economy have been in regular fluctuation of quantity.
Nguyen Tien Dung, Deputy Chairman of Binh Duong provincial Association of Collectives informed that the association has continued to develop its core role in collective economic development with promotion of stronger collective system of Vietnam to effectively implement the functions of representation, protection of legal rights and benefits of members in orientation, targets, tasks, and measures of improving operation of Binh Duong provincial Association of Collectives in 2020-2025. The general targets of collective economy in the next 5 years of 2020-2025 are developing collectives, association of collectives and collective groups in the manner of cooperation, renewal, development, and effectiveness, contributing to the development of unified, cooperative and developed society with wealth-fare sharing and new rural construction.
To achieve the mentioned targets, Nguyen Tien Dung believed that major measures of improving public awareness, investment environment, and assistance and consultanc should be focused on. Besides, managerial competence, scale, productivity, quality, and effective operations of collectives should be enhanced along with promotion of collective organizations and value-chain connection.
Reported by Thoai Phuong - Translated by Vi Bao