On Feb 22, students of junior high schools, high schools, universities, educational vocational centers in the province returned to school after Tet holidays and a short time off due to the COVID-19. To ensure safety for students when returning to study, schools have strictly implemented the "5K" message recommended by Ministry of Health.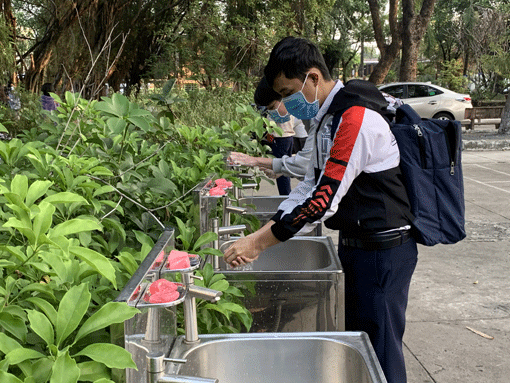 Students of Hung Vuong Gifted High School (Thu Dau Mot City) wash their hands before entering class.
To be excited back to school
Together with all high school students in the province, students of Chu Van An junior high school (Thu Dau Mot City) were excited about coming back to school. To prevent and control the pandemic, all students going to school wore face masks and had their body temperature measured in front of the school gate. While lining up, students also ensured the prescribed distance, then washed their hands with disinfectants before entering class. Students voluntarily applied measures to prevent epidemic and diseases without waiting for their teachers to remind them. This shows their heightened awareness of preventing and fighting against COVID-19.
On the same day, students of An Binh junior high school (Phu Giao district) also came back to school. According to Principal Nguyen Van Su, during the last outbreak, Ca Na hamlet was blocked due to COVID-19 infection, thus so 89 students in this area continued to be off school for another week, and received online lessons during this time. The school's management board assigned teachers to take body temperature measurements for students, teachers, and staff before entering the school.
Due to the epidemic situation, students in the province took the Tet holiday a week earlier than in previous years; and continued to take another week off to prevent and control the epidemic. Hence, they were eager to go back to school. Nguyen Hong Nguyen, a student o Hung Vuong Gifted High School (Thu Dau Mot City), said that during the time off, they studied online. Even though they did not go to school, students did not stop studying. However, students prefer going to school, because they can meet their teachers and friends, their study is also more favorable.
Diep Thi Ngoc Dung, Principal of Chu Van An junior high school, said that even though students did not go to school, their learning did not be interrupted. On the first day back at school, teachers reminded students to focus on their studies. In addition to online lessons, the school also gave makeup classes of literature, math, English, physics, chemistry.
About 2,000 students of Thu Dau Mot University also returned to the school to continue their study. Several days before, the university disinfected classrooms, functional rooms, student learning areas, cleaned tables and chairs, teaching equipment, learning tools, door knobs, handrails, stairs. Le Van Hai, Head of Student Affairs Department of Thu Dau Mot University, said when students returned to school, communication was enhanced. The university also reminded students to strictly take disease prevention and control measures, especially implement the "5K" message as recommended by Ministry of Health.
Safety and hygiene guarantee at schools
To guarantee safety as welcoming students back to school, provincial Department of Education and Training directed schools and educational institutions to develop a plan for COVID-19 prevent and control in response to the actual situation and epidemic development. According to Nguyen Thi Nhat Hang, Director of provincial Department of Education and Training, the Department required school leaders to train, assign teachers, administrators, and school staff about disease prevention and control process and instruct students. Schools also sanitized surrounding environmental, assure good material facilities and medical equipment to serve the epidemic prevention control, such as: Body temperature measuring devices, hand sanitizers, handwashing places; re-arrange tables and chairs to ensure the prescribed distance, set up plans to ensure the health of teachers and students according to the guidance of the health authority.
The COVID-19 pandemic is progressing unpredictably, thus the prevention and control work is put on top by schools. Schools instruct students to do epidemic prevention and control measures through noticeable posters, leaflets posted at newsletters, in front of classrooms, in front of school gates; implement the "5K" message of Ministry of Health.
To carefully prepare school materials to welcome students back, teachers of junior high and high schools in the province came to schools to do cleaning and sanitizing. Schools advised parents and students to make medical declarations, take measures to prevent and control the epidemic according to instructions. Duong Thi Hao, Principal of Nguyen Van Cu Secondary School (Thu Dau Mot City), said: "The school has been making efforts to implement measures to prevent and control the coronavirus with caution and responsibility for the health and safety of all students, teachers and the community as students return to school."
Another difficult school year due to the COVID-19. But with the experience in disease prevention and control, dedication of teachers, education and training branch could overcome difficulties and complete tasks in the 2020-2021 school year.
Reported by Anh Sang - Translated by Ngoc Huynh