In recent years, the production of citrus fruits in the province has received attention to and developed quite comprehensively, has been continuously growing in both area, quantity and value, serving the domestic and export consumption demands. In order to increase the value and create stable consumption output for products, the province has many supportive policies and practical solutions to help citrus-growing areas develop sustainably.
Increasing area
Currently, the whole Hieu Liem commune (North Tan Uyen district) has about 60 households growing citrus fruit trees on a commercial scale, accounting for more than 90% of the total 602 hectares of fruit trees in the commune. In addition, Hieu Liem has more than 4,100 hectares of agricultural land, accounting for 90.3% of the commune's area, which is a great advantage to develop commodity agricultural products.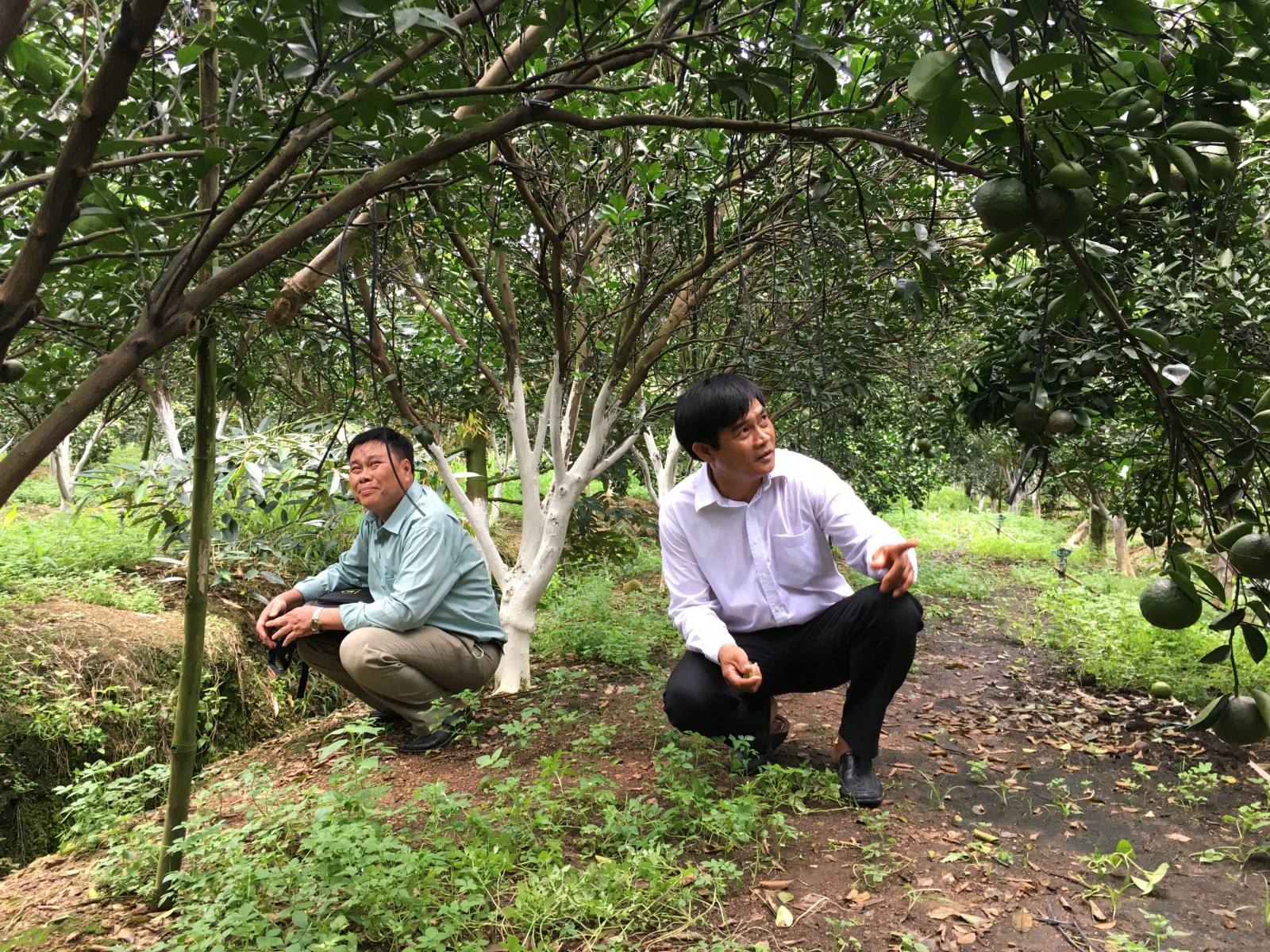 VietGAP growing model of oranges at Tam Thanh farm (Tan Dinh commune, North Tan Uyen district) generates high economic efficiency.
Lam Thanh Thuong's VietGAP orange orchard (Chanh Hung hamlet, Hieu Liem commune) has been successful with the citrus tree planting model and generates an average annual income of 20 billion VND. Thuong's farm has an area of 120 hectares, specializing in growing oranges and tangerines, with an average yield of 30-40 tons/ha. In order to actively obtain sales contracts with partners, Lam Thanh Thuong boldly applied a measure to produce fruits on demand. That is the method of covering the entire bed with nylon canvas, cutting irrigation water, cutting a part of the roots, combined with phosphorus and potassium fertilizers to stimulate the development of new growth peaks to help the plants produce flowers and fruits. Then the farmer use a rational amount of organic fertilizers and plant protection drugs, ensuring the isolation period, this will give the best quality of oranges as reaching consumers. Besides, Thuong's farm is testing a fruit sweetness meter which, if it is successfully, it will help the products have uniform quality and increase competitiveness with other regional products.
Due to its high economic efficiency, many farmers in North Tan Uyen district boldly changed inefficient crops into growing citrus fruits. With suitable natural conditions, besides Song Be and Dong Nai rivers which are convenient for irrigation, during a short time period, the area of citrus trees in North Tan Uyen district increased rapidly, forming a specialized cultivation area. Currently, the area of citrus fruit trees is estimated at more than 2,340 hectares, an increase of 70 hectares compared to the previous year. Up to now, the whole district has nearly 500 hectares of citrus trees harvested, of which more than 100 hectares are produced according to VietGAP and more than 60 hectares have VietGAP certificates.
To find sustainable output
Through projects to apply advanced farming techniques in the direction of VietGAP, the province supports the production and development of citrus fruit areas, cultivation according to VietGAP model. The province also gives supports to improve techniques and costs of plant varieties, fertilizers, and pesticides for farmers.
However, the development of citrus fruit area is still fragmented, it is necessary to have a reasonable strategy to develop this source of fruit trees in a sustainable way. Doan Minh Chien, owner of Doan Minh Chien farm (Tan Dinh commune, North Tan Uyen district), said that growing fruit trees faced many difficulties due to small-scale production, difficult application of scientific advances and farming techniques. In particular, the consumption outputs for products have not been stable, the consumption market has not been expanded. To solve this problem, it is necessary to identify concentrated commodity production areas, have consistency in the state management of seedling quality and product consumption.
Pham Van Bong, Director of provincial Department of Agriculture and Rural Development, said that in order to improve the value and create stable output for citrus products, the province has had many supportive policies and practical solutions to help specialized regions of citrus cultivation to develop sustainably, thereby contributing to helping farmers invest, intensively expand production areas. In order to sustainably develop citrus fruit trees along the value chain, in the coming time, the agricultural administration will continue to strengthen the direction and implementation in accordance with the approved master plan, focus on developing concentrated production regions. On the other hand, this branch continues to implement policies to support citrus production according to VietGAP standards; advise and instruct farmers to implement organic farming, gradually forming an organic citrus production area, in order to improve product quality, improve product value, and build a sustainable and safe growing area for citrus trees.
The area of citrus trees in the province currently has 3,800 hectares, accounting for over 53% total area of fruit trees in the province. In which, North Tan Uyen district is the main citrus growing area with an estimated area of over 2,300 ha. Many areas of citrus trees give high income from 800 million - 1 billion VND/ha/year. Besides, up to now, the number of citrus production facilities that have obtained VietGAP certification is about 250 ha, mainly in North Tan Uyen district (180 ha). Some products have built up their brand names, such as "Bach Dang Grapefruit", "North Tan Uyen Orange", "North Tan Uyen Grapefruit", "North Tan Uyen Tangerine".
Reported by Thoai Phuong - Translated by Ngoc Huynh