Spring colors are coming, in the mild sunny weather, walking around central streets of Thu Dau Mot City, everything seems to be ready for a warm and happy New Year.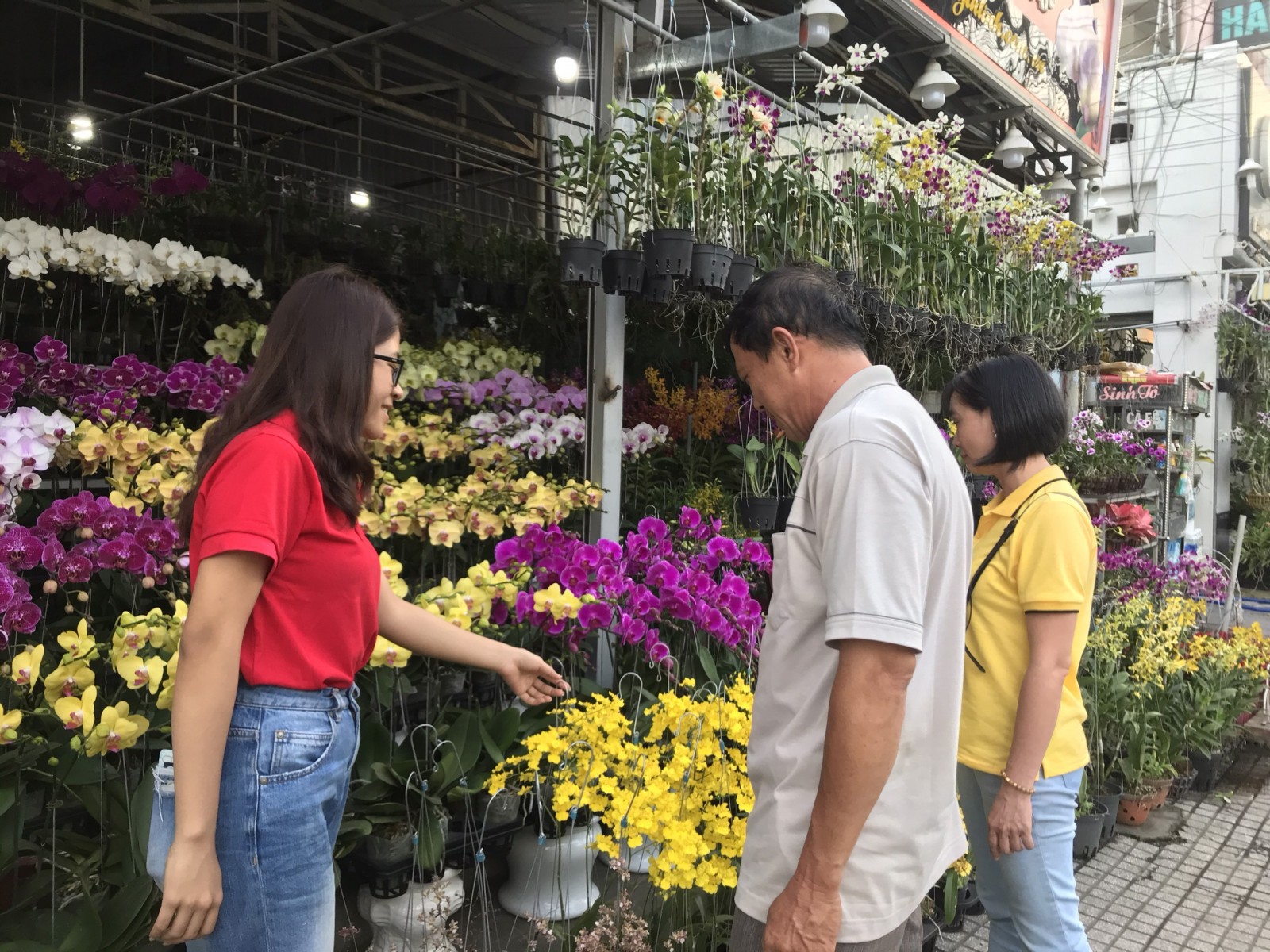 Visitors come to buy orchids at a store on Ngo Quyen Street, Thu Dau Mot City.
Bustling business streets
As the center of Thu Dau Mot City, Phu Cuong ward has attracted many commercial and service types for many years. This is also a push for the ward become an exmaple in the planning for the development of commercial streets with spacious and clean services.
Referring to Phu Cuong, perhaps everyone knows the winding roads with gentle slopes. On streets within the area are banks, fashion stores, food stores etc. with thousands of shops. From six-way crossroads at Thu Dau Mot center, heading east up to Dr. Yersin Street, we easily find numerous fashion shops close together. Shops on this street is full of fashion items from traditional to modern styles, meeting demand of all ages and genders.
Ngo Quyen Street is known to the people as a flower street, because there are dozens of shops specializing in selling orchids, ornamental plants, feng shui aquariums on this street. For many years, Ngo Quyen Street has been considered as a place providing flowers and decorative items on big holidays for the people of Thu Dau Mot. Phan Thi Giang, owner of Gia Linh orchid shop on Ngo Quyen Street, said that in December, the amount of flowers imported by her store increased to serve the demand for shopping and decoration on Lunar New Year 2021.
Meeting up with Ngo Quyen street, along Saigon River is Bach Dang night market area, where more than 100 street vendors meeting criteria of food hygiene and safety, fire prevention fighting to cater for visitor strolling on this street. There is a full range of dishes serving to diners, such as: Le Thi Thuy, a familiar diners of Bach Dang night street, said that the food here is quite abundant, varied, delicious, the price is also reasonable, so every time coming here she enjoys from 5 to 7 new dishes. In addition to the above-mentioned streets, Phu Cuong also has many big streets such as food street (Thich Quang Duc), electronic household appliance street, Thu Dau Mot market...
At your service
Nguyen Van Sang, Chairman of Phu Cuong Ward People's Committee, said that depending on progress of the epidemic and direction of the city leaders, the ward collaborated and organized meaningful activities so that people could welcome and have a happy Tet. According to Mr. Nguyen, every year, Phu Cuong ward have two major festivals during Lunar New Year, including Spring Flower Market Festival and Lunar January Full Moon Festival (Ba pagoda), attracting the participation of tens of thousands of visitors coming from all regions of the country.
According to him, because this year, the Covid-19 still has complicated developments, the ward keeps raising its vigilance to step up epidemic prevention and control activities. Accordingly, in order to ensure a happy and safe Tet season for people and tourists, the ward has set up a fast response team that communicates online on Zalo mobile application to promptly communicate, inform, notify disease prevention and control information, promptly take action in accordance with local practice. "Along with traffic regulation and security control, the ward will distribute face masks for free, hand sanitizer to visitors as participating in festivals", Mr. Nguyen said.
It is known that, Spring Flower Market Festival is going to be officially opened at Bach Dang pedestrian street area. It is expected that the festival would have about 150 flower stalls for displaying and selling. The representative of Phu Cuong ward said that during the last Lunar New Year 2020, Spring Flower Market Festival had attracted the participation of more than 5,000 visitors.
From Lunar New Year to Full Moon of lunar January, in the area of Phu Cuong ward will also take place a big festival that bears the imprint of Binh Duong, the Lunar January Full Moon Festival (Ba pagoda). This year visitors would be given free medical masks, mineral water, incense, parking lots... This is one of the compassionate and humane activities carried out by the local government and people over the years.
Reported by Dinh Thang - Translated by Ngoc Huynh