With the right strategy, starting from an agricultural district, these days has become a dynamic area in terms of industrial growth, transport infrastructure. Investment environment of this town is constantly improving to be open, transparent, to create favorable conditions for investors in all sectors.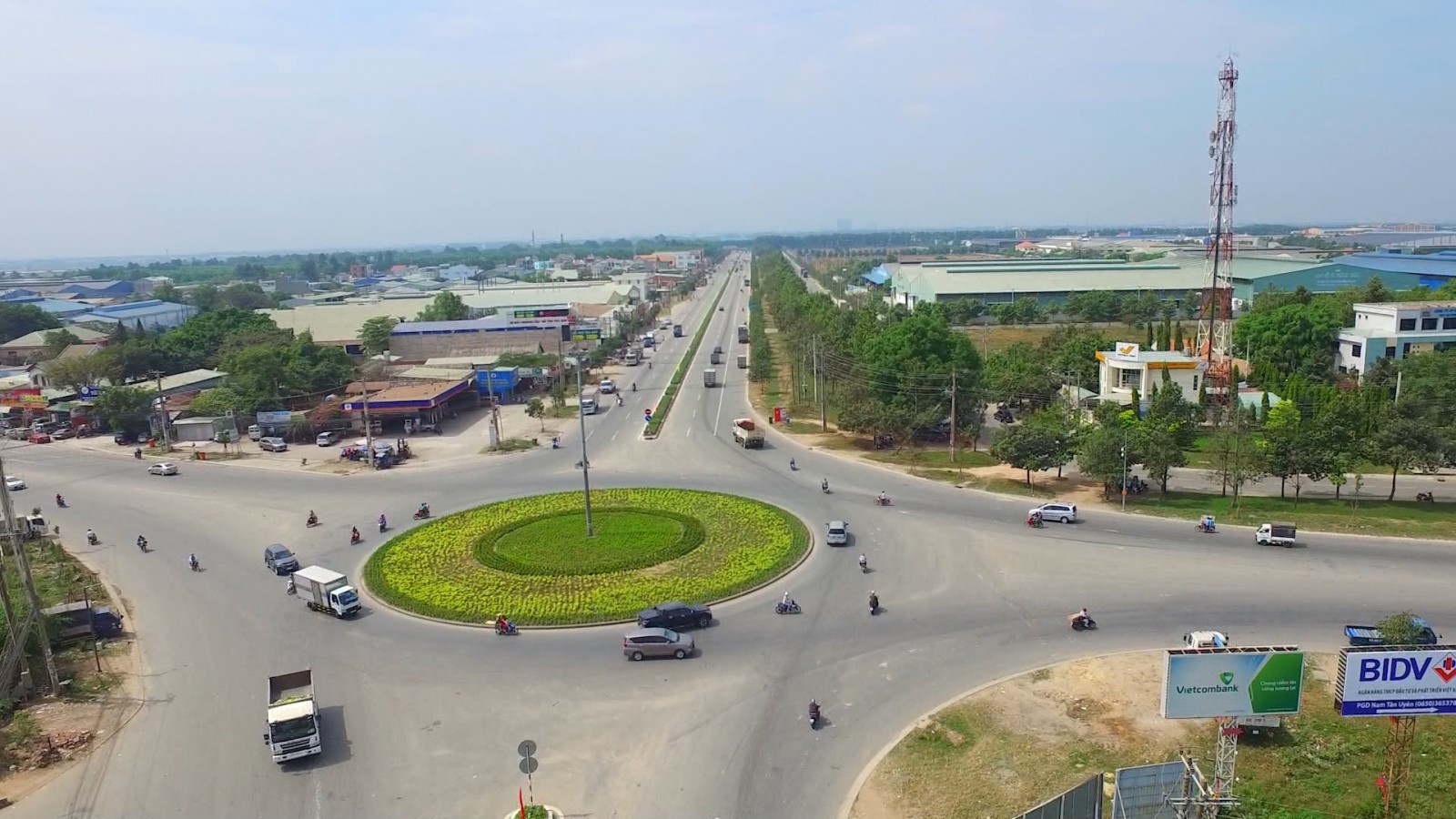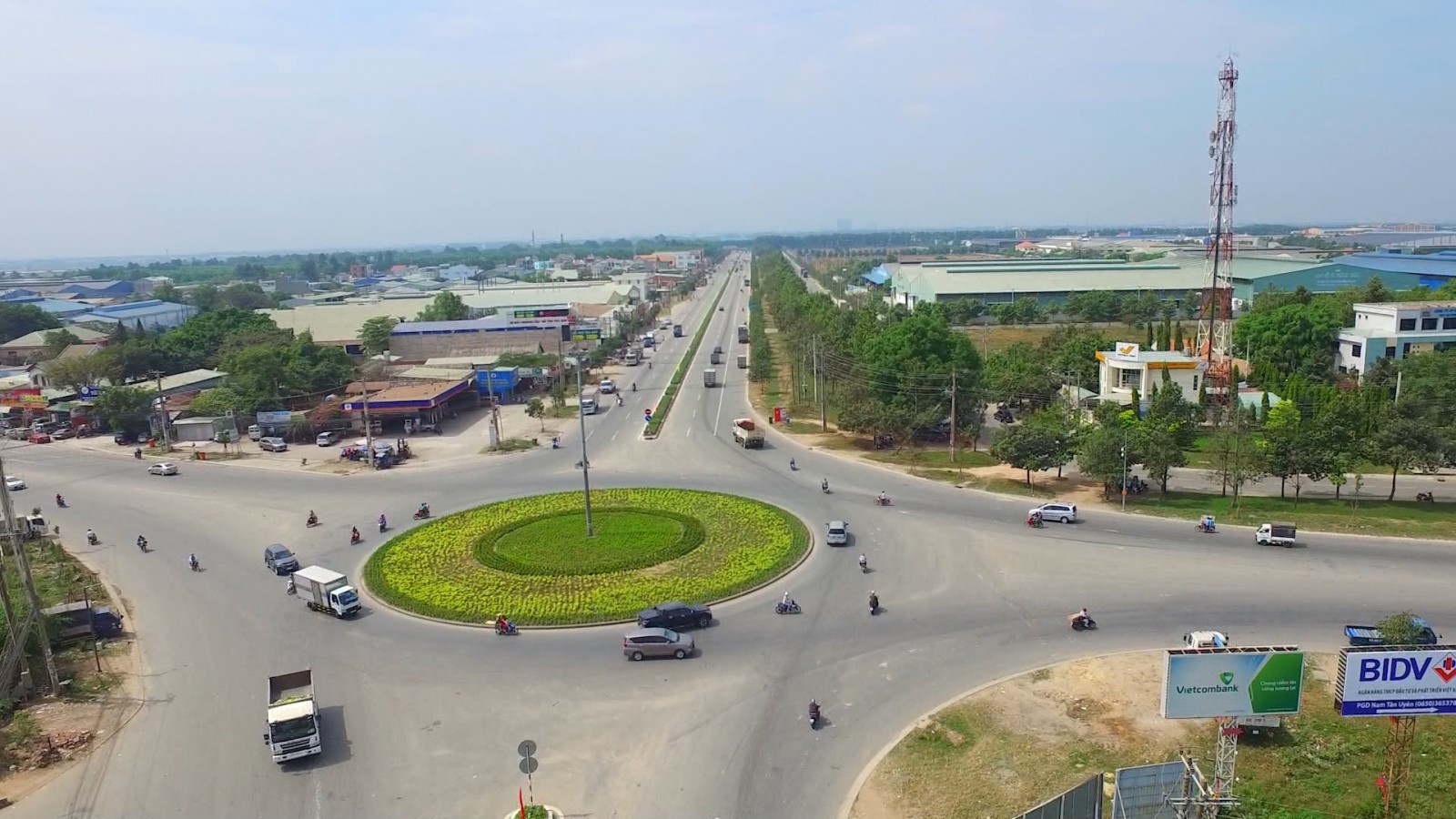 Infrastructure development is a foundation for existing industrial parks.
To exploit advantages and potential
Tan Uyen Town is a class-3 municipality in the urban system of Binh Duong province, and is strategically located in the northeast of the province. Transport system develops and facilitates trade, making an important contribution to the socio-economic growth of the province. In addition, Tan Uyen Town is also connected to developing districts, towns and cities of the province, such as Thuan An City, Di An City, Thu Dau Mot City, North Tan Uyen and Phu Giao Districts. Therefore, Tan Uyen Town has good potential for attracting investment in industries, services and commerce. Currently, in economic structure of the town, industrial proportion accounts for 66.77%, commerce services 31.74%, agriculture 1.49%, average industrial production value increased annually by 12%, total retail sales of goods and services increased by 19.9%. The town has 1,306 enterprises have granted business registration certificates, with a total registered capital of more than VND 15,171 billion, 1,011 enterprises were put into operation, 219 enterprises are setting up procedures for establishment. In terms of foreign investment, the town has 605 enterprises that have granted investment licenses, total registered capital of more than USD 3,887 million.
In recent years, urbanization rate of the town has increased rapidly; occupancy rate of industrial zones and clusters is increasing. Over 9 months of 2020, the industrial production value is estimated at VND 18,080 billion, an increase of 7.49% over the same period last year. In particular, the domestic economic sector is estimated at VND 5,480 billion, up 9.97% over the same period last year; FDI sector is estimated at VND 12,600 billion, up 6.45% over the same period last year. Total retail sales of goods and services of 9 months was estimated at VND 9,210 billion, up 15.56% over the same period. The Town People's Committee granted business registration licenses to 930 cases, with a total capital of VND 409.5 billion.
In the new phase, Tan Uyen is striving to become a class-2 municipality directly under the province before 2025, economic structure to include industrial - trade, service - agriculture with the corresponding proportion of 52.2% - 44% - 0.8%. Currently, the town has more than 50 commercial residential areas that have been invested to attract a large number of residents. Therefore, the demand for commerce and services of the town is increasing. Doan Hong Tuoi, Chairman of Tan Uyen Town People's Committee, affirmed that the development of trade and services is a policy and task of the town Party and government in the future. Besides industry, trade and service sectors will stimulate development, production of goods, innovate quality and quantity of labor. With the available potential, Tan Uyen is boosting the attraction of investment and policies to encourage preferential investment in trade and services. The town is determined to mobilize all intellectual and material potential of society to stimulate the local socio-economic growth in a sustainable way. The town is committed to creating good conditions for businesses to invest in field of trade and services in the area.
To prioritize key areas
With large economic potential, the construction and development of Tan Uyen Town towards urban service, industrial production, and to become inter-regional transport hub has received much attention in the new phase. In particular, the town will develop industrial support services associated with urban areas, such as finance, banking, commercial centers, supermarkets, residential areas, transportation, logistics, entertainment... The town planned for 6 urban areas, called for investment in high-quality commerce, services, urban housing, regional trade and services, mainly developing integrated multifunctional areas along major traffic axes.
To continue to exploit advantages of infrastructure, right from beginning of this year, the Town People's Committee has directed administrative sectors, People's Committee of communes and wards to implement investment procedures for projects in the public investment plan 2020, speeding up the examination progress of works in transition. Up to now, the town has completed compensation for key projects, such as 500kV Tan Uyen transformer station and connection (220kV line); drainage ditches, residential roads and transformer station access roads; Thai Hoa High School, DH406, DH425, DH423 streets... Continue solving problems of some projects.
The town completed and submitted the adjusted master plan of Tan Uyen Town until 2040 to provincial Department of Construction for appraisal; local adjustment of Tan Hiep ward subdivision planning project until 2030 to implement Tan Hiep urban development area 125 ha. Besides, the town is finishing local adjustment procedures for the subdivision planning project of Uyen Hung ward scale of 1/2,000 until 2030 to carry out project of Vinhomes South Tan Uyen - Binh Duong Commercial and Service Urban Area 315 ha.
Reported by Tieu My - Translated by Ngoc Huynh