Following the instructions of old-time verse, we get back to the land of Thu where long lasting handicraft careers have rooted. Through time, the traditional handicrafts have been through ups and downs of the developmental process including Tuong Binh Hiep lacquer handicraft village.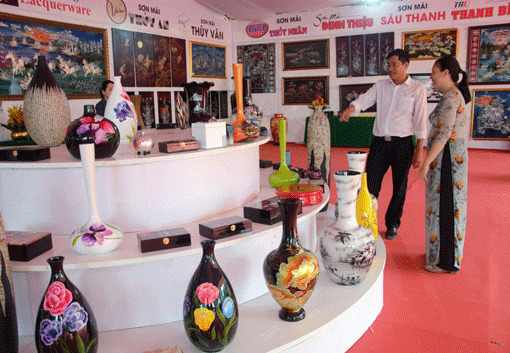 The preservation and developmental activities have been implemented by functional departments have help Tuong Binh Hiep lacquer village enter new stage of development
Impression of a village of hundreds of years old
Referring to traditional handicrafts in Binh Duong, it is indispensable for Tuong Binh Hiep lacquer craft village in Tuong Binh Hiep ward, Thu Dau Mot city, a traditional craft village dating back hundreds of years, inherited and handed down through many generations. Trinh Hoai Duc's "Gia Dinh thanh thong chi" (the journal of Gia Dinh confined district) rotes that the profession of making lacquer paintings was brought to the area by the northern and central residents in the late seventeenth century. In the early days of coming to a newly reclaimed land for a new life, expatriates still felt deeply homesick. Therefore, they recreated the pictures of their homeland through pictures to ease their own nostalgia. Combining with the local cultural values ​​when living in the local area, the lacquer painters created products of their own unique style, which was the origin of Tuong Binh Hiep lacquer.
Nguyen Van Quy, Vice Chairman of Binh Duong Lacquer and Sculpture Association, said according to the historical line, lacquer crafting in Binh Duong appeared quite early in the late seventeenth century. At first, lacquer products were only for family and community life, and it gradually became a profession as products were available for trade and exchange with other local residents across the nation, especially the six southern provinces. In the 1960s, the lacquer crafting profession began to develop into craft men and craft households. At the time, lacquer trading streets of Phu Cuong, Chanh Nghia, and Chanh Hiep were hustle on the land of Thu Dau Mot. In particular, My Hao, Tan An, Tuong Binh Hiep lacquer villages had been so active that they were known to customers in and outside of the province.
Tuong Binh Hiep Village had long been considered as the cradle of traditional lacquer crafting in Binh Duong province. However, from 1990 onwards, Tuong Binh Hiep traditional lacquer crafting had many difficulties as the traditional Eastern European market was out of reach while they had to compete with products of the same types but different quality. Gradually, local lacquer paint (the identical feature that makes up the value of Tuong Binh Hiep lacquer) becomes scarce and high priced while new materials imported into Vietnam have not been truly assessed, yet are brought in by lacquer crafting establishments for poor quality products, reducing their own reputation and loyal customers turned their backs on them. Besides, the skilled labor force is getting old and weak, losing the labor force. Young laborers are lacking and not adaptable as they ask for higher pay. Those are the reasons why the lacquer crafting village has no longer been flourishing as before.
Despite difficulties and less prosperity than in the 1980s and 1990s, some enthusiasts stay on with Tuong Binh Hiep lacquer village to wait for better days of their careers."
Expectations for new development
In order to preserve and promote the lacquer crafting career, especially the protection of artisans and crafting villages, at the end of 2008, Binh Duong provincial People's Committee issued a decision to recognize Tuong Binh Hiep village as a traditional crafting village. According to the artisans, those who stay with Tuong Binh Hiep lacquer, the favorable opportunity for the lacquer painting profession is offered to enjoy preferential policies, opening new directions in investment, market expansion, job creation, attracting labor and developing economy in combination with tourism in the province.
The joy for Tuong Binh Hiep lacquer craft village is to be multiplied as the "Binh Duong lacquer collective brand" has been officially certified by the Department of Intellectual Property under Ministry of Science and Technology on July 7, 2011. In particular, in 2016, the Ministry of Culture, Sports and Tourism announced that Tuong Binh Hiep lacquer crafting profession was listed to "National Intangible relics".
"This is an important milestone in the preservation and development of the lacquer crafting in Binh Duong, contributing to affirm the cultural core values of Tuong Binh Hiep traditional lacquer crafting village," said Quy.
In the early days of the coming spring, we had the opportunity to visit Tuong Binh Hiep lacquer village, the local atmosphere here was quite busy. Production facilities are urgently and highly concentrated to produce many products to serve the needs of shopping for Tet decoration of the people and orders of business partners. The lacquer craft-men in Tuong Binh Hiep handicraft village that we asked about said that they have been very excited as the project of "Conservation and development of Tuong Binh lacquer crafting village combined with tourism in the area of Thu Dau Mot city" was announced in Thu Dau Mot city. The project was promising that after its completion, it would bring new development expectations to the local traditional craft village.
Truong Hoan Nguyen, Director of Dinh Hoa Lacquer Company Limited, said that in preparation for the Lunar New Year, from the last months of 2020 and early months of 2021, his company has received many orders for lacquer products like jam boxes, gift boxes, jars, and so on. He also hoped that thanks to new policies, Tuong Binh Hiep lacquer village in general and his company in particular would have more new development opportunities, contributing to join hands with the provincial authority to preserve and develop the unique traditional crafting village.
The new coming spring is on every street and corner. The today's unique products of Tuong Binh Hiep lacquer crafting village are the add-on to adorn the spring in the homeland of Binh Duong.
Reported by Hong Thuan – Translated by Vi Bao