Tapping into domestic market will be the direction for enterprises of wood industry, opening up many opportunities for connecting supply - demand, and for sustainable development.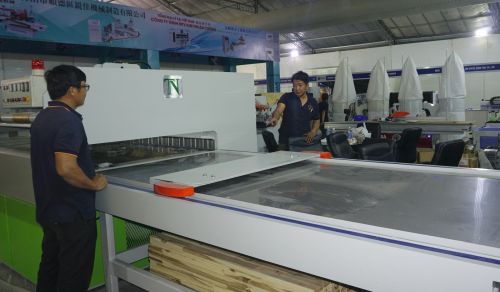 Wood enterprises invest in modern machinery to meet the demand of domestic and foreign customers.
To return "home"
With a population of nearly 100 million people, Vietnam's market size is equivalent to 5-7 European countries combined. Vietnam's economy is maintaining a good growth rate, followed by the growth of the real estate market, especially the apartment segment, the increased demand for furniture, which is a condition for timber industry to find a foothold on their "home ground". But in fact, many wood processing enterprises, furniture producers of Vietnam focused only on export and ignored a large number of customers right in their home ground.
Thai Le Huong, marketing manager of Cozy Living Company, informed that growth rate of furniture is reaching about 30% per year. Demand for apartment furniture in Vietnam has tended to increase in recent years as most young families in large cities choose to stay in condominiums. Most young people think that the economy is growing, income is improving, Vietnamese people are starting to focus more on their home and are willing to pay more for furniture to have the most perfect living space. Currently, for apartments have an area from 70 -80m2, each family is able to spend up to 300-400 million VND for interior furnishing.
According to To Xuan Phuc, senior advisor of Forest Trends Organization, experience of Thailand's wood processing industry shows that besides the strength of stability and job creation, products sold in domestic market bring higher profits per unit than exported products. Therefore, timber industry development strategy not only focuses on expanding exports, but also mechanisms and policies for sustainable development of the domestic market. However, to penetrate the domestic market, businesses need to change their entire business plan from sales, marketing, production to finance, supply and demand trends and correlation with exports...
To capture trends
In fact, unlike export markets that often choose mass-produced products, Vietnamese consumers prefer wood products with their own style and design; that is also the strength of small and medium-sized processing enterprises. Therefore, to switch to domestic market, it requires investment in research, product line determination as well as branding strategy.
Dien Quang Hiep, Chairman of Binh Duong Wood Processing Association (BIFA) said that businesses should start from simple products first, then go into complex products. The identification of product lines and strategic markets is of particular importance to the survival and development of timber industry. Strategic product lines are products with high demands, high stability, constantly expanding. Not only enterprises, the associations also need to identify their important role in becoming a liaison to create a playground for wood enterprises to update domestic market trends, as well as create favorable conditions for Vietnamese consumers to access and use many high-quality furniture.
Phan The Hai, Director of Trieu Phu Loc Company (Tan Uyen Town), said that the company's main market was export, but then accidentally saw a lot of its products returned to the domestic market through import and were overpriced. This paradox led him to a decision to the production of high-end goods for the domestic market. According to Mr. Hai, 10 years ago, market demand was not very high but now it is different. Vietnamese people began to be proud of Vietnamese furniture. The professionalism of enterprises has also increased so it is easy to conquer the market.
Products exported and then turned back into the domestic market also took place in many other enterprises. Do Thi Kim Loan, General Director of Sao Nam Flooring Company (South Tan Uyen Industrial Park) revealed that once she had to turn the left side of a product and pointed to Sao Nam's seal, customers then believed that the products they imported to Vietnam were Sao Nam goods produced domestically. After 15-year-experience of international market, this made her to rethink their strategy. Ms. Loan said: "Due to the market demand, we decided to invest more to conquer the domestic market. I think, export enterprises have a chance at the home ground.
From going upstream, Sao Nam has for the first time designed and launched a specific collection for Vietnamese market. With perseverance, Ms. Do said that the approach to domestic customers would also have to be completely different, not only opening showrooms but also expanding more modern distribution channels. For example, Sao Nam chooses to cooperate with interior designer to reach potential customers.
According to provincial Department of Industry and Trade, Binh Duong is a province with a large number of potential timber enterprises, and has also recently paid attention to machinery fairs for the wood and furniture industry to encourage domestic trade, help domestic enterprises and FDI enterprises to meet, discuss, sign contracts, supply goods to each other, increase localization rate of products. As a result, many businesses found partners to cooperate and expand domestic consumption market. Through domestic trade promotions, businesses signed contracts to supply products to each other. In addition, enterprises also learn and grasp customer demand for product designs and quality in order to adjust production accordingly, find more tastes of domestic customers.
Reported by Tieu My - Translated by Ngoc Huynh