In the year 2021 and following years, Thuan An City will continue to realize the target of maximizing its advantages of geographic location and development potential. To mobilize to the utmost resources for development investment, to build Thuan An city as an urban - service center oriented towards civilization and prosperity.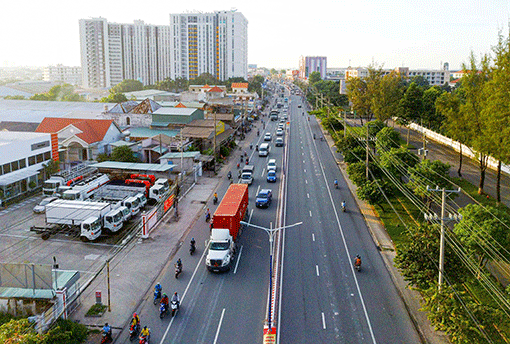 Thuan An city strives to become an urban - service civilized center.
Good potential, many advantages
Thuan An city is a class-3 municipality with a natural area of 8,369ha, a population of 623,752 residents (permanent residence accounts for 27.42% and temporary residence 72.58%). This is one of the advantages for the city to develop in services to meet people's needs. In 2020, Thuan An city adjusted the urban construction planning; the average housing area reached 23.5m2 / person; the city accelerated the development of high-class apartments, high-rise buildings in urban areas, and urban development along main roads. Besides, the urban transport infrastructure system received good investment; urban space was more appropriately planned. Transport infrastructure had good regional connectivity. The urban power supply and drainage system were renovated to satisfy demands.
Nguyen Thanh Tam, Chairman of the city People's Committee, said that Thuan An city effectively mobilized many resources to make the most of geographical advantages and development potential. To accelerate the speed of urban construction in accordance with regional common development, creating an early foundation for the city to become an urban and service center; rapidly increase the proportion of service sector in economic structure, promote sustainable urban development combined with the completion of technical and social infrastructure. The implementation of urban development program over 2016-2020 period basically met the set targets.
Urban infrastructure development
Up to now, Thuan An city has invested in the construction of urban renovation projects towards class-2 urban center; putting into operation key and important projects, such as An Son 1, Hung Dinh 23, An Thanh 37, Thuan Giao 2, Thuan Giao 10, Thuan Giao 25 streets In addition, many projects of technical infrastructure finished investment preparation as a basis for next phases to greatly impact the overall development of the city, improve people's living standards. The State management of urban centers was well carried out; the city, communes and wards, contributing to upgrading urban beauty, did the renovation and re-establishment of urban order.
In addition, urban social infrastructure received attention. The city invested in school facilities, improved the quality of teaching and learning. Over 2016-2020, the city invested and put into operation 11 projects for education training branch, finished investment dossiers of 5 new projects.
The fast-growing service sector has made an important contribution to economic restructuring and better met socio-economic development needs of the city. During 2015-2020, the value of service sector increased by 21%, the quality of services was heightened. The system of conventional markets, supermarkets and commercial centers met the demands of buying, selling and trading goods of all people's classes. Various types of housing, accommodation, logistics, banking, automobile business, and passenger and goods transportation thrived along main urban roads, contributing to the rapid socio-economic growth in the city.
Maximum mobilization of resources
Thuan An city aims to make the most of geographic advantages and development potential, mobilize resources to invest in infrastructure development, urban renovation to meet class-1 urban criteria combined with service development. In the near future, the city will invest more in technical infrastructure combined with trade and service development; effectively implement the mid-term public investment plan; carry out projects on schedule and make use of capital efficiently, prevent arising debts of capital construction.
The city will increase investment, guarantee the quantity and quality of educational and training establishments institutions; encourage and promote socialization to increase investment in education. To continue promoting investment and socialization to develop health infrastructure, contributing to improving the quality of and people's healthcare. To build and effectively exploit cultural and sports institutions in the city, communes and wards.
Nguyen Thanh Tam, Chairman of Thuan An city People's Committee, said that in the coming time, the city would mobilize all resources to invest in developing, accelerating the progress of infrastructure investment, while focusing on urban renovation, meeting class-1 urban criteria, making the most of the city's advantages and potential in commercial, service development, creating motivation for other manufacturing industries to thrive. In particular, the city prioritizes the development of the West zone - along the Saigon River, and key projects such as: Cultural - Physical Training Center, Administrative Center, Lai Thieu New Market, upgrade and expansion of Chau Van Tiep street, building a new An Thanh 24 street etc.
Mr. Nguyen added that the city's leaders paid much attention to developing transportation to connect with bordering areas; river embankment projects, Lai Thieu, Binh Nhum, Vinh Phu canals; renovate industrial areas to develop and reduce environmental pollution in An Phu, Binh Chuan, and Thuan Giao wards; prioritize the development of service industries with great potential and high competitiveness, such as urban services, industrial services (housing, finance, banking, insurance, commercial services, telecommunications, and transportation) to meet market demand; promote the advantages and potential of ecotourism and landscape along Saigon River.
Reported by Phuong Le - Translated by Ngoc Huynh