In order to prevent scarcity of goods, to ensure the balance of supply and demand, stabilize the market, Thuan An City has implemented plans and programs to stabilize the market before, during and after Lunar New Year 2021.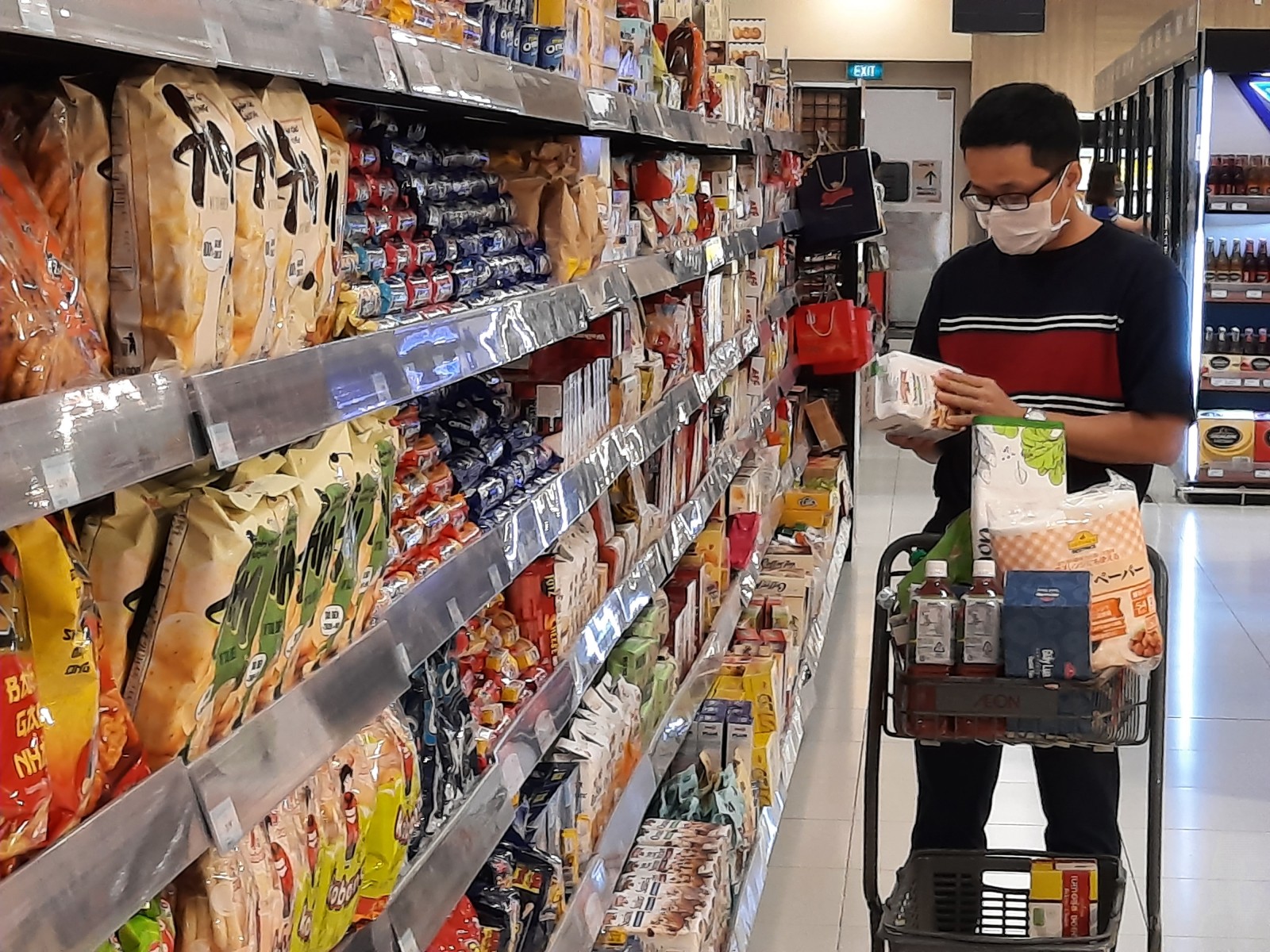 Consumers choose products at Binh Duong Aeon Mall.
To ensure the balance of supply and demand
In 2020, Thuan An City well implemented the reserve plan of essential goods, prevented scarcity of goods, helped enterprises to participate in stabilizing the market, collaborated with functional branches to organize good coordination of supply and demand. Do Thanh Su, Vice Chairman of Thuan An City People's Committee, said that the City spread information about the stabilizing program of essential goods among communes and wards. Goods served in the program must ensure food quality, safety and hygiene, and the quantity of goods guarantees meeting the consumption demand of people in the city, even in case of market fluctuations. The program has the participation of enterprises, management boards of conventional markets, supermarkets, and related industries, ensuring business management in accordance with the law, bringing high economic efficiency.
In this market stabilization program, Binh Duong Aeon Mall stocked a total goods amount of more than VND 379 billion inclusive of 160 billion VND of goods to stabilize the market before, during and after Tet 2021. The number of goods was also increased at mini supermarkets and convenience stores in the city, including 38 Bach Hoa Xanh stores, 31 Vinmart+ stores, 6 Co.op Food stores, 4 Family Mart stores. For conventional markets, goods for Tet (rice, groceries, household goods, garments, cakes, jam, flowers, pork etc.) are also intensified by business households at 22 markets in the area to promptly meet people, contributing to market stability.
In order to well meet shopping needs, Lotte Mart Binh Duong Supermarket participated in stabilizing the market with a total goods value of more than 195 billion VND. In which, the stock of goods to stabilize market before, during and after Tet holiday is over 65 billion VND. Previously, Lotte Mart worked with partners and suppliers to ensure the best source of goods and prices to both promote manufacturing, business, and stimulate consumer demand. Starting from November 2020, Lotte Mart Binh Duong has imported Tet goods for reserve. The supermarket will also increase staffing, seasonal labor, and sales time to best serve customers going shopping for Tet.
Pham Phu Hien, Director of Lotte Mart Binh Duong, said: "The supermarket set up a stock reserve plan to best meet consumption needs of local people during Lunar New Year 2021. Vietnamese goods in supermarkets account for more than 90%. The supermarket is committed to the best implementation of price and market stabilization policy; The quality of goods and service must be on top priority, to avoid the shortage of goods and the improper price increase".
To strengthen inspection
In order for this program to be implemented effectively and promptly meet people demand for goods during Lunar New Year, retail distribution network of essential goods is distributed evenly and widely throughout the city, especially in industrial parks and clusters and in lodging house areas for workers. Besides, in order to stimulate consumption, participants of the program organized distribution system to communes and wards.
Do Thanh Su, Vice Chairman of the City People's Committee, said that in order to effectively implement the program, ensure food quality, safety and hygiene for the people, protect the interests of consumers, the City People's Committee asked economic agency to collaborate with relevant industries to strengthen the inspection of food hygiene and safety, and check product quality measurement standards in commercial activities under its jurisdiction according to regulations.
In addition, the City People's Committee also cooperated with relevant levels and branches in the management of mobile sales fairs across the area, in order to promote the campaign "Vietnamese people give priority to using goods"; demanded Market Management Team No. 2 to collaborate with relevant agencies to strengthen market management, combat illegal trade, smuggled goods, counterfeit goods, poor quality goods, and goods of unknown origin; to cooperate with interdisciplinary inspection team to inspect food safety and hygiene at production establishments, food stores, resolutely revoke business licenses of unqualified business establishments.
To inspect enterprises, agents and business establishments in the area for compliance with regulations on service business, commercial civilization, listing selling prices, avoiding the situation of goods speculation and hoarding, price increase.
In 2020, total retail sales of goods and services of Thuan An City was estimated at 72,700 billion VND, up 10.34% over the same period. Currently, there are about 36,200 business households operating in fields of trade - services.
Reported by Phuong Le - Translated by Ngoc Huynh