Currently, the COVID-19 in Thu Dau Mot city is basically well controlled. However, Thu Dau Mot city is in the highest state of readiness to respond in a timely manner if bad situations occur and control the situations well, when workers from other provinces and cities return to Binh Duong for work after the Tet holiday.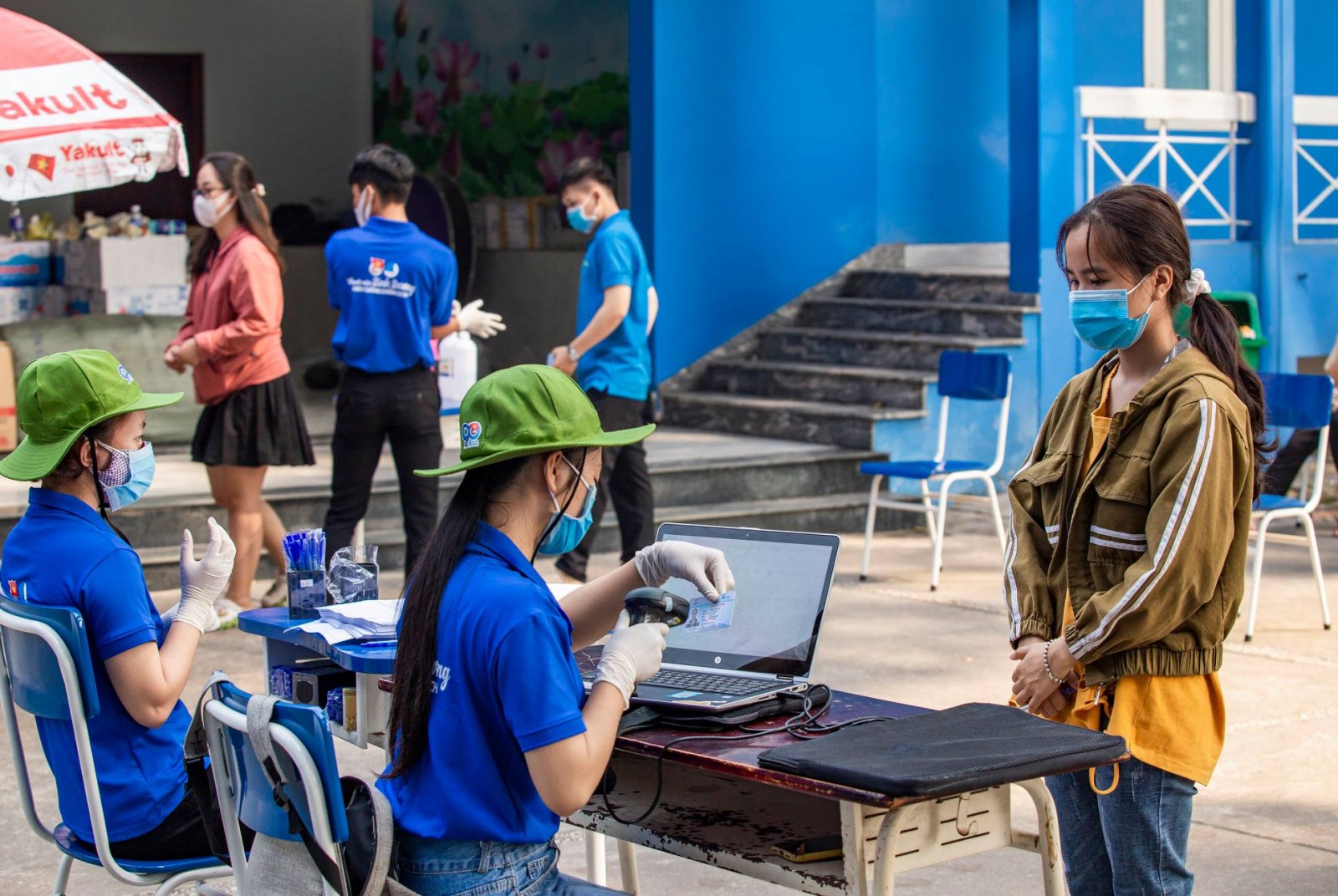 Students of Thu Dau Mot University make medical declarations
To promptly step in
Before Lunar New Year 2021 holiday, in Thu Dau Mot city, there was 1 positive case of COVID-19 infection, which was Patient 1843, a student of Thu Dau Mot University. Immediately, COVID-19 prevention control Steering Committee of the city set up plans and quickly implemented measures to zoning and disinfection; monitored and quarantined 4,981 related cases.
Two quarantine zones concentrated at the old headquarters of the city's Military Command and Tan An ward's Community Learning and Culture Center were also operated. Due to the connection with this case, the city blockaded 4 areas in Phu Hoa ward (Quarter 5, Quarter 7, a part of Quarter 6, Quarter 3). Regarding Patient 1980 (a worker of Tan Long Company), the city also conducted examination, isolation and monitored 117 more cases. Currently, F1 cases of both above patients are tested negative for COVID-19.
Nguyen Thu Cuc, Chairwoman of Thu Dau Mot City People's Committee, said that the epidemic prevention and control concerned the city leaders and was directed closely. Epidemic prevention control system at all levels proactively responded promptly when the epidemic occured. Therefore, when the outbreak occured in the area, the city promptly directed the urgent implementation of measures so that the epidemic could not spread widely, protecting people's safety and health in the city; especially ensuring living standards of more than 2,365 households with 8,850 people in blockade areas in Phu Hoa ward.
During the time of blockade in Phu Hoa ward, Thu Dau Mot city quickly implemented a number of key solutions, which have brought good results. Namely, the city assigned 37 squads in Phu Hoa blockade area; forced the closure of locations where the patient had passed; sprayed disinfectant chemicals in all places having suspected cases. Meanwhile, dissemination and communication was intensified. Broadcasting duration on radio stations, roving dissemination, visual propagation, and distribution of leaflets to guide people through epidemic prevention control were also heightened.
In order to control the situation, the city also directed People's Committee of wards to simultaneously inspect the compliance with wearing face masks in public places; to temporarily close unnecessary service establishments, and at the same time organize for business households to sign commitments to complying directives of provincial and city People's Committees. Workers at companies in the area were encouraged to stay at the city during Tet holidays, not return hometown to curb sources of infection. The city also cooperated with the 38th Chemical Defense Battalion of the 4th Army Corps to spray disinfectant chemicals in blockade areas.
To strictly implement
It is the resolute participation and many effectively implemented solutions that have contributed to good results of the epidemic control in Thu Dau Mot city. As of Feb 9th, according to provincial Department of Health, the epidemic situation in Thu Dau Mot city and infection risk to the community was well controlled. Due to the direction of Provincial People's Committee on the lifting of the blockade in Thu Dau Mot City, after inspection,
by 11.00pm of Feb 9th, city leaders decided to remove the blockade in Phu Hoa ward and disinfected all checkpoints.
During the Tet holiday, with high vigilance, Thu Dau Mot city continued to maintain epidemic prevention control activities in the area. Accordingly, the city directed and proposed branches, units and People's Committee of wards to continue actively operating the epidemic prevention and control system; encourage their families and people that went to or returned from epicenters to do self-quarantine and medical declarations; management board of industrial parks, companies, and educational institutions in the area to disseminate and require 100% workers and students to make medical declaration in accordance with regulations, implement the 5K message as recommended by Ministry of Health.
The city also worked with temples, pagodas, shrines and churches in the area to stop religious festivals and implement social distancing. Eateries are allowed to open only for take-away service. Karaoke bars, spas etc. are temporarily shut down. Particularly, food stores continue opening to serve people's needs. According to Ms. Nguyen, after the Lunar New Year holiday, when workers from other provinces and cities returned to Binh Duong for work, there will be potential epidemic outbreaks. Thus the city leaders are very concerned and directed to drastically seriously perform medical declarations to manage and timely grasp the situation. "People coming from epicenters must implement concentrated quarantine as prescribed to restrain to risks, avoid the spreading in the community. Steering Committees from the city to wards must review scenarios of each unit and operate at the highest level to respond promptly when bad situations occur. In addition, we also encourage people to report those who enter the country illegally. The authorities intensify the inspection and handling of violations of epidemic prevention control, such as not doing medical declarations, not wearing face masks in public places... Non-complying cases will be severely sanctioned according to regulations", Ms. Nguyen said.
According to Ms. Nguyen, the COVID-19 in Thu Dau Mot city is basically well controlled, but there is still a potential risk. Therefore, the city continues to encourage people to install Bluezone application to promptly detect infected or suspected people near them, and install NCOVI software. In particular, people in blockaded before Tet, in addition to the above contents, they must also write daily logs, strictly implement 5K things to perform well the epidemic prevention and control in the area.
Reported by Hong Thuan - Translated by Ngoc Huynh