Along with the whole country, Binh Duong people have been turning towards people of central provinces to share their difficulties in the damage caused by natural disasters. A delegation led by Binh Duong Young Entrepreneurs Association in collaboration with Provincial Youth Union, Provincial Youth Federation, Provincial Police's Youth Union conveyed feelings and love from people and businesses in Binh Duong province to the Central with the desire to help people here soon overcome difficulties and settle down.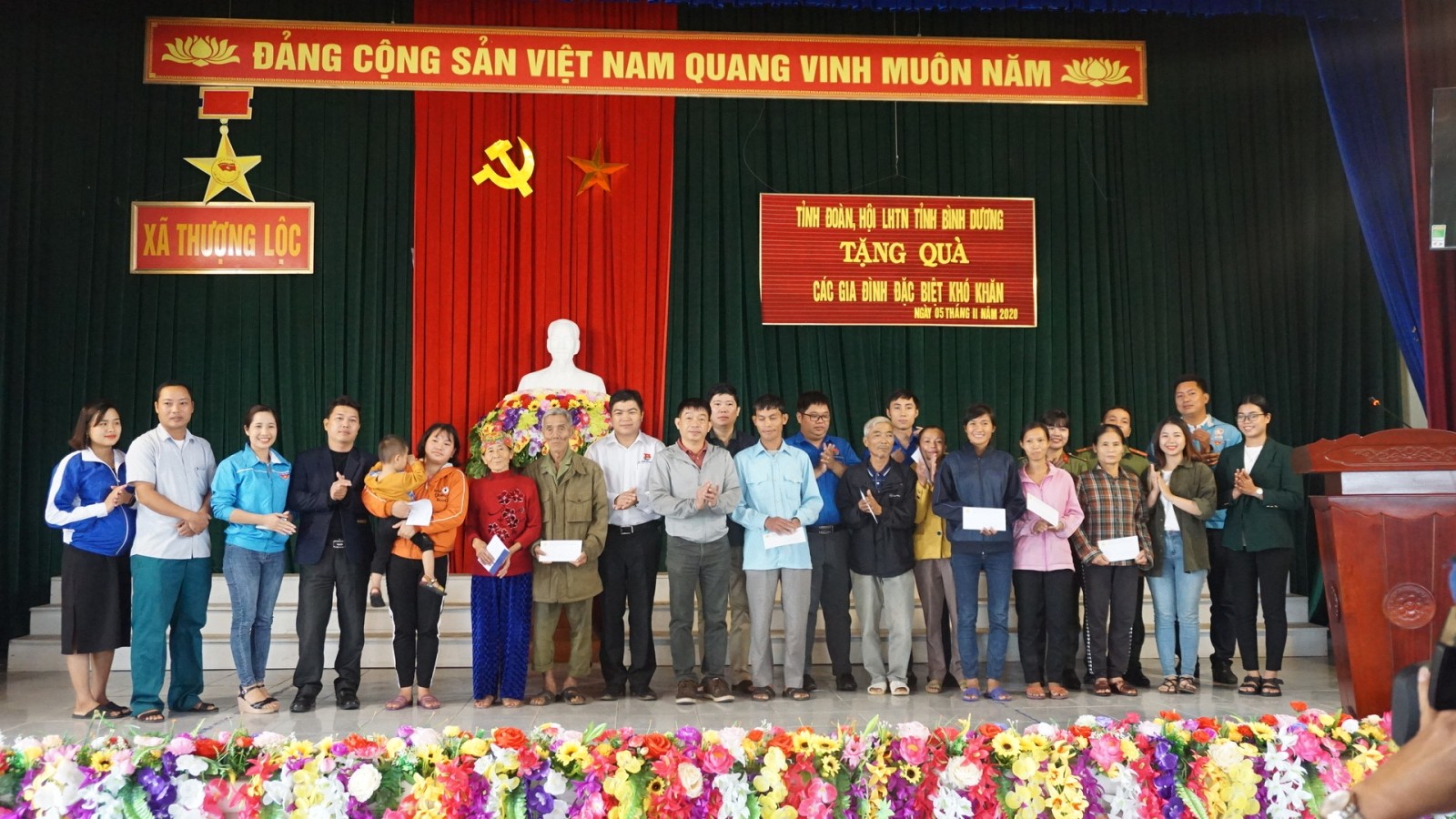 To visit, console and give money to people in Thuong Loc commune, Can Loc district, Ha Tinh.
To turn towards the Central region
Although it was many days after the flooding, traces of the devastation caused by natural disasters remained visible on all the ways of this journey. Damaged houses, fields of flowers and crops were buried by meters high of mud, many roads were torn apart... The delegation arrived in Quang Binh province, which is one of the areas that suffered major losses of people and properties during two consecutive floods at the end of October. In Ha Mon village, Cu Nam commune, Bo Trach district, when heavy rains were still poured down, many people were present early to welcome the delegation. The sentiment of people there and the sympathy of the delegation heated up the hall of local cultural house during rainy season. The word "Compatriots" became extraordinarily meaningful, the spirit of "solidarity" helped difficult circumstances soon overcome the loss, stabilize their lives.
In this commune, many areas were still divided, because roads were washed away by floodwaters, not be able to restored. According to local recommendations, for safety reasons, the delegation could not go directly to all households. But the presence of the delegation in this difficult time lit up the joy and happiness of the locals. Ha Mon village, Cu Nam commune is a remote area of Bo Trach district, the whole village has 186 households with more than 600 people, the life of people here depends mainly on cultivation, animal husbandry, still faces numerous difficulties. Their lives are even tougher after the last two floods, many areas were isolated in more than 10 days, floods washed away all properties of people here.
The commune leaders informed a heartbreaking news of young men and one person in Bong Lai village were buried in a landslide. It took days for specialized forces to find enough victim bodies. The delegation graciously visited, consoled and supported victim families with some money, which were not a large amount but it contained sentiments of Binh Duong people. Members of Binh Duong Young Business Association also shared the trauma of the families, wished all would soon overcome difficulties and settle down.
Affection and sympathy
Dang Dai Bang, Secretary of Provincial Youth Union, member of Natural Disaster Prevention and Control Board of Quang Binh Province, said that the last October storm and flood surpassed the historic flood in 1979, caused great damage to people and properties in the whole region; 80% areas were inundated, people's lives fell into difficulties, students could not go to school. In two consecutive floods, especially the large flood from Oct 16 to Oct 20 caused serious damage in the whole province, especially in districts of Le Thuy, Quang Ninh, Ba Don Town; Gianh and Son river basins, 183 villages, hamlets, and 33 communes were divided, tens of thousands of houses were submerged by flood waters, of which 104 houses were completely collapsed, hundreds of houses were damaged... The whole province of Quang Binh has 23 deaths, damage cost is estimated at nearly 5,000 billion VND, equivalent to a year budget revenue of the province. "With affection and sympathy from people all over the country, including people, unions and enterprises of Binh Duong, Quang Binh people appreciated this, and have more strength to together overcome difficulties and consequences of natural disasters", said Mr. Dang.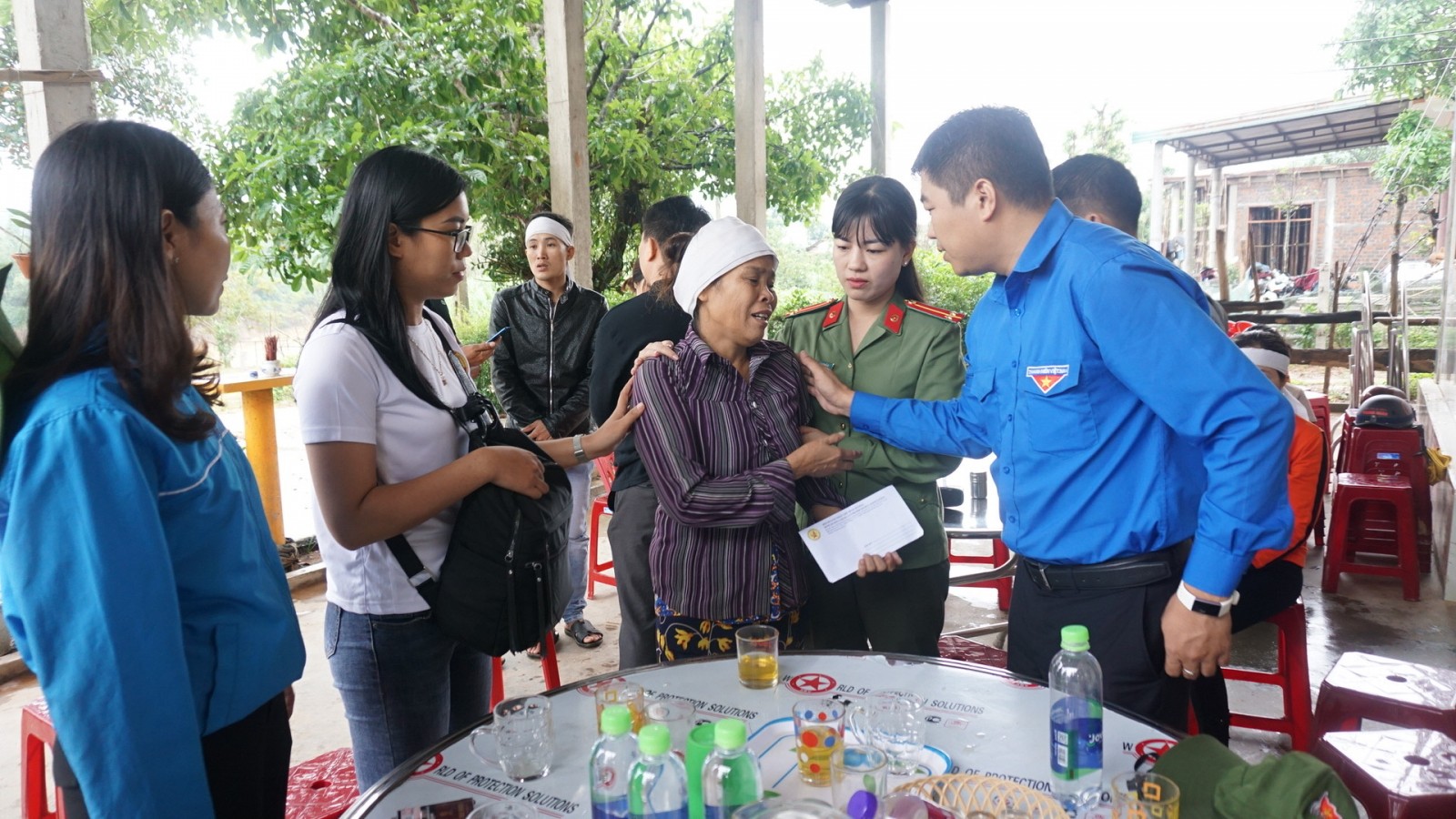 To visit victim families of the landslide in Bong Lai village, Cu Nam commune, Bo Trach district, Quang Binh province.
The delegation then came to Ha Tinh. Le Thanh Dong, Secretary of Ha Tinh Provincial Youth Union, said that during the recent floods and storms, Ha Tinh province also suffered many bad consequences, the damage was quite heavy, the biggest loss was 6 people died. In districts of Cam Xuyen, Thach Ha and Ha Tinh city, food reserves were inundated, 132 hectares of rice, many areas of fruit trees and crops were also submerged. Heavy rains caused inundation wreaking havoc on more than 2,300 hectares of fisheries, total economic loss was estimated at thousands of billion VND. Binh Duong province's delegation directly visited and presented money to people in Thuong Loc commune, Can Loc district, a mountainous commune of Ha Tinh. Many people here said that the timely sharing and support of Binh Duong people in particular and all people across the country in general were the most blessed sentiment.
Nguyen Tan Dat, Permanent Deputy Secretary of Binh Duong Provincial Youth Union, said the program "To sending love to the Central region" carried out by Provincial Youth Entrepreneur Association in collaboration with Provincial Youth Union, Provincial Youth Federation, Provincial Police's Youth Union had received enthusiastic responses and contributions from members and businesses in the province. The program received a total donated value of more than 600 million VND, including more than 540 million VND in cash and gifts to support people in Quang Binh, Ha Tinh.
Tran Thi Kim Lan, Vice Chairwoman of Provincial Fatherland Front Committee, said that organizations, unions, businesses and all people in Binh Duong province volunteered and donated 16 billion VND, necessities and food worth more than 1 billion VND. Cash and goods were presented to people in the Central Region in the affected areas, severely damaged by the recent floods and storms. This was the heart, sentiment of Binh Duong people and businesses to share difficulties and support people in Central region to soon overcome consequences of natural disasters. According to Ms. Tran, there were also many organizations, individuals and sponsors in the province directly visiting and supporting people of the Central provinces.
Reported by Minh Duy - Translated by Ngoc Huynh