Currently, localities in the province are promoting the role of Covid-19 Community Safety Team (CCST) in order to prevent and fight against the epidemic. Each CCST has 2-3 members who are in charge of about 50-70 households, come to each house, check people coming back from epicenters and updating changes, movements of people in the area.
To come to each house, check up each person
CCSTs in municipalities are actively and closely follow the situation of their area, come to each house to support medical declaration, check up persons coming from epicenters. According to statistics, there are 4,331 CCSTs in the province. Team members quickly ascertain their local situation, report to COVID-19 Steering Committee in communes, wards and towns; closely monitor, knock on every door, check each person to grasp the itinerary of each person in the area.
Do Viet Hung, Deputy Director of Di An City Health Center, said that the city has consolidated 965 CCSTs. Members of teams actively propagate and supervise all residents. Up to this point, the city has not recorded any F0 cases. On Feb 23, the city checked 55 people coming from Hai Duong; all tests were negative.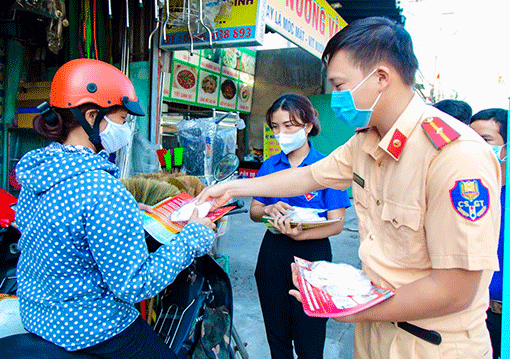 CCSTs actively propagated the 5K message of Ministry of Health.
Phu Giao district also established 367 CCSTs with 815 members. Through inspection and supervision, COVID-19 Steering Committee of Phu Giao district sanctioned 63 cases of not wearing face mask, collected a total fine of 126 million VND. Doctor Nguyen Thanh Nguyen, Director of Phu Giao district Health Center, said: "831 members of CCSTs these days are active to carry out medical declaration. In particular, the teams monitored and discovered cases going back from epidemic areas, and then implement quarantine. The locals also strictly followed the instructions of provincial Department of Health, the District People's Committee, seriously implemented recommended things, especially wearing face mask. In addition, the District People's Committee also strictly sanction cases of returning from the epidemic areas without medical reporting or giving untruthful statements".
To promote the role
Nguyen Hong Chuong, Director of provincial Department of Health, said that the establishment of CCSTs to proactively and effectively enhance the monitoring of public health, promptly apply appropriate medical quarantine and intervention measures, contributing to ensuring the effectiveness of epidemic prevention and control in the province. Accordingly, health centers of districts, towns and cities are responsible for assigning tasks to CCSTs to supervise the implementation of medical quarantine, assure efficiency and in accordance with regulations; at the same time, monitor the health of residents living in their area, especially in high-risk areas, related to the epidemiology of Covid-19 confirmed patients; early detect suspected cases to take samples for testing, quickly take measures to prevent and control the epidemic.
Provincial COVID-19 Steering Committee assigned Provincial Center for Disease Control to collaborate with the units, propose prioritized areas for monitoring; provide professional training and guidance for CCSTs; take samples, test suspected Covid-19 cases. If the test results are positive for SARS-CoV-2 virus, they must immediately collaborate with People's Committees to immediately implement measures for zoning and quarantine according to regulations to promptly control and prevent the outbreak.
Earlier, district, town and city health centers urgently advised local authorities to consolidate and deploy CCSTs under the guidance in Decision No. 3986 / QD-BYT of the Ministry of Health. In fact, these days, CCSTs has come to every house to give instructions on the implementation of medical declaration through the NCOVI mobile application. In cases no smartphones, CCSTs will help residents make a medical declaration. In addition, CCSTs also apply medical reports to persons coming to Binh Duong from provinces without the epidemic. CCSTs will instruct people to self-monitor their health at home. If there are health problems such as fever, cough, shortness of breath, they must immediately contact the nearest medical center for further guidance.
Reported by Kim Ha - Translated by Ngoc Huynh