Public passenger bus transport (PPBT) in the province has changed positively. However, due to the increase of personal vehicles, bus service in the area requires businesses to constantly improve its quality by renewing vehicles, service attitude to encourage people choose this vehicle service for commuting.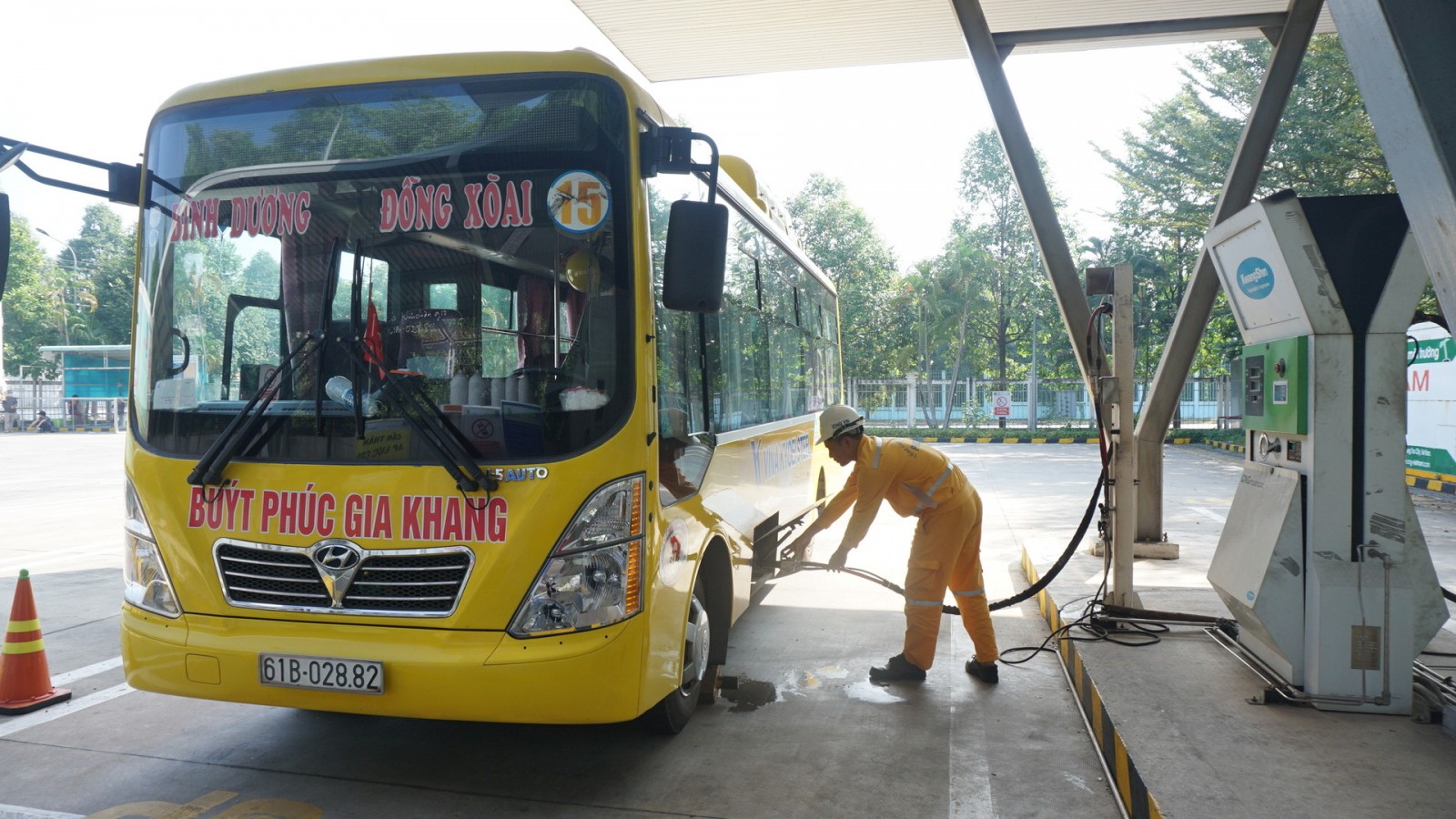 Phuc Gia Khang Company invest in 25 CNG vehicles financed by preferential loans of Binh Duong Provincial Development Investment Fund. In photo: Phuc Gia Khang bus at CNG intake station located in My Phuoc 3 Industrial Park, Ben Cat Town.
Environmentally friendly bus technology
The project "Improving the quality of PPBT in Binh Duong province" was adopted by transport enterprises in the province and people. The project not only gives businesses many opportunities to innovate vehicles, use clean technology to serve passengers but also create opportunities for commuters to travel by new civilized and safe vehicles with reasonable costs.
Speaking at the launch of Kaze bus route connecting Ben Cat Town with Thu Dau Mot City recently, Nguyen Thanh Truc, Vice Chairman of Provincial People's Committee, appreciated operation of this bus route. He also believed that enterprises investing in and expanding routes through industrial parks and social housing areas with many workers would join hands with the province to complete the target of 15% provincial commuters to choose new bus service that employing environmentally friendly clean fuels. In addition, this contributes to reducing personal vehicles in commuting, minimizing traffic congestion and guarantee traffic safety in the area.
Currently, as a pioneer in developing green bus routes using clean, environmentally friendly CNG gas, it is the Kaze bus system operated by Becamex Tokyu Bus. In addition to Kaze buses, Phuc Gia Khang's CNG bus service has also proved its effectiveness in connecting Thu Dau Mot to Dong Xoai City, Binh Phuoc Province. According to experts, the development of infrastructure and modern public transport system contributes significantly to building Binh Duong smart city in the future.
To prioritize business transformation
Nguyen Chi Hieu, Deputy Director of provincial Department of Transport, said the goal of PPBT network was to become convenient, good quality, civilized and environmentally friendly. Accordingly, Department of Transport actively counseled about implementing the project towards reasonable growth in terms of number and type of public passenger transport in general and buses in particular to be modern, comfortable, meet technical standards of safety, energy saving and environmental friendliness. "According to the project's roadmap until the end of 2020, the province will grant preferential loans to enterprises to convert to and invest in about 130 new vehicles, total investment of nearly VND 245 billion, including more than VND 195 billion funded by the province. This scheme supports and prioritizes enterprises to convert to vehicles using clean CNG, contributing to environmental protection, creating many utilities and comfort for passengers", Mr. Nguyen said.
Nguyen Trung Doan, Chairman of Phuc Gia Khang Company, said the project was approved by Provincial People's Committee, all 25 buses were new and completely use clean fuel. Total investment value of the vehicles is VND 49 billion, of which 80% were preferential loan supported by Provincial Development Investment Fund. "In addition to using clean fuels, the entire management, operation, pick-up, drop-off and billing systems are equipped with smart technology, contributing to increasing transparency, publicity and convenience for passengers. In the current context, only by innovating and improving the quality of passenger transport service can businesses continue to exist", said Nguyen Trung Doan.
Meanwhile, Vu Quang Thanh, Director of Phuong Trinh Transport Joint Stock Company, said that over more than a year, the project has interested local transportation companies. This is an opportunity for businesses access preferential loans to convert to new cars using clean fuel. However, the current concern of the company is that the whole province has only CNG gas filling stations located in My Phuoc, Ben Cat Town, while Phuong Trinh buses do not go through this route, this is a problem that makes the company hesitated about changing into new bus type. Talking about this issue, Deputy Director of provincial Department of Transport said that the department conducted surveys to locate CNG gas filling stations conveniently for PPBT enterprises. Some stations will be also installed near Go Dau Stadium in the near future.
Under this scheme, enterprises that invest in new bus type will be supported by Provincial Development Investment Fund with loans up to 80% value of vehicles. Besides, the project also encourages enterprises to invest in buses using clean and environmentally friendly technologies. Namely, companies that convert to diesel engines will receive 70% loan interest rate, while the financial support will be 100% loan interest rate to new vehicles using CNG. Thanks to the incentive mechanism mentioned above, out of 130 new vehicles, more than 101 vehicles use clean fuel.
Reported by Minh Duy - Translated by Ngoc Huynh