Functional agencies are in consecutive implementation of many measures to mitigate traffic congestion which has been increasing in recent days.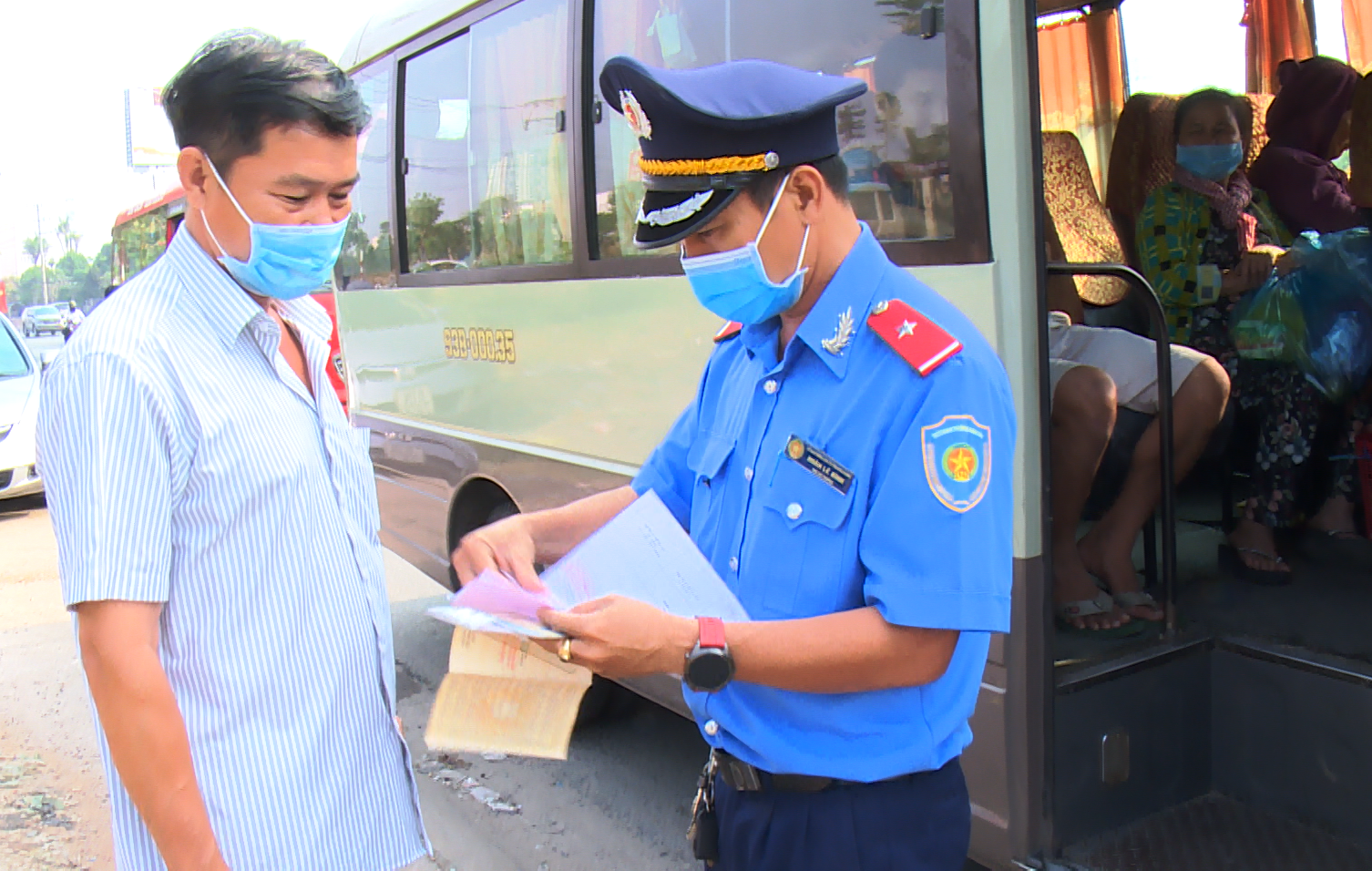 Functional forces observe mask-wearing at all time during their missions
To reduce accidents and congestion
According to statistics from the National Traffic Safety Committee, during the 7 days of Lunar New Year holiday (from February 10 to February 16), traffic accidents fell deeply in all three criteria. About 182 traffic accidents happened nationwide, killing 109 people and injuring 123. Compared to the same period in 2020, traffic accidents have decreased by 16 cases (by nearly 8.1%), 24 deaths (by more than 18%) and 51 injured people (by 29.3%). Traffic police units and localities have arranged forces to patrol, control and handle violations of traffic order and safety; thereby, 16,758 violations have been sanctioned at more than VND 17.1 billion. 101 cars, 4,642 motorcycles have been retained and 1,930 driving licenses have been revoked.
In Binh Duong, in order to improve the efficiency of ensuring traffic order and safety, the transport activities during the holidays of Lunar New Year 2021 have also been associated with the prevention and control of Covid-19 epidemic. Nguyen Hoang Thao, Deputy Secretary of Binh Duong provincial Party Committee, Chairman of Binh Duong rovincial People's Committee, and Head of Binh Duong provincial Traffic Safety Committee have directed functional sectors to implement key tasks, specifically: Strengthening patrols , control and strict sanctions of violations of the law on traffic order and safety on roads, railways and inland waterways, especially violations of loading capacity, exceed of the prescribed number of people, transportation of prohibited goods of risk of fire and explosion. Close coordination with the functional forces in the prevention and fighting against Covid-19 epidemic has been fostered while strictly complying with the procedures and regulations in public services.
From February 10 to 16, the patrol and control of the provincial functional forces discovered and sanctioned 130 cases of traffic safety and order violations. Thereby, the fine was nearly VND 300 million; 30 have been revoked of driver's licenses and 48 vehicles of all kinds were temporarily seized. As for traffic accident, 5 road traffic accidents was incurred in the province killing 4 people and injuring 7 people.
In addition, the plan to embellish the infrastructure and organize the streamline properly by traffic guides, at the same time under the complicated development of Covid-19 epidemic, people are recommended to reduce the transportation and not getting into crowds, so traffic congestion in the province hardly occurred.
To be proactive of ensuring traffic safety order in combination with pandemic prevention and control
Currently, the epidemic situation in the province has basically been well controlled. The province is also welcoming the flow of workers getting back to work after Tet. However, in the context that Covid-19 epidemic is still complicated in many places, the implementation of traffic safety and order must be associated with disease prevention and control which is a must. Therefore, in addition to performing professional tasks and propagating awareness of compliance with the Law on Road Traffic, specialized forces also focus on guiding people to self-implement disease prevention and control measures, awareness and responsibility for themselves and the community when participating in traffic during the festivals. In which, the main contents focused on propaganda and mobilization of people to abide by the functional forces, including: strictly implementing the message of "not driving after drinking alcoholic drinks"; wearing a helmet when riding a motorbike and the "5K" message of Ministry of Health in Covid-19 epidemic prevention and control (mask, disinfection, distance, no gathering and medical declaration).
Along with the above tasks, in order to ensure traffic order and safety combined with prevention and control of Covid-19 epidemic after the Tet holiday to achieve high efficiency, Binh Duong provincial Traffic Safety Committee has also directed the members and functional branches to arrange specialized forces, to strengthen patrol forces and to strictly sanction violations of the law on railway, inland waterways and road traffic order and safety. In particular, strict measures are taken against vehicle owners, drivers, service personnel on vehicles and traffic participants who violate regulations on Covid-19 prevention and control.
In addition, Binh Duong provincial Traffic Safety Board also requires regular organization of interdisciplinary missions to inspect the implementation of regulations on ensuring traffic order and safety, transport business and Covid-19 prevention and control in transport activities at key traffic routes, major traffic hubs such as bus stations. During the inspection process, it is necessary to strictly sanction the violating units, enterprises, vehicle owners, operators, and service staffs on the vehicles and traffic participants of Covid-19 prevention and control. Operations of units and enterprises that do not update information and do not ensure safety in Covid-19 prevention and control are requested to be suspended.
Reported by Binh Minh – Translated by Vi Bao