Taking care of young workers on Tet holiday is an annual activity, becomes a special beautiful deed of Youth Union for workers from all over Binh Duong. Bringing spring atmosphere to workers in order to take care of the material and spiritual lives of young workers always concerns Youth Union at all levels.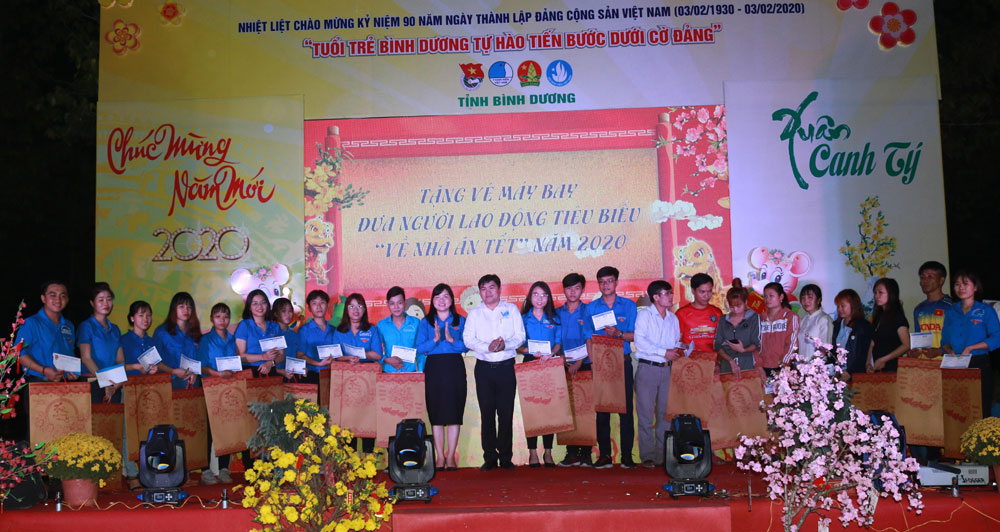 During Lunar New Year 2021, Provincial Youth Union will organize a program to help workers come back home to welcome Tet with their families.
This year, Standing Committee of Provincial Youth Union continues to hold a program for young workers having difficult circumstances. Accordingly, young workers will receive free bus or plane tickets to travel to their hometowns in Binh Dinh, Quang Tri, Ha Tinh, Nghe An, Thanh Hoa, Quang Ngai, Quang Nam, Thua Thien - Hue, Quang Binh... Besides, in order to create a happy spring atmosphere for young workers who are far away from their hometown and have no money to return to their hometown during Tet holiday, Youth Union and Association at all levels will organize exciting and useful activities such as folk games, flower arrangements contests, cultural art exchange and shows etc. These activities will breathe a new life into workers living and working in Binh Duong province.
Nguyen Minh Tan, Secretary of Ben Cat Town Youth Union, said that activities caring for young workers in Ben Cat town would be carried out by youth branches at industrial zones, clusters, lodging houses, grassroots level. Youth Unions actively mobilized supports to offer gifts to disadvantaged workers. Youth Union of Hoa Loi Ward collaborated with Ben Cat High School to visit and give Tet gifts to 5 disadvantaged young members in the ward. The activities of visiting, giving gifts to youth union members of the ward were somewhat encouraged and shared difficulties with disadvantaged people.
In order to enhance the socialization of the care for disadvantaged young workers, who cannot go home on Tet, North Tan Uyen District directed youth unions to offer new year's meals at lodging houses in the area. In this program, there will be a Tet decoration contest, giving gifts, cultural art exchanges to bring spring breath to lodging houses. An annual program done annually by the District Youth Union promises happy days to workers in industrial park, that is a program named "North Tan Uyen - Warm Spring, Gratitude Tet" 2021. The program is held by Youth Union in cooperation with Sports and Culture Center and Labor Federation of the District to serve trade unionists and young workers at industrial parks in Dat Cuoc commune.
Do Ngoc Loi, Youth Union Secretary of North Tan Uyen District, said: "The program is a weekend playground for young workers with many useful contents. The organizers will also integrate communication of Road Traffic Law, Labor Law, revised Youth Law; of how to prevent Covid-19; hold contests of New Year's decoration, and a festival of modern dance groups 2021. Besides, there will be lion dances, music shows and Tet gift giving to members, disadvantaged workers who cannot go home on Tet holiday".
Youth branches also encouraged lodging house' owners to organize meetings of workers in these days. This year, Tan Uyen Town Youth Union mobilized resources to give Tet gifts to disadvantaged workers; directed grassroots level to socialize the care for workers during Tet. At communes and wards in the town, youth branches encouraged benefactors donate gifts to poor workers in the new year.
In addition, Youth Union and Association of all levels in the province also have many activities to welcome Tet at lodging houses' youth branches to create a joyful new year atmosphere for workers away from home. The programs will be organized joyfully and meaningfully with cultural art performances, games, Tet decoration contests, lucky draw, giving gifts to workers and workers' children. Thereby, helping workers away from home have a happy, economical, and meaningful spring.
Reported by K.Tuyen - Translated by Ngoc Huynh