In the past years, thanks to synchronous measures, trade promotion in the province has brought about practical results, creating momentum for industrial production in rural areas, offer small and medium enterprises opportunities for development.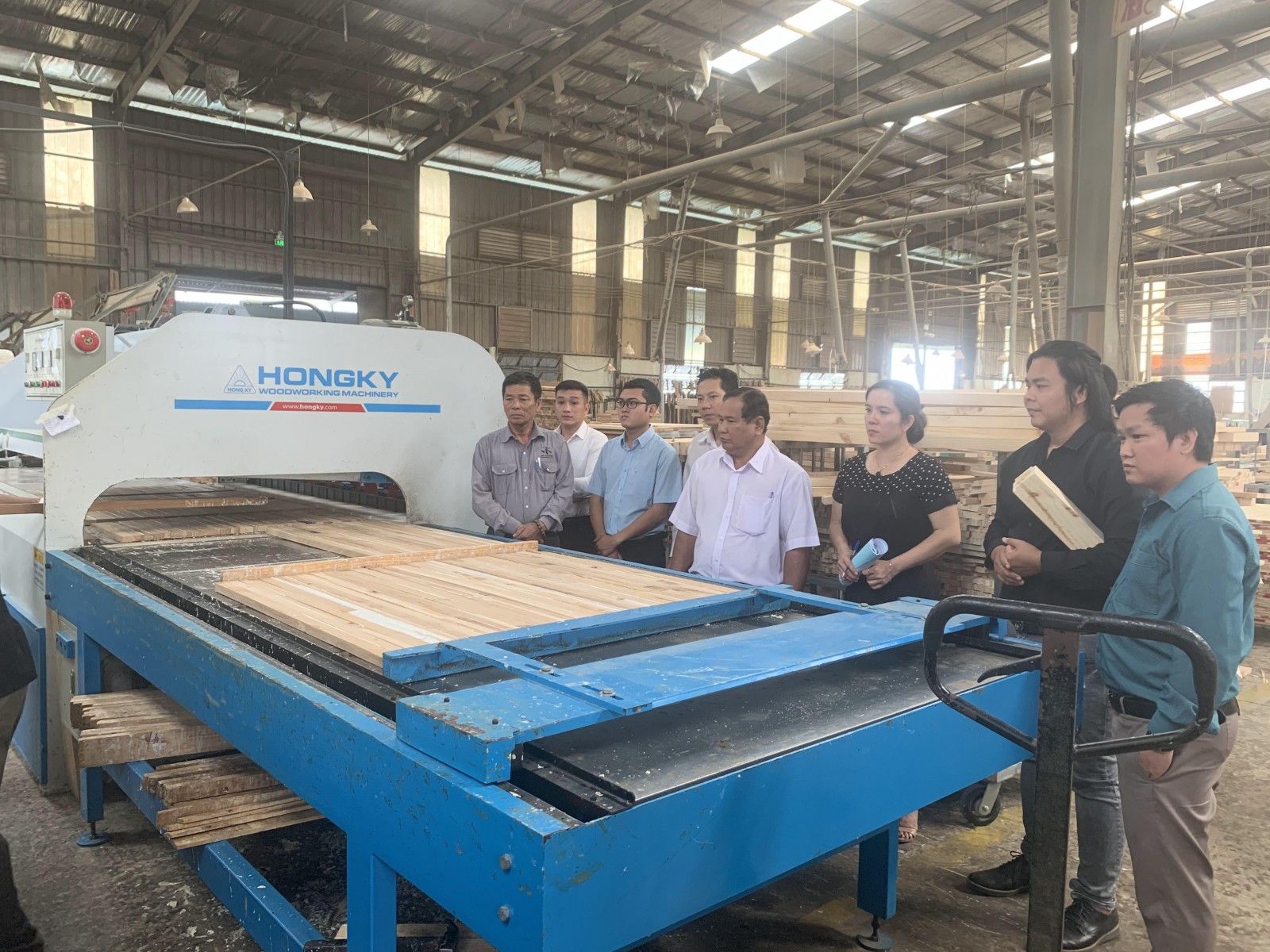 The project of assisting An Khang Corporation in Tan Uyen town is being verified
Practical assistance
Trade promotion of the province in the past time has been to the targets and plans of each stage. The content of trade promotion has been specific, clear, and suitable for demands and accessibility of enterprises and rural industrial establishments. It has been also highly appreciated, namely the presentation of technical models and application of advanced machines and technologies into production, the selection of typical rural industrial products, and the assistance of consuming market expansion. The trade promotion programs have encouraged rural industrial establishments to promote their production, renovate and improve production quality to expand their competitiveness and consuming market.
For enterprises, the assistance of machines and equipment to invest into advanced machinery lines of production to improve capacity and quality of products as well as reducing prices and labor resources to save up materials and energies, to mitigate environment pollution and to bring about practical benefits. According to Pham Chi Thang, Director of Nam Thien Truong Machinery Co. Ltd. in Di An city, the assistance of Department of Industry and Trade has encouraged them to invest into transformation of technologies and working force training to create high quality products of eye-catching appearance and ability to satisfy the current market demands and be matched to market demands, production development, and opportunity grasping. Thang informed that the investment into new technologies has help the company get to the most demanding customers, expand their market and stabilize production.
Luu Tri, General Director of Nghe Nang Corporation in Di An city believed that the positive backing-up of Department of Industry and Trade and by their own efforts, enterprises and producers of the province have gradually grown; thereon, contributing to the economic transition, job offering, and improvement of working people's income so as to promote the development of rural industrial economy. Of the assistance, the support of equipment, machines and new technologies to enhance production capacity, competitiveness, and ultimately exploit potentials of enterprises is very practical. Thanks to this, enterprises can sustainably produce quality products along with researches for new models to be adapted to the customers' tastes from stage to stage. Tri also put that in 2019 the assistance of local authority in terms of industrial promotion fees, Nghe Nang Corporation has invested to laser cutter to be able to assure quality and models of the products with early fulfillment of purchase orders and improve prestige as well as getting larger purchase orders and expand the market supply.
In 2020, along with assistance of applying modern equipment and improve product quality, the Center for Promotion of Investments, Trade and Industrial Development has also promoted activities of trade promotion and enhancement to help enterprises and rural industrial producers, especially farm produce processing enterprises, to get to potential partners inside out. For better outcomes of industrial promotion, the Center has paid attention to assisting fields and industrial products of high added value and high exportation revenues and to establishments, enterprises and prioritized fields based for modernizing the countryside and agriculture. Enterprises have also joined up the connected chains of production and product consumption.
To improve competence of collaborators
Nguyen Thuy Hang, Deputy Director of Center for Promotion of Investments, Trade and Industrial Development asserted that the network of industrial promotion collaborators holds the major role in grasping up actual demands of rural industrial producers in localities. Accordingly, the center is helped to construct and implement schemes, to coordinate information dissemination, and to guide establishments and units to fulfill the schemes timely. State's policies for rural industrial production and programs assisting local small and medium enterprises are disseminated. The list of rural industrial establishments and plans and proposals of industrial promotion activities is counted. The difficulties and obstacles barring rural industrial establishments are compiled. Industrial promotion activities are joint to the lead with guidance and consultancy for rural industrial establishment to invest into machines, equipment and advanced production line to expand production scales and connected trade.
The center has constructed the collaboration staffs to be present at all districts, towns, cities, wards, and communes to assist the center to fetch trustworthy data to update supporting polices to producers on regular basis.
Due to the importance of collaboration staffs, the training has been regularly organized at the center in turns at localities. By the end of September, at a training course in Tan Uyen town, officers of the center have disseminated some policies of industrial promotion and assisting policies to specific establishments and well as specific amounts. In the meantime, they guided local rural industrial producers to set up industrial trade promoting processes and procedures to access industrial promoting policies when needed. Besides, the officers of the center discussed, exchanged information and answered queries of establishments and enterprises regarding the access to policies.
Reported by Tieu My – Translated by Vi Bao