Binh Duong for the third time was honored by the Intelligent Community Forum (ICF) as one of the 21 cities of the world's typical smart city development strategy (Smart21) in 2021, which is a lively proof of the right tract that the province has been on.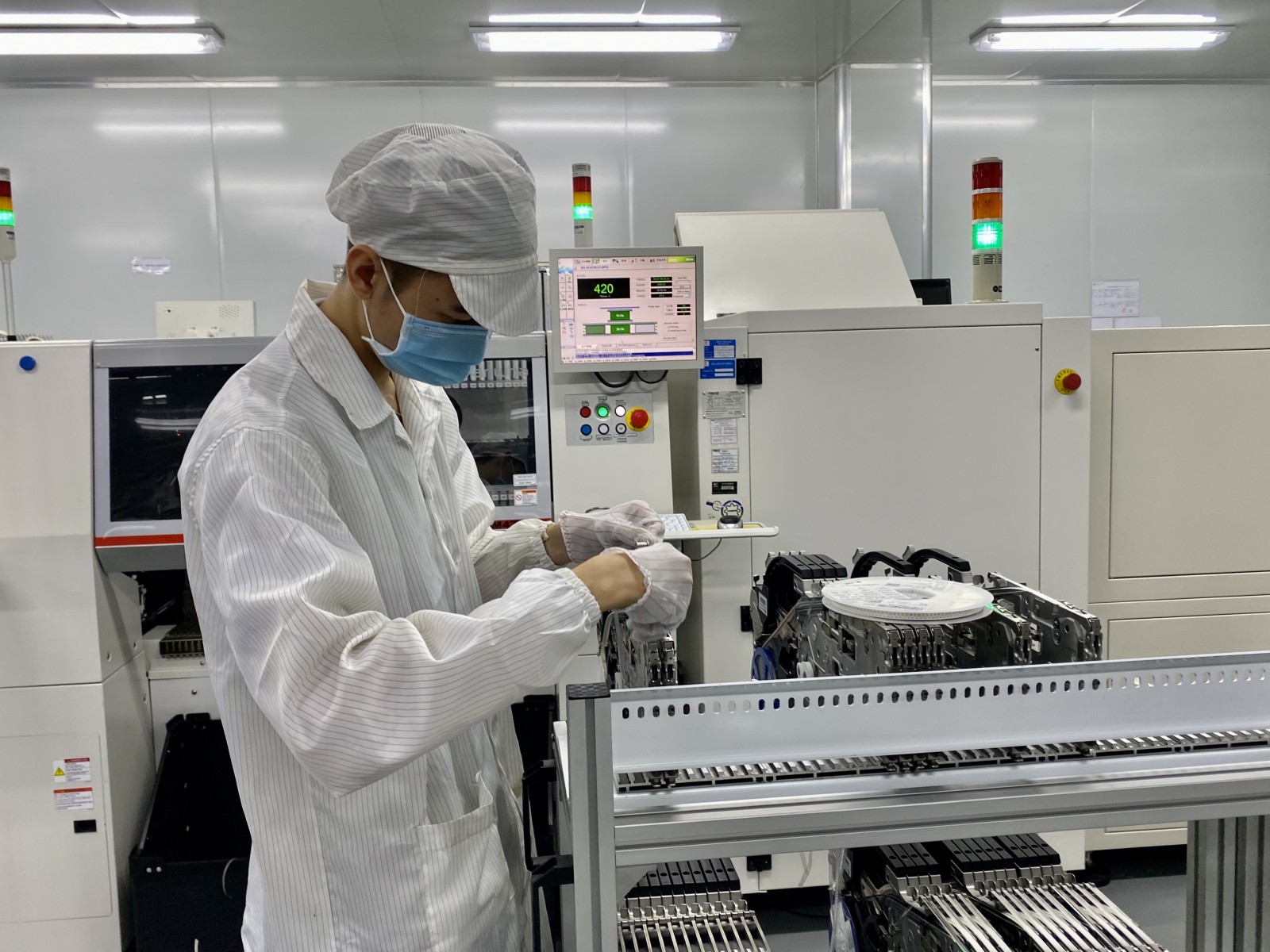 The project of renovation and creativity of Binh Duong is expected to bring about a comprehensive ecology for operations of deeper use of technologies and knowledge. In this photo: Production is on-going at an enterprise in VSIP 2A.
The beginning steps
In 2016, Binh Duong implemented the Smart City Project, which was a breakthrough in a due direction. By the unremitting efforts and promotion of cooperation and learning the international community, the smart city project has created a new socio-economic development step of the province, bringing the economy to gradual transformation into service-high technology, green, smart and modern city.
In the past 5 years, the provincial economy has always been maintained at a high growth rate. Gross domestic product of the province (GRDP) increased on average of 9.35% per annum, exceeding the set out plan. GDP scale by 2020 is estimated to be 1.7 times higher than in 2015. GDP per capita is VND 155.7 million, which is higher than the average rate of the Southeast which is VND 141.2 million and 2.5 higher than that of the national average. The total export value in the past 5 years was estimated at VND 119,540 million, an average increase of 9.31% per annum and 1.7 times higher than in 2015, accounting for 10% of the total export turnover of the nation. State budget revenue reaches and exceeds both revenue and growth rate at an average annual increase of 11.2%.
During that time, all sectors, fields, and business community have had positive development. Industry continues to be the core of the province's economic growth. Binh Duong has succeeded in implementing the target of selectively receiving high-tech projects while protecting the environment by being less labor-intensive in accordance with the development orientation. Industrial scale increased by 1.6 times from 2015 and has been accounted for 9.7% of national industrial production. Industrial parks are being constantly improved, upgraded and expanded in terms of connections to meet the requirements of attracting investments. In particular, Binh Duong, having breakthrough strategies, has created confidence and become a priority choice of investors as Binh Duong is currently ranked third in the nation in attracting foreign investments.
In order to create a driving force for socio-economic development and improve competitiveness, in the past 5 years, the province has invested into the synchronous construction of infrastructure systems and urban upgrading. In particular, the province has focused on strong development of the infrastructure system, especially the transport infrastructure. The urbanization policy continues to be implemented synchronously by renovating the existing urban areas along with the construction of a new urban center and the implementation of the smart urban development strategies. Thanks to the modern infrastructure system and synchronous planning, exampled by the invested component projects like the centralized administrative center, Convention-Exhibition Center, and Sports Center of international standards which are making positive impression of serving people and businesses. Notably, in recent years, the urbanization rate in Binh Duong has taken place rapidly, forming many modern cities. Young urban areas like Thuan An and Di An have many development advantages and are planned relatively methodically and to create strong connection.
Binh Duong is currently striving to promote e-government, implementing many new technology models, and at the same time facilitating and encouraging enterprises and organizations in the province to digitize, apply information technology, and develop developing smart factories ... Binh Duong is also implementing drastic innovation in logistics and transportation, creating the best conditions for businesses to invest and improve people's lives. Along with economic development, the province always takes care of socio-cultural development, improves service quality, human resources and creates a better working and living environment for people and businesses.
Strong transformation
To meet the new requirements in the 4th industrial revolution, Binh Duong has decided to build the Innovation Zone Project which is collaboration of agencies in the province as well as partners from the Netherlands, Korea, and Singapore. Binh Duong Innovation Zone is developed based on integrated planning that includes urban development strategy, technical infrastructure and transportation connection. According to the plan, this area will be developed in the direction of linking regions inside and outside the province and by stimulating a culture of innovation and entrepreneurship in the whole society. Digital transformation and the 4th industrial revolution will be promoted along with the improvement of Binh Duong provincial e-government system and by developing digital economic activities to enhance digital transformation in advanced production development and smart factories. All has provided a comprehensive ecosystem for activities using technology and knowledge such as education - training, research and development, technology commercialization, advanced manufacturing and living environment, making Binh Duong a worthy place to live and an attractive destination for investors.
Tran Van Nam, Member of Binh Duong provincial Party Central Committee, Secretary of Binh Duong provincial Party Committee cum Head of Binh Duong provincial National Assembly Delegation, affirmed that by the current potential and capacity of the province, especially the very important achievements and the implementation of the smart city project, Binh Duong is completely confident in the right direction and strives to take another step to successfully build Binh Duong Innovation Area.
Reported by Tieu My - Translated by Vi Bao