The young girl, Huynh Manh Phuong, a member of liaison board of Binh Duong Provincial Association of Students, is a model female youth showing efforts and devotion to emulations of associations, Youth's League and academic results.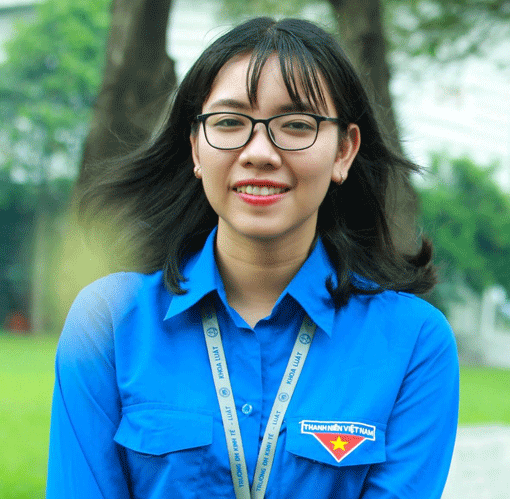 "Our today's youths keep in mind the teachings of President Ho Chi Minh to act them out," said Huynh Manh Phuong
CPV membership admission at the age of 18
Huynh Manh Phuong prioritized learning at school after which she sought for documents to broaden her knowledge about the lessons. Those efforts helped Phuong to earn the title of 12-consecutive-year excellent student with two medals of provincial Sao Khue Award for excelling in Vietnamese Literature.
Aside from good academic results, Phuong was also an elite youth in every movement. The achievement of Youth's League participation has been evidenced by many all-level awards, namely, the first prize of English for Youth's League officials in 2014, the first prize of excellent Youth's League official contest in 2015, merit certificates of Binh Duong Provincial People's Committee for brilliant performance in learning and following President Ho Chi Minh's moral examples in 2011-2015, and many more.
Along with English competence and youth energy, Phuong in 2015 was honored as one of 20 model delegates of Binh Duong joining the cultural exchanging program in Daejeon city of South Korea where good images of Vietnamese youths were imprinted to international friends.
Being eager to learn, Phuong on her own learned about Communist Party of Vietnam (CPV) and local revolutionary history to become worthy as a member of CPV at the age of 18, the time she was learning at Thai Hoa Senior High School at Thai Hoa ward in Tan Uyen town.
Being a Party member, Phuong has become more aware of the personal role and responsibility and kept on learning to be worthy as a young Party member of Ho Chi Minh's generation. Phuong said: "As I became a Party member, I was so proud and joyful. I am well aware of the great responsibility of a young member and I demanded me to make more efforts to improve political qualifications and knowledge as well as competence and ethics to be worthy."
Non-stop learning and training
For Phuong, Youth's League and union activities are her passion and good environments for training and growing up day by day. Getting through the days at University of Economics and Laws of Ho Chi Minh city National University, Phuong and her friends carried out meaningful movements. At university, Phuong along with her friends carried out and earned the first title of university research. During her learning, Phuong has been active in academic contests to improve knowledge and qualifications. The young girl was brilliantly listed in top 5 of national contest of acting judgment of International Humane Law 2018.
As a student of good academic results, Phuong is also an active student of Youth's League and Association of Students. Beside her hours at the university, Phuong has proactively joined the emulations and activities of the Youth's League, Association of Students and the community.
Accredited as a student of excellent academic performance and devotion to Youth's League activities, Phuong was honored as a participant into Vietnamese-Thai Friendly Ambassador 2019. The young girl Huynh Manh Phuong was also elected as Chairwoman of Association of Students of University of Economics and Laws of Ho Chi Minh city National University and a model delegate of youths following President Ho Chi Minh in Ho Chi Minh city in 2020. By personal efforts, Phuong won various titles of model young Party member of Ho Chi Minh city National University, elite youth following President Ho Chi Minh of Ho Chi Minh city. She has also been approved as contributor to social activities and the cause of students by central Association of Vietnamese Students and Ho Chi Minh city Association of Students.
Huynh Manh Phuong was particularly attending the 9th conference of Vietnamese Fatherland Front Committee in 2019-2024 tenure at the National Conference Center of My Dinh, Ha Noi and a representative speaker at the ceremony marking the 130th birthday of President Ho Chi Minh on May 18, 2020 in Ha Noi.
Currently, Phuong fulfilled her bachelor degree of laws on finance and banking of distinction grading and won a good job. Huynh Manh Phuong said: "Today's youths like us should remember the teachings of President Ho Chi Minh to remind ourselves of honoring the past, upholding the peace and choose good life to lead with non-stop learning, training and effort making from the trivia to the worthy as what the precedents have devoted to and sacrificed for."
Reported by Nhu Y – Translated by Vi Bao