With the goal of becoming an urban-industrial hub in the northern region of the province, Bau Bang district over the past time bravely took breakthrough solutions, creating a momentum for the local sustainable, fast economic growth.
Breakthrough on infrastructure
To successfully realize the above goal, the district over the past time mobilized all resources for infrastructure investment, serving the local economic growth, improving the lives of people, contributing to a new motivation for the local development.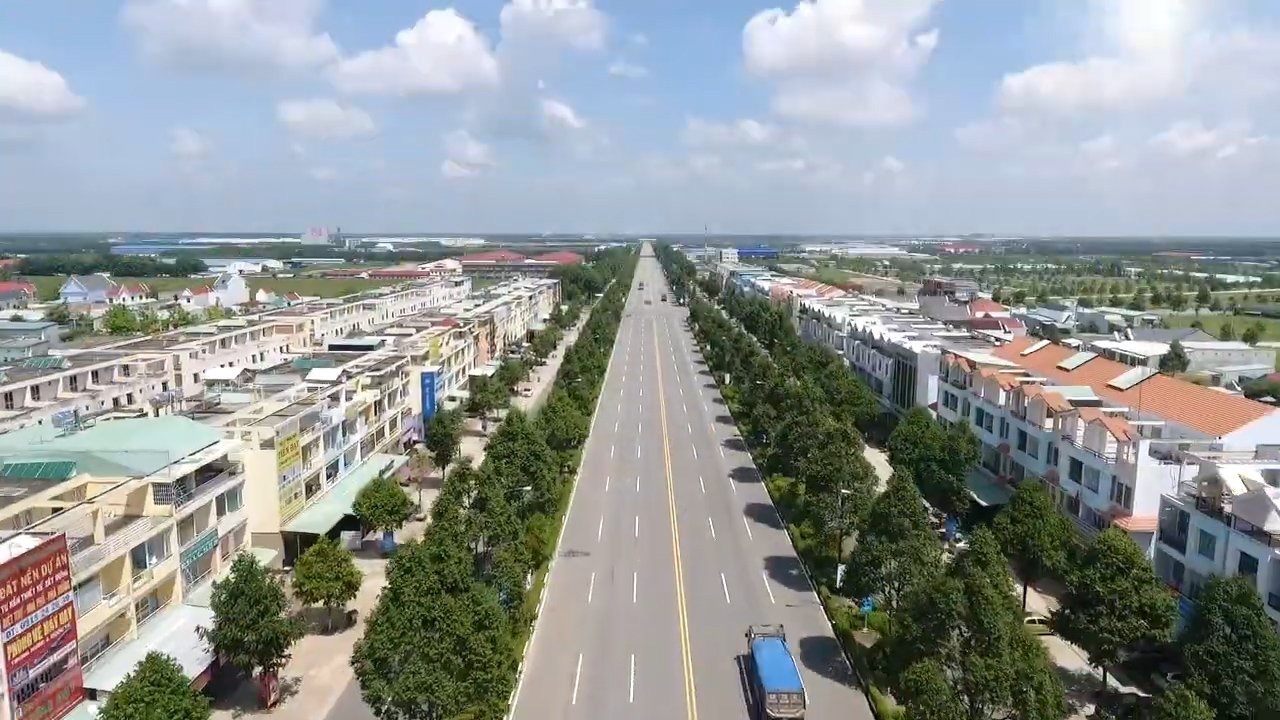 A glance of Bau Bang urban-industrial park
In 2020, the district fulfilled many major works, namely Kim Dong primary school, district's Health Center, the My Phuoc-Bau Bang main street…After being completed, the My Phuoc-Bau Bang main street will connect the district with national highway 1A and traffic system of the southern key economic zone, meeting people's traveling and demand for goods transportation. This will also contribute to the local socio-economic development in the coming time.
The district has just started construction of its 9-storey administrative center with total cost of more than VND340billion and total construction area of more than 18,500 square meters. The district has also coordinated with Becamex IDC to prepare for construction of the district's central square and park along national highway 13 with total length of 2,700 meters in front of the district's administrative center with total investment of VND20billion.
According to Vo Thanh Giau, Chairman of Bau Bang district's People's Committee said that once being completed and put into use, the district's administrative center will create favorable conditions for officials and civil servants to work and facilitate people's work relationship. It also contributes to improving the quality of the local administrative reform, bringing Bau Bang a more and more civilized, modern urban image.
Improving investment climate
To well tap the local advantages, Bau Bang district over the past time paid more attention to reforming administrative procedures, improving the local investment climate, supporting enterprises, making site clearance for projects…With practical solutions, the district last year absorbed 138 newly-registered projects and 20 extra-ones with total registered capital of nearly VND 943billion and US$243.85million. So far, the district has lured 1,079 investment projects, including 883 domestic investment projects with total registered capital of nearly VND30.5trillion and 196 FDI ones with total registered capital of more than US$3.5billion.
Thanks to effective policies in investment attraction, the district has attracted many projects with great capital, namely Kolon Industries Corporation's factory manufacturing automobile airbags and tires with total investment of US$1billion on an area of nearly 42 hectares in the expanded Bau Bang industrial park; Polytex Far Eastern Co.Ltd.'s factory with total investment of more than US$1.3billion in the Bau Bang industrial park…
The district's potential for investment attraction is very great when the Bau Bang urban and industrial park with total area amounting to 3,200 hectares is continuing being invested by Becamex IDC. This will be the important gateway of the district in trade activities, helping the district soon become a huge industrial center of the province.
Mr.Giau said that the district will focus on mobilizing all resources to make investment in infrastructure; strengthen administrative reform, improving the local investment climate in order to absorb more investors. Especially, the district will attach special importance to absorbing investors with financial ability, give priority to domestic and foreign investors with great capital in fields in line with the local development plan; promote clean industries, auxiliary ones with hi-tech application; restrict industrial development outside industrial parks and compounds…
Reported by Ngoc Thanh-Translated by K.T