This is the "comprehension" of rising aspiration set out by the 11th provincial Party congress for the 2020-2025 tenure. This is also the concretization of the will of the Party and heart of the people so that Binh Duong becomes a converging, sentimental and smart city with sustainable development…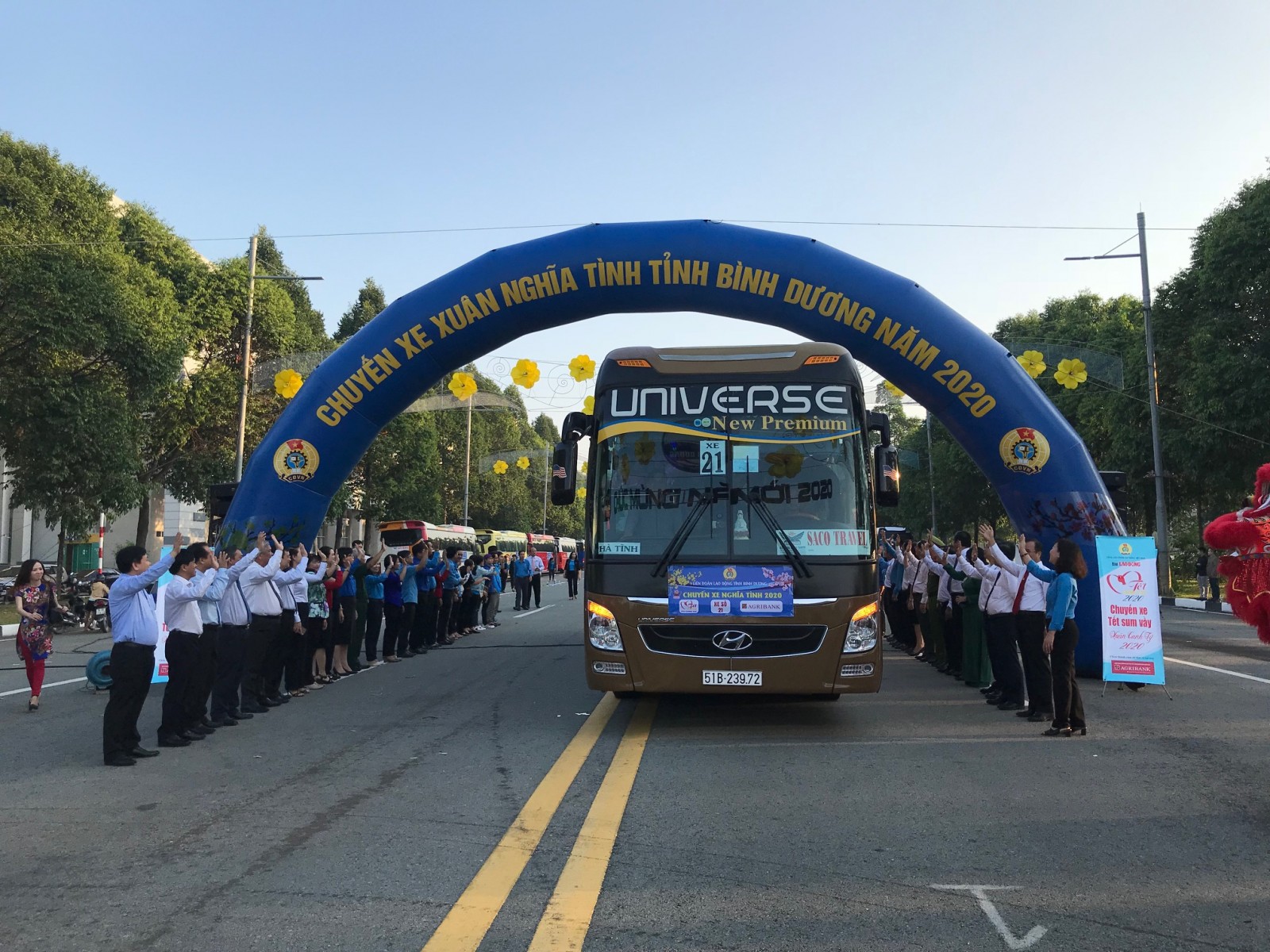 The "spring bus" program has become the trademark of the affection, gratitude of Binh Duong people and land
Converging land
Binh Duong is appreciated as one of the country's top localities with successes in the cause of industrialization and modernization. The province has continued making great contributions to the southern key economic zone and the whole country.
In the last tenure, especially in 2020, the province continued maintaining the economic growth of 9.35% amid the complicated development of Covid-19. The province's gross regional domestic product (GRDP) was 1.7 times higher that of 2015 with the average GRDP per capita reaching VND155.7million, 2.5 times higher than that of the whole country. Till 2019, 100% of communes in the province met criteria of the new-style rural construction program, one year earlier than the plan…
The above result came from the Party's sound guidelines, policies and consensus of people from all strata and business community. This also showed that with the Party's sound policies, guidelines, Binh Duong has become an united, disciplinal and sentimental, converging land with sustainable development.
Faith and aspiration
After nearly 91 years, since being set up, the Party has led the nation and people to overcome all hardships and challenges and gain many victories from the August Revolution in 1945, the Dien Bien Phu Victory in 1954 to the Great Spring Victory of 1975 for national unification; implement industrialization, modernization for the goal of "wealthy people, strong nation, democracy, equality and civilization"…
Binh Duong is seen as a flexible demonstration about the Party's sound and acute leadership and direction for the national success in the resistance, the cause of "renewal", industrialization and modernization today. After 24 years of construction and development, from an agricultural locality, Binh Duong has become one of the country's economic engines…
Human value improved
Along with well realizing the movement of "paying debt of gratitude", the province has effectively organized "sentimental spring bus" programs…Amid the Covid-19 outbreak, rice ATMs, "zero dong" market-days…has continued showing the affection and gratitude of Binh Duong land…
So, firmly keeping faith and high expectation!
Looking back 2020 and 5 years of the implementation of the Resolution of the 10th provincial Party congress as well as after 24 years of construction and development, Binh Duong today has reached firm and fast strides. The result came from the sound and acute leadership, direction of the Party organizations, authorities at all levels together with high consensus in the entire society and efforts by people from all strata and business community in the province.
Reported by Thanh Son-Translated by K.T