The province's agricultural production now accounts for 3.15% of the local economic structure. But, the province has always attached special importance to agricultural production and gained considerable results, especially for hi-tech agricultural models. With many synchronous solutions implemented, the province's agricultural sector has aimed at sustainable development, supplying domestic and foreign markets with safe products.
Effective restructuring of agriculture
The province has always created the best favorable conditions for the local agricultural development. Although only accounting for 3.15% of the local economic structure, the sector has brought hi-economic value, contributing to the local socio-economic development.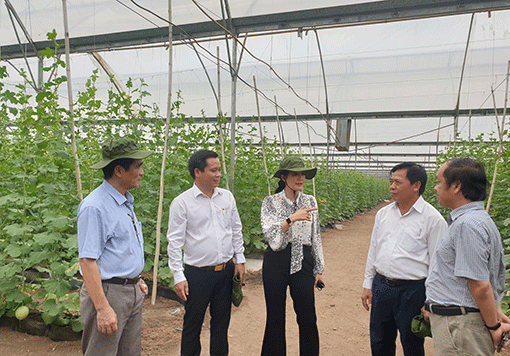 A delegation of the agricultural sector makes a survey at U&I Company's hi-tech farm in Phu Giao district's An Thai commune
In addition, the province has focused on restructuring of agriculture towards sustainable development and obtained major results. The province has so far created a mechanism to absorb investment in agricultural production for a new rebound. The sector's shift of plant structure towards expanding areas for plants with hi-economic value in line with soil and weather conditions has also been in the right direction. Moreover, the sector has well realized sci-tech transfer and application into production and gained positive results. As of now, the province has formed up 4 hi-tech industrial parks; developed 5,435 hectares of farming land with hi-tech application into production…
The province has also strengthened restructuring of agriculture towards production value increase in association with new-style rural construction with focus on fostering areas growing fruit trees, vegetables, breeding poultry and cattle…
Towards modern new-style rural areas
The new-style rural construction program has greatly contributed to the local cause of agriculture-rural development and the local socio-economic development. It has contributed to completely changing the local rural image with social welfare works built, improving the spiritual and material lives of locals.
As of late 2020, the whole province has had 100% of communes meeting criteria on new-style rural construction, including 1 recognized as an advanced new-style rural commune, 9 being considered as advanced new-style rural communes; 1 district and 2 towns recognized as new-style rural ones. The average income of people in the new-style rural communes in 2020 was VND68million per person per year. The rate of poor households under the province's poverty line as of late 2020 was 1.62%.
Pham Van Bong, Director of provincial Department of Agriculture and Rural Development said that the province will focus on maintaining and improving the quality of new-style rural communes under the province's advanced set of criteria, building a smart village in Bach Dang commune, ensuring a civilized and prosperous new-style rural region with rich farmers. The province will also further support, encourage hi-tech agriculture towards sustainable development in association with environmental protection…
Whilst, Mai Hung Dung, member of provincial Party Standing Committee, Permanent Vice-Chairman of provincial People's Committee said that with the motto of "The State and people work together", the province has created creative steps in the new-style rural construction program. Upon achievements done, the province needs to continue improving the quality of criteria, upholding creative ways in new-style rural construction for more practical efficiency, bettering serving the lives of rural residents, making obvious changes in the rural region of the province.
Reported by Thoai Phuong-Translated by K.T