On the Tet (Lunar New Year) festival 2021, provincial Youth Union will coordinate with provincial Labor Union to organize many activities taking care of workers under the theme of "Binh Duong-Warm spring, sentimental Tet"…
Meaningful activities
The first program is the "Market-day with zero dong-Booths with basic price" with essential commodities for Tet with preferential prices, bringing workers an adequate and economical Tet.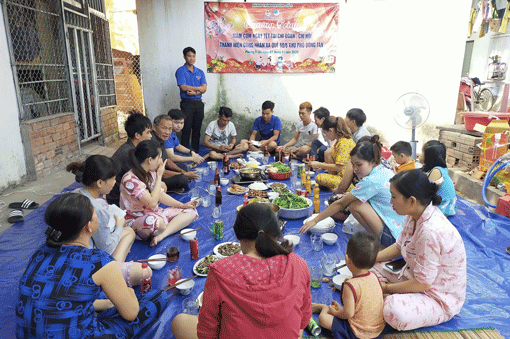 The "Tet meal" model at lodging facilities is one of significant activities to be done by provincial Youth Union and Labor Union
Coming to the program, laborers will have a chance to take part in folk games and many other practical activities. The program will be held from January 29 to 31 at the central square of provincial Center of Culture-Labor. Also in the place, the two units will jointly organize the "Gathering in Tet-Binh Duong" program 2021 with many significant activities for young workers together with special art performance items in celebration of the Lunar New Year 2021.
Sharing love
Over the past years, the "Tet meal-sharing love" program at lodging facilities became the beauty on spring days for immigrant laborers. This year, the program will continue being a main activity in improving the task of taking care of laborers at lodging facilities across the province.
Tran Bao Lam, Vice-Secretary of provincial Youth Union said that apart from joining hands with provincial Labor Union to organize the "Tet meal" program at lodging facilities, provincial Youth Union Standing Committee has instructed its branches to actively maintain the model, strengthening solidarity and creating the reunion atmosphere of Tet for laborers living away from home while boosting the task of uniting, gathering young workers.
One of practical activities for laborers on the Tet holiday is the "Bus enjoying the spring" program. Accordingly, the organizers will take needy workers at lodging facilities to the local cultural-historical relic sites, namely Hoi Khanh pagoda, provincial Integrated Administration Center, Aeon Mall Binh Duong Canary, Binh Duong flower street. Provincial Labor Union and Youth Union will also deliver 500 entrance tickets of Dai Nam tourism complex, 350 entrance tickets of Thuy Chau tourism site, 150 tickets to cinemas across the province to poor workers, helping them relax in the Tet holiday
On the last day of lunar December, the two units are expected to organize the "warm New Year's Eve" program. Accordingly, they will visit, extend Tet greetings to sanitation and healthcare workers who are still on duty through the Tet holiday.
The above programs are the efforts by the two units with the desire of bringing workers with a sentimental spring on beloved Binh Duong land.
Reported by K.Tuyen-Translated by K.T