On the afternoon of November 26, provincial Youth Union in collaboration with provincial Department of Education and Training (DoET) held a program to review the joint program between the two sides for the 2016-2020 period; implement the joint program for the 2020-2025 period.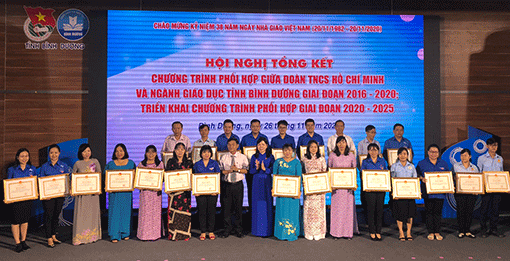 Provincial leaders award the certificates of merit of provincial People's Committee to outstanding collectives, individuals in realizing the joint program between provincial Youth Union and DoET
The event was attended by Nguyen Van Loc, member of provincial Party Standing Committee, Head of provincial Party Committee's Mass Mobilization Commission, Chairman of provincial Fatherland Front Committee; Nguyen Thai Ha, Deputy Head of the School Department of the Youth Union Central Committee.
Over the past time, the joint program between provincial Youth Union and DoET was implemented effectively. Especially, the two units well realized the Politburo's Directive No.5 on "Studying and following late President Ho Chi Minh's ideology, morality and lifestyle"…
Addressing the event, Mr.Loc praised achievements done by the two units over the past time while suggesting them to continue having close coordination in making practical programs, activities for the comprehensive improvement of the education-training sector. He also stressed that the two units need to attach special importance to enhancing the quality of teaching and managerial staff; improving the operational contents and forms of provincial Youth Unions and Young Pioneer Organizations at all levels…
On this occasion, provincial People's Committee awarded the certificates of merit to 27 collectives, 22 individuals with excellent achievements in realizing the joint program between the two units. The two units also honored 68 outstanding young teachers and lecturers and 27 Youth Union cadres being admitted into universities.
Reported by Ngoc Nhu-Translated by K.T