Over the past time, North Tan Uyen district's Fatherland Front Committee (FFC) and mass organizations upheld their role in new-style rural construction; mobilized locals to take part in patriotic emulation movements, contributing to successfully realizing the local targets on socio-economic development.
In 2020, emulation movements, campaigns launched by North Tan Uyen district's FFC in residential areas continued reaching positive results. Under the campaign of "All people consolidate to build new-style rural areas", the district's FFC carried out a model of "residential area with green-clean-nice scenery" for the phase 1 and is implementing its phase 2. There are now 20 residential areas with "green-clean-nice" scenery across the district. The district's FFCs at all levels also realized 15 significant works such as those of installing welcome gates, lighting system by solar energy; spreading asphalt on rural roads…with a total cost of nearly VND4billion.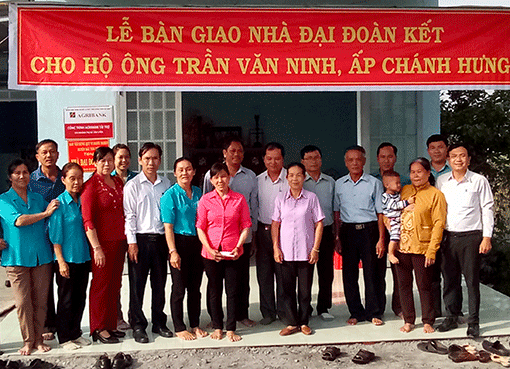 North Tan Uyen district's Mobilization Board of the Fund for the Poor donates a "great unity" house to Tran Van Ninh in Hieu Liem commune's Chanh Hung hamlet
The district's FFCs at all levels also attached special importance to environmental protection with such practical activities as coordinating with mass organizations and quarters to make propaganda work among locals; hanging propaganda panels and delivering propaganda leaflets to locals; cleaning up roads of 6.2 km; donating 15 wastebaskets to localities…
Also in 2020, the FFC of An Lac commune set up a model of "Religious village with peace and civilization" with 18 members. The model contributed to promoting the movements of "All people consolidate to build cultural lifestyle in residential areas", "All people consolidate to build civilized urban and new-style rural areas", "Good life, good religion"... So far, the whole district has had a total of 54 self-managing groups on protecting the environment, combating climate change from 54 quarters and hamlets.
In addition, the district's FFC and mass organizations have paid attention to ensuring the local social welfare. They have so far donated 24 saving books to policy beneficiary families; offered 11 "great unity", gratitude and "red cross" houses to needy people; mobilized organizations, individuals to give 2,054 gifts for policy beneficiary, poor and near-poor families, lonely elderly people…In 2020 alone, they donated 2 houses of compassion worth VND180million to teenagers and children in need of housing; coordinated with relevant units to provide free medical check-ups, medicine and gifts for 50 people with difficult circumstances; presented 3 recreational area for children worth VND150million to communes of Lac An, Dat Cuoc and Binh My; teamed up with relevant units to award 90 "green dream" scholarships to poor-but-excellent pupils…
On the spirit of solidarity to uphold the highest efficiency in the movement of new-style rural construction, the district's Youth Union worked with the local FFC to implement the movement of "All people consolidate to build cultural lifestyle" with 4 "lighting rural road" works worth VND135million done in communes of Tan Dinh, Tan Lap and Hieu Liem; 30 wastebaskets given for Youth Union branches.
Do Ngoc Loi, Secretary of North Tan Uyen district's Youth Union said that the district's Youth Union has instructed its branches to carry out youth works in association with criteria of the local new-style rural construction program. The district's Youth Unions at all levels disseminated the movement of building up civilized streets with such practical contents as making environmental hygiene on Sundays; tending and developing "youth following teachings of Uncle Ho" flower gardens…The local Youth Union members also well realized the campaign of "Youth joining hands in new-style rural construction" with significant works, contributing to building up a more prosperous and beautiful homeland.
Reported by Nhu Y-Translated by K.T