Although being an agricultural district, Dau Tieng attaches special importance to infrastructure investment and urban planning, promoting the local urban image.
Attaching special importance to urban planning
Over the past five year, Dau Tieng district effectively realized planning management in urban areas, contributing to the local urban development. The district's task of restoring urban order was also implemented in a synchronous way and received enthusiastic response from the local people.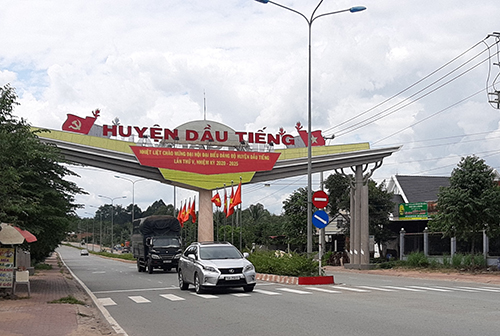 Dau Tieng district has made efforts in urban development
In addition, the district has so far set the detailed plans for Dau Tieng township's trade-service and residential area at 1/500 scale; the trade-service and residential area at 1/500 scale in the northern region of Dau Tieng township at 1/500 scale; the urban area in the eastern region of Dau Tieng township at 1/500 scale. Tran Quang Tuyen, Vice-Chairman of Dau Tieng district's People's Committee said that after being approved, these plans will contribute to changing the local urban image and promoting the local economic development…
The district has also adjusted the overall plan of Ben Suc urban area with 1,003.2 hectares into Thanh Tuyen new urban area with 6,222.43 hectares while setting up a scheme recognizing Thanh Tuyen as a fifth-class city.
Urban development Investment
As of now, the district's task of upgrading infrastructure facilities has been implemented under the 2016-2020 mid-term public investment plan, step by step perfecting the local traffic infrastructure system. The total expenditure for the district's urban development under the Plan No.05/KH-UBND dated January 19, 2017 is around VND804billion for 32 works. The district has fulfilled 11 works with a total cost of nearly VND164billion and there are 6 underway with a total cost of VND267.9billion.
Mr.Tuyen said that over the past years, the district focused on upgrading urban areas towards civilization and modernity; implemented all projects approved; bent on building key projects, creating a motivation for the local development targets. There are now 100% of district-level streets and nearly 32% of commune-level streets covered by asphalt and concrete. The district also continues carrying out the movement of making rural roads under the motto of "the State and people work together".
In the coming time, the district will adjust and continue carrying out the Plan No.05 in order to have a specific action plan, ensuring criteria under the regulation of urban classification. The district will also call on investment for urban areas; establish documents putting forward the local urban development areas, including Dau Tieng township's trade-service-residential area with 28.14 hectares; the trade-service and residential area in the northern region of Dau Tieng township with 67.64 hectares, the urban area along Saigon river in the southwestern region of Dau Tieng township with 45 hectares…The district will soon make the planning and implementation of industrial compounds and parks in urban areas, thereby promoting the local urban development process…
Reported by Phuong Le-Translated by K.T