Although being a major agricultural locality of the province, Dau Tieng district has still aimed at ensuring sustainable economy towards industry, trade-service and agriculture, building up a modern and synchronous infrastructure system in association with urbanization process, improving the spiritual and material lives of people under the local overall plan on socio-economic development to 2025.
Breakthrough in infrastructure
To successfully realize this target, Dau Tieng district mobilized all resources for infrastructure investment, serving the local economic development, enhancing people's lives over the past time. With investment from the province, especially construction of DT744 street connecting Dau Tieng with TDM city and other localities in the province has contributed to changing the urban image of the district, promoting the local development.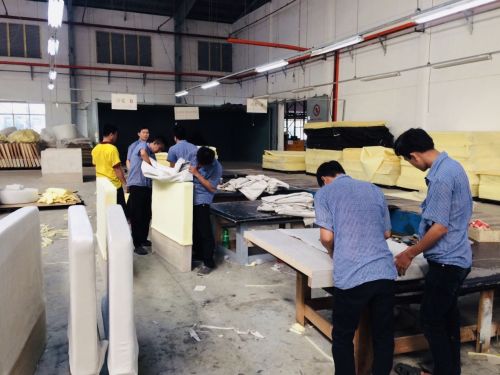 Production of Phu Dinh Home Furniture Co.Ltd. in Dau Tieng district's Thanh An commune
Along with the main street, the whole district has so far had 100% of district-level streets and nearly 32% of commune-level ones covered by asphalt or concrete. There are now also many key traffic works fulfilled, including those of expanding the way in front of the district's Party Committee, People's Committee to CMT8 street; upgrading Minh Hoa crossroads, technical infrastructure facilities of Long Hoa, Ben Suc urban areas…
Nguyen Phuong Linh, Chairman of the district's People's Committee said that the district has mobilized economic sectors to further make investment in the local socio-economic infrastructure system…
Gradually increasing proportion of industry
In order to well tap the local advantages, Dau Tieng district strengthened administrative reform, improving the local investment climate, supporting businesses…over the past time. With practical solutions, the district absorbed 19 businesses and 11 home industrial facilities with total investment capital of more than VND380billion.
Apart from Thanh An industrial compound that is in operation, the district supported investors to implement the An Lap industrial compound project; coordinated with Dau Tieng One-Member Rubber Co.Ltd. to set up 2 industrial compounds in Thanh An commune with 150 hectares. The district has also continued working with functional agencies to carry out the expanded Bau Bang industrial park project in Long Tan commune with 969 hectares and the expanded An Dien industrial park project for the phase 3 with 381.21 hectares in An Lap and Thanh Tuyen communes. In addition, the district has just issued a document suggesting provincial Department of Industry and Trade to consider its plan on supplementation of 6 industrial compounds, namely Thanh An 1, 2, 3, Dinh Hiep 1, 2 and An Lap 2 and submit it into provincial People's Committee for approval.
District-based businesses have worked stably. The whole district has so far had 339 businesses, 21 cooperatives and 10 cooperative groups in effective operation. To successfully realize a target of developing Dau Tieng into a modern and sustainable industrial locality, according to Mr.Linh, the district will further focus on mobilizing resources for infrastructure construction; strengthen administrative reform, improving the local investment climate to absorb more investors.
Reported by Ngoc Thanh-Translated by K.T