Under the instruction of provincial People's Committee on the supply of essential goods, provincial Department of Industry and Trade (DoIT) has coordinated with provincial Post Office, localities and supermarkets to urgently arrange and deploy additional mobile sales points with safety for Covid-19 under control to replace sales establishments that have been temporarily closed, due to the pandemic
Supplying goods with stable prices
Facing the complicated developments of Covid-19 and implementing social distancing throughout the province, provincial DoIT has worked with the local businesses to ensure the supply of goods under provincial market stabilization program at 84 sales points in 9 districts and towns and well perform necessary goods coordination. Phan Thi Khanh Duyen, Deputy Director of provincial DoIT said: "In order to ensure the supply of goods to serve the local people during the pandemic, provincial DoIT has held a working session with supermarkets, localities and leaders of provincial Post Office to organize points selling goods at stable prices. Through inspection, we have highly appreciated the efforts by relevant units, especially suppliers."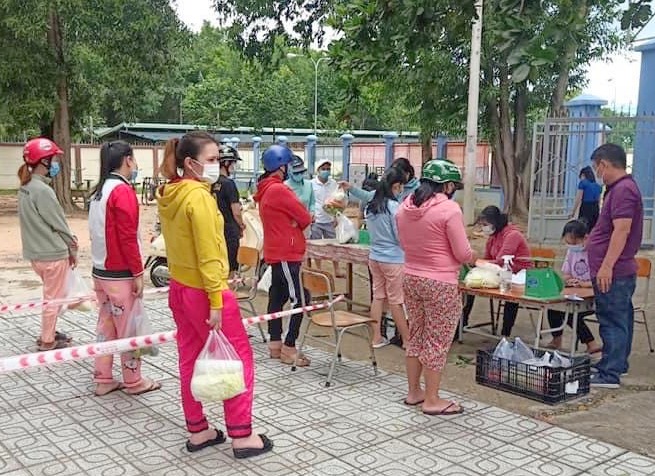 A price stabilization sales point in Tan Uyen town's Tan Vinh Hiep ward
Leaders of provincial Post Office have directed the local post offices to quickly deploy sales plans suitable to each locality, bringing goods to people at stable and safe prices during the pandemic. The local post offices have maintained the supply of goods for people by selling goods by phone. Accordingly, they have set up posters and listed prices through Zalo and Facebook pages, showing all the necessary information to promptly deliver goods to people when having demand.
Vo Nhat Vu, Director of Big C Binh Duong Supermarket said that after working with provincial DoIT, the unit has planned to supply goods to price stabilization sales points in 9 districts, towns and cities. The supermarket has worked with suppliers, manufacturers and they have also committed not to increase selling prices at this time and not to break the supply chain of goods, especially essential ones for the local people under the signed contracts. So far, Big C has increased its supply capacity by 1.5 times compared to normal level to ensure supply at sales points of supermarkets and 84 sales points of 9 districts and towns under the coordination of provincial DoIT. Every day, Big C supplies from 6 tons to 7 tons of vegetables and fresh products such as eggs and meat to 10 price stabilization sales points in 8 districts and towns (except North Tan Uyen). In Ben Cat town and Di An city, Big C provides 2 sales points for each locality.
Flexible solutions
Nguyen Thanh Uy, Vice-Chairman of Thuan An city's People's Committee said that along with organizing sales at post offices, the city's People's Committee has directed wards to organize mobile price stabilization sales points in the local blockade and isolation areas. Localities have also strengthened coordination with media agencies to provide people with adequate and timely information on supply capacity, programs and points selling essential goods from businesses to stabilize their psychology. The city will also continue instructing localities to choose appropriate models, organizing points selling fresh products to increase the local supply points of goods.
According to Pham Phu Hien, Director of Lotte mart Binh Duong, the supermarket has made great efforts to ensure the supply of essential goods for mobile sales points in Thuan An city-based blockade areas. Every week, the supermarket will try to organize mobile sales points in the local blockade areas to sell essential goods such as meat, eggs, vegetables on the principle of ensuring safety.
Mrs. Duyen said that in order to ensure the supply of goods at people's demand, provincial DoIT will suggest the local goods distribution systems to be more proactive, closely following the instructions of the Government and provincial People's Committee on Covid-19 prevention and control, have detailed plans to purchase goods, ensuring the supply of goods; control the quality of goods, ensuring food safety; promote propaganda among workers and people so that they strictly follow the "5K" message of the Ministry of Health on Covid-19 prevention and control, ensuring safe distance at sales points, minimizing the number of infected workers to secure human resources…
Provincial DoIT has been proactive to coordinate with provincial Department of Transport and Department of Health to guide and support businesses when transporting goods to ensure the most convenient circulation. The province has also worked with localities to further recheck and arrange mobile sales points if necessary.
Reported by Tieu My-Translated by K.T