Highly appreciating the efforts by enterprises in production and their self-control in preparing resources for development during the second outbreak of Covid-19 pandemic, the province's sector of industry and trade has created favorable conditions for them to speed up production towards sustainable development.
Surmounting difficulties
Although experiencing difficulties from Covid-19 pandemic, province-based enterprises have still been positive in production-business. Many enterprises have recovered their production with high growth after the Tet holiday. Thanks to have good preparation, they have had more stable steps compared to the same period last year.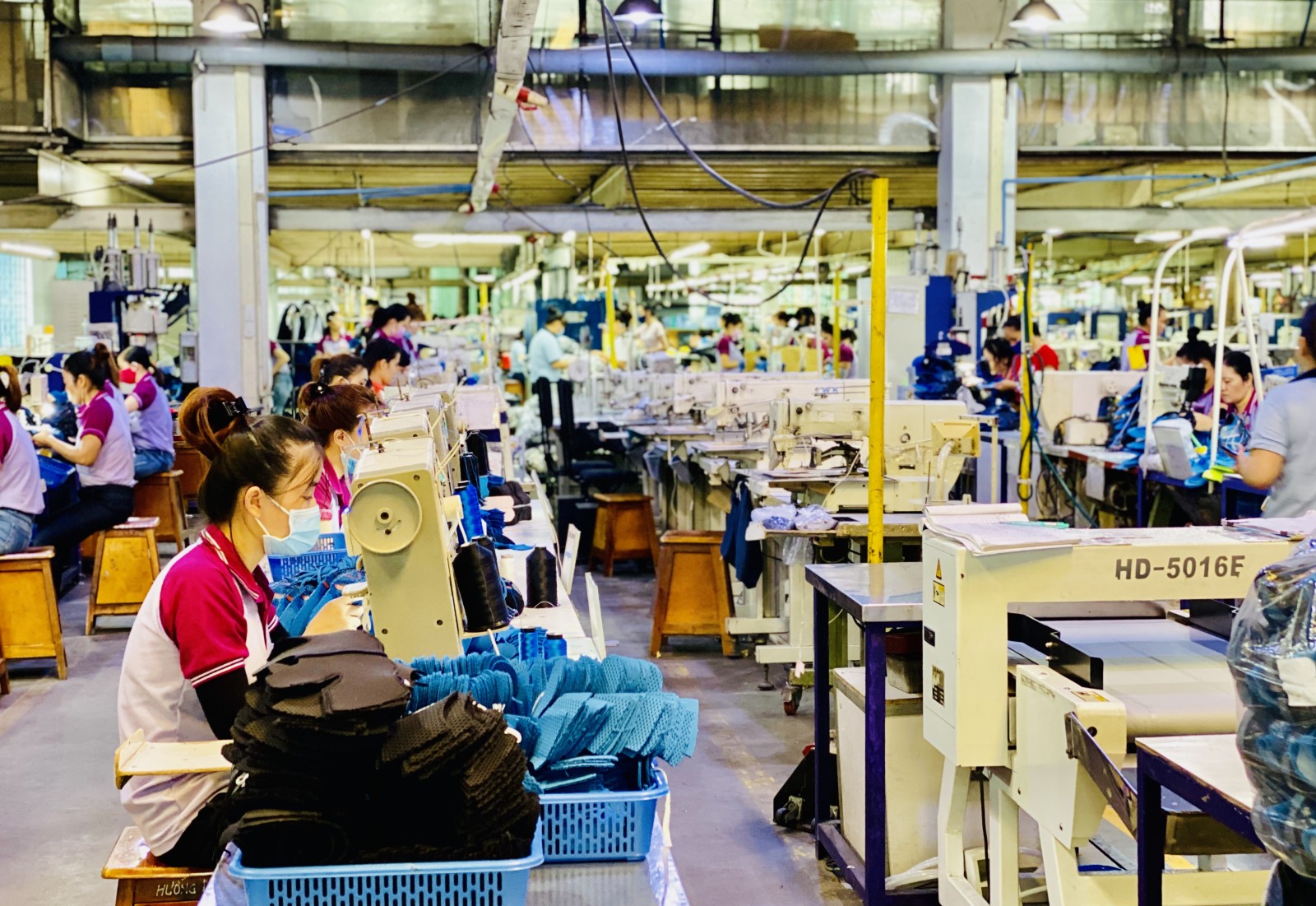 Production at Dong Hung Footwear Company's branch in the Song Than 2 industrial park in Di An city
After one year full of obstacles, province-based footwear enterprises have got orders with production-business activities that are relatively stable. Many enterprises in the sector have had sufficient preparation in terms of human resources, machines so that they can receive more orders when the world's economy recovers. Nguyen Duc Thuan, Chairman of the Vietnam Leather, Footwear, and Handbag Association said that if the pandemic is curbed this year, the footwear industry will have the opportunity for breakthrough as the world's supply chain is being rearranged and it is predicted to move to Vietnam and countries in the Southeast Asian region.
As one of main export sectors, the province's garment-textile sector also faced recession, due to the impacts from Covid-19 pandemic. When orders return, enterprises in this sector have deliberated development plans, strategies in the current period. They have put high expectations of enjoying opportunities for development after the pandemic.
According to provincial Mechatronic Association, many mechatronic enterprises have still strived to develop in the current difficult period, due to Covid-19 pandemic. Particularly, they have managed to seek domestic materials, ensuring their export orders. Whilst, FDI enterprises realized that they need to link with domestic producers to combat unpredictable cases in the period with fluctuations. This is also a good opportunity for producers of domestic auxiliary products to foster. According to Tran Thanh Trong, Chairman of provincial Mechatronic Association, mechanical enterprises will get more opportunities this year.
Creating advantageous conditions
Nguyen Thanh Toan, Director of provincial Department of Industry and Trade (DoIT) affirmed that the sector will further make efforts to implement programs supporting enterprises to recover their production, creating an equal, open and transparent investment climate. The sector has quickly realized support policies from central level, grasped enterprises 'activities for timely support amid the complicated development of Covid-19 pandemic.
After the Tet holiday, provincial DoIT has continued rechecking, grasping enterprises and associations 'production-business activities for timely support. Provincial DoIT has also submitted the contents of provincial International Integration Program 2021 to provincial People's Committee for approval; reported the collection of contributive ideas from members of provincial People's Committee to the draft plan on the realization of the European Union Vietnam Free Trade Agreement (EVFTA) to provincial People's Committee…
Initially, the local sector of industry and trade has sent a text of supporting enterprises to the Department of Export and Import under the Ministry of Industry and Trade…The sector will also create favorable conditions for auxiliary enterprises to get access to those in the industries of mechanism, electronics and automobile. To get this opportunity, enterprises need to standardize their product from materials, production phases to competitive prices. They also need to have stronger coherence for better development…
Reported by Tieu My-Translated by K.T