In the face of the complicated development of Covid-19 pandemic, along with strictly complying with authorities 'requirements and instructions against the pandemic to ensure safety for production activities, many enterprises have been proactive to invested in a system of checking and monitoring workers' health in order to have better proactiveness in pandemic prevention and control. Timberland Co., Ltd. in Tan Uyen town's Khanh Binh ward is one of units being vanguard of investing in a health monitoring and body temperature measurement system in order to check about its 10,000 workers.
Strengthening anti-Covid-19 measures
In addition to implementing anti-Covid-19 measures under the guidance of authorities, Timberland Co., Ltd. has submitted a plan ensuring pandemic prevention and control into the locality to proactively deal with situations if occurring. Specifically, the company has regularly updated the development of the pandemic, measures against the pandemic to propagandize and raise awareness of compliance among employees. The company has also installed an infrared camera system to measure workers 'body temperature and monitor their health; launch a website on internal health declaration, requiring all employees, partners, customers who visit and work to make medical declarations, have body temperature measurement, wear face masks, wash hands with 70% alcohol-based hand sanitizers and disinfect vehicles before entering the company; sprayed disinfectant with 25% Chloramin B twice a day throughout the premise of company. In addition, the company has actively divided meal shifts among employees and installed partitions to ensure safe distance for Covid-19 prevention and control.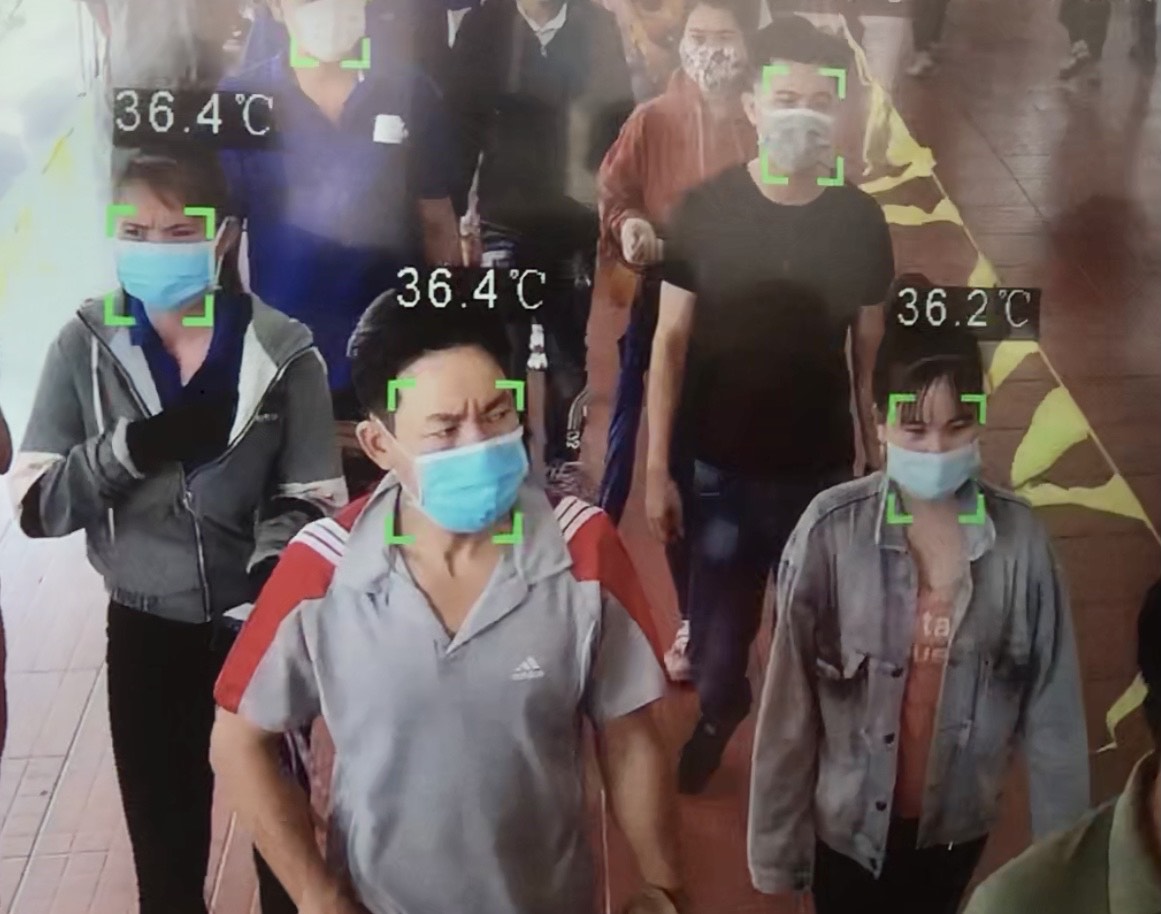 The remote temperature check system helps Timberland Co., Ltd. better check and monitor workers' health
Chen JiaFu, General Director of Timberland Co., Ltd., said that the company has set up a response plan in case of the outbreak of Covid-19 pandemic, ensuring to minimize the impacts of the pandemic on employees' health and psychology as well as stabilizing production and business activities. The company has also established anti-Covid-19 groups in workshops to propagandize, urge, guide and remind workers to strictly implement measures against COVID-19 pandemic.
The company's production and business activities have faced many difficulties, due to the impacts of Covid-19 pandemic. In order to ensure jobs for employees, the company has still maintained production in association with specific pandemic prevention measures and plans, ensuring workers 'health.
Investing in a smart health check and monitoring system
Mr. Chen JiaFu said that the company has spent nearly VND 700 million on installing a body temperature measurement system by infrared camera. The system has helped the company's body temperature check for about 10,000 workers entering and leaving workshops be faster and more reliable.
According to him, the advantage of the infrared camera body temperature measurement system is to screen, monitor groups of people at risk of Covid-19 infection with high body temperature accuracy (± 0.30 C). The system will also summarize results in every time to serve investigation if necessary. Its AI technology-based facial recognition system can take attendance and measure body temperature of each employee and person entering and leaving the company. Therefore, the company can integrate timekeeping, attendance...
In addition, leaders and departments that are in charge of monitoring the system can connect via an application on the mobile phone so that the system can send messages to them via Zalo, SMS, ensuring remote monitoring. Operating the system also only requires one employee at the processing center, thereby sending image reports to the company's specialized department for settlement.
In the current situation, enterprises'proactiveness in investing in anti-Covid-19 technologies will contribute to enhancing the effectiveness of pandemic prevention and control. If being applied, the above mentioned technology can help headquarters, agencies and units, and places crowded with people enhance better control over entry and exit of people; proactively monitor the health of people at risk and with high body temperature, contributing to improving the effectiveness of Covid-19 prevention and control.
Reported by Minh Duy-Translated by K.T